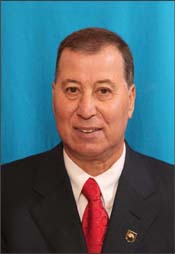 Ron Nachman, Ariel's energetic Mayor: "The city of Ariel is a very important strategical center of the State of Israel. It's mission is to defend the 'soft belly' of the country, blocking any potential enemy."
Ron Nachman is the famous Mayor of Ariel. For 28 years, Nachman has been the soul of this important city located in Judea, Samaria. Nachman was a manager in the Israeli radio industry, a former member of the Knesset, and a new national pioneer: After the Six Day War, he decided, with a few friends, to establish Ariel. As early as 1972, motivated by a national mission and a personal contribution to Israel's defense and security, Ron Nachman dedicated his life and career to the well-being of Ariel and its non-stop development.
Ariel was founded by Ron Nachman and forty families in 1978. The Israeli government was led by Menacham Begin and the Likud when these pioneers settled on top of a rocky and barren hill. Ariel, with its achievements, economic and cultural activities, and a growing population of 20,000 residents also had 13,000 students of its university center. It was continually attacked by the U.S. State Department, Israel's enemies, as well as those Israelis on the left who are fighting for the rights of the Palestinians and who claim to be dreamers of peace with those who dream to eliminate Ariel and Israel.
---
Opportunities Abound in Israel's Negev Desert
---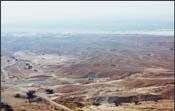 Seeming desolate and inhospitable, the Arava desert is in reality the site of innovative approaches to agriculture, water resources and scientific research.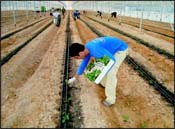 Members of one of the Arava's five "moshavim" (farming villages) plant crops at the start of the new agricultural season. There are more than 600 farmers in the region.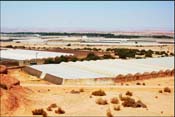 Greenhouses in the desert are fulfilling Ben-Gurion's vision of a flourishing Negev desert and also providing 60 percent of Israel's agricultural exports to Europe.
Situated in a remote part of the eastern Negev, the Arava is Israel's most isolated region. Water resources are scarce. Temperatures can soar past 120 degrees. In every direction, the landscape is bleak and desolate. A mission mounted by the British Palestine Exploration Fund in 1865 proclaimed the area "unfit for human habitation."
Yet, where others saw an inhospitable, unforgiving environment, Prime Minister David Ben-Gurion saw potential. It was here, Ben-Gurion proclaimed, that "the people and State of Israel will . . . accomplish the great mission of populating the wilderness and bringing it to flourish." A visitor from Development Corporation for Israel, also known as Israel Bonds - an organization known for helping Israel achieve the impossible - discovered that through ingenuity and determination, Arava's resilient residents have realized achievements that would astonish even Ben-Gurion, including accounting for 60 percent of the country's vegetable exports to Europe and 10 percent of its cut flower exports.
Noa Zer, who lives on one of five moshavim in the Arava - the first was established in 1959 - is proud to play her part in "fulfilling Ben-Gurion's vision." She says this as someone who, two years ago, left the vibrant scene of cosmopolitan Tel Aviv for a place where an errand as routine as going to the bank - which necessitates driving either to Eilat or Beer Sheba - can take an entire day. While the adjustment has been daunting, Zer embraces the Arava's "strong sense of community and belonging."
---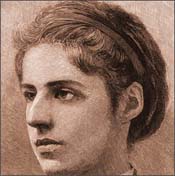 Emma Lazarus: "Jews need a territory".
The legendary writer-poet, Emma Lazarus (1849-1887) was ignored, for many years, by this country. She was excluded from the American national pantheon. The Statue of Liberty does not have a soul without Lazarus' unique, legendary sonata, The New Colossus. Lazarus, who died at the age of 38, wrote this great sonata in 1883. Thanks to her friend, Georgia Schuyler, this sonata was inscribed, in 1903, on a bronze tablet inside the pedestal of the Statue of Liberty. Lazarus called her the 'lady with the torch'. The mother of exiles.
This sonata expresses, and symbolizes, the essence of the spirit of America: a frontier of salvation, of freedom of the masses of newcomers, immigrants, homeless, poor victims of persecutions and hate who are yearning to breathe free. Lazarus, a Sephardic-Jewish poet-writer of many essays, is still waiting for national recognition. Recently, the Museum of Jewish Heritage, a living memorial to the Holocaust (36 Battery Place, tel: 646-437-4200), celebrated the 125th anniversary of the Statue of Liberty with a special exhibition through the summer of 2012. It is very educational inasmuch as it enriches all visitors with the story of Emma Lazarus.
---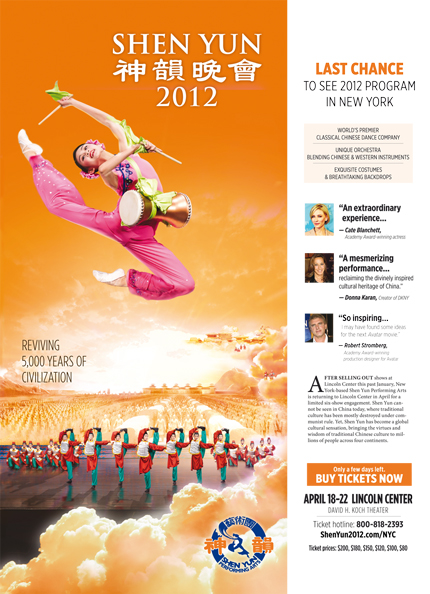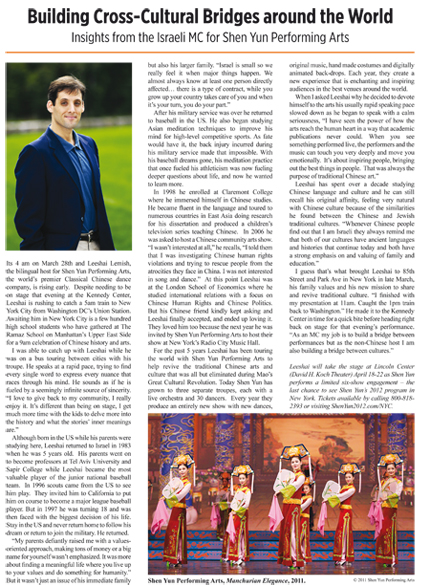 ---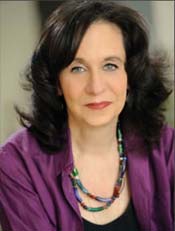 Educator/agent Aliya-Cheskis-Cotel. Kolot Management has a strict policy of only representing Jewish, not necesserily religious, artists, performers, educators that are committed to the Jewish community.
A mother and daughter were about to arrive for their joint bat mitzvah lessons as Aliya finished the interview. Tea and delicious homemade cake had been enjoyed. Aliya Cheskis-Cotel, prominent in the field of Jewish education, is known for tutoring students who, for whatever reason, cannot successfully learn through traditional methods. She has been an educator, for over twenty-five years, tailoring her teaching approach individually for each student.
But the interview was not about Aliya's amazing success as a teacher -- rather about tragedy and life-changing events. Aliya was married to a remarkable man, a gifted musician, pianist, and composer, Moshe Cotel. At the age of sixty Moshe Cotel became a rabbi. He developed a repertoire of performances that he called Chronicles: A Jewish Life at the Classical Piano. Rabbi Cotel used these performances to teach Torah through classical music.
---

Israeli performers, Yaffa Yarkoni (left) and Ron Eliran, perfor-ming on stage at the Palais (Palace) de Shallot in Paris, France, in 1958 during the 10th anniversary celebrations in honor of the State of Israel.
In 1948, the classical Israeli culture of songs, music, and lyrics was born. Russian music was popular, but the idea of Hebrew revival influenced this culture through the music and the tempo There were songs based on the bible, songs of the land of Canaan, songs of shepherds ('roim' in Hebrew). The idea was to express the Zionist world. The culture of songs had been "black and white" or dogmatic. I think that since the 1930's, this culture has been revolutionized. Israeli poets influenced the songs: Expressing personal, intimate feelings. No more dogma but more individualism. The concept has been inward.
---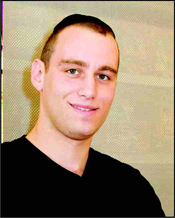 Moshe Morrison, Fairway's Director of Kosher Foods.
For kosher foodies, Fairway is a revelation. The iconic New York grocery store and specialty food market is proud to be home to a wonderful, inimitable kosher selection.
From fresh baked breads and pastries to cheeses and dairy to fragrant coffee ground on premises, Fairway's extensive array of kosher products mean you can find everything you're looking for, and discover new delicious finds while you're at it.
---
Israeli scientist, Prof. Daniel Shechtman, has won the 2011 Nobel Prize in chemistry, the Royal Swedish Academy of Sciences announced. The Academy honored Shechtman for the discovery of "quasicrystals" - patterns in atoms which were thought impossible, adding that Shechtman's discovery in 1982 had fundamentally changed the way chemists look at solid matter. Photo: Assaf Shilo/Israel Sun
---
The Mossad, Israel's superbly famous intelligence agency, was shocked on 9/11. The following information is based on the excellent professional analytical autobiography of ex-Mossad head, Efraim Halevy (1998-2002). Halevy wrote, in his book, (by Weidenfeld and Nicolson, London), Man in the Shadows, "Israel, on the afternoon of September 11, 2001"
I was attending a meeting chaired by Prime Minister, Ariel Sharon, in the cabinet room in Jerusalem devoted to an issue concerning the Palestinian territories. I well recall that the discussion was calm and orderly when suddenly a young female soldier entered the room and handed a piece of paper to the military secretary and to the prime minister. He read it himself and then told us all in the room that there had been an attack from the air against the Twin Towers in New York.
---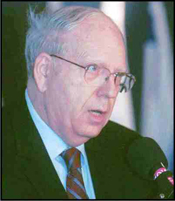 Efraim Halevy, Head of the Mossad between 1998-2002.
Efraim Halevy, the former head of the Mossad (1998-2002), who was born in London in 1934, dedicated forty years of his life to that organization. Halevy defined the Mossad in his unique book as "…the unsung men and women… whose courage, devotion and professional excellence have made an indescribable and unique contribution to the security of the State of Israel and to the defense of the free world."
---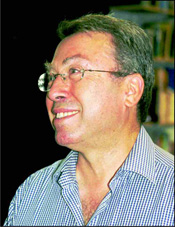 Noam Semel. Israel's Cameri Theatre is creating a theatre with a specific face. Photo: Y. Reuveni
Noam Semel is a builder of a new empire: the Israeli Cameri Theatre. For twenty years, Semel has been the producer/manager of this public theater, a performing arts cultural institution and a leading national theater in Israel. Semel is considered by some to be a genius and has been compared to the legendary Joseph Papp. Viewing the history of this theater, which was founded by Yosef Milo ("Papo") in 1944, some may reach the conclusion that Semel has indeed established a cultural empire.
It may also be considered as an integration of Broadway, off-Broadway, off-off-Broadway, plus regional theater.
---
2011 Celebration to Feature Events and Activities Nationwide
Cincinnati, Ohio – Jewish American Heritage Month (JAHM) announces details for its 2011 celebration. The main objective of JAHM, celebrated annually in May, is to raise the national consciousness regarding contributions by Jewish Americans to our country's heritage.
---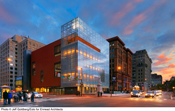 The new National Museum of American Jewish History in center city Philadelphia is located opposite the Liberty Bell Center and Independence Mall. (photo © Jeff Goldberg/Esto for Ennead Architects)
Eddie Cantor was born Isidore Iskowitz in New York City, in 1892, the son of Russian-Jewish immigrants His mother died one year after his birth, and his father died of pneumonia when Eddie Cantor was two years old, leaving him to be raised by his grandmother, Esther Kantrowitz.
Eddie inherited his grandmother's last name, which was shortened to Kantor by a clerk at a summer camp he attended as a young boy, before finally taking on the professional name of Eddie Cantor in 1917 when he joined the Ziegfeld Follies.
---

View of the renewed Israel Museum, looking up Carter Promenade from the new entry pavilions, with Anish Kapoor's Turning the World Upside Down, Jerusalem 2010, visible in the distance.
Photo: Timothy Hursley. Image courtesy of the Israel Museum, Jerusalem
Jerusalem, January 19, 2011 – The Israel Museum, Jerusalem, has welcomed more than half a million visitors since it inaugurated its renewed campus on July 26, 2010. In just under six months, the renewed Museum has welcomed unprecedented numbers, including first-time visitors from across the country and tourists from around the world, through an engaging program of exhibitions, guided tours, public events, and educational activities.
"Thanks to the beauty of our renewed campus and the strength of our program of exhibitions and special events, Museum attendance has reached well beyond our expectations.
---
William Kentridge: Five Themes
March 4, 2011 – June 18, 2011
This major traveling survey of recent work by the renowned South African artist William Kentridge spans the 1980s to the present, with particular emphasis on projects completed since 2000. The presentation features nearly 100 works in a variety of mediums—including drawing, print, animation, theatrical design, books, and sculpture—and is structured around five primary themes that have engaged Kentridge over the course of his career, tracing the development of his subject matter from a specifically South African context to the exploration of more universal subjects.
---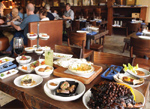 Zahav restaurant in Philadelphia.
When You Go to Philly… Zahav is Calling
Many New Yorkers know that spending an amazing time in Philadelphia is easy to do. From visiting the birthplace of America to running up the steps of the Philadelphia Art Museum, a la Rocky, the city has much to offer. For those of you who love food, there is now a fabulous place to dine after a day of seeing the sights. It is Zahav.
Read More
---
What's Up In Israel, September 03, 2010
Other Culture Articles: