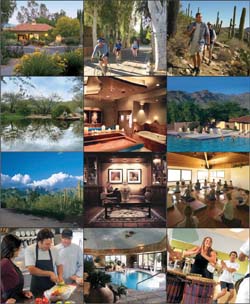 From left: (top row) Canyon Ranch Clubhouse; Cycling at the main entrance; Desert hiking; (2nd row) Daytime yoga;...
If asked to describe a perfect vacation, I'm sure many women, and an increasing number of men, would include a spa experience as part of their ideal getaway. Over the years, Canyon Ranch has come to epitomize the gold standard of Spas.

Read More..

(From left) Top row: The Dan Jerusalem Hotel; Mini Israel Park's site plan;...





(From left) Top: Entrance to Old Jaffa; Center square of Old Jaffa;...



(From left) Top: The modern Zurich Airport Terminal; Inside the Business Class Launch at Zurich Airport;...
The morning light of Mount Scopus in Jerusalem woke me up through the small opening in the curtain, which was swinging slightly due to a pleasant, patting wind gliding into my room at the Dan Jerusalem Hotel.

Soon, my friends joined me for a repetition of the previous morning's one-of-a-kind breakfast at the hotel which once again, for the second day in a row, was so unique. The large, nicely decorated dining room facing the outdoors pool inspired a peaceful atmosphere.

Read More..

(From left)Top: Swiss International Airlines' lounge at JFK airport...






(From left) Top: An ancient seven foot thick olive tree at The Garden of Gethsemane...

Some of Darna Glatt Kosher Moroccan Restaurant's special dishes. A unique dining experience in Jerusalem. Photos: Kanan Abramson & Darna's online menu

My editor called me. "How about taking an overseas trip for a total of four and a half days?" he asked. "You know me, I'll take it," I responded. "Where do I have to go?" "It's going to Israel and Switzerland and the flight time on Swiss International Air Lines with connections in Zurich will be included in the four and a half days…and, by the way, it falls on the occasion of the forty fourth Annual Jerusalem Liberation Day celebrations."

Read More..
More Travel Events