There are few people who we share this world with who change the course of human history, not just through their role in human events, but because they expand our moral imagination and force us to expect more of ourselves. My friend Shimon was one of those people.
The United Nations Security Council held a special meeting recently on the Situation in the Middle East and discussed the conditions in Lebanon ten years after Resolution 1701 ended the war between Israel and Hezbollah.
The 10th Annual Holocaust Remembrance Ceremony, which has been held at the United Nations' General Assembly in New York City, with attendees standing during the chanting of the prayer for the victims.
More than ­­­1,300 prominent business and philanthropic leaders from across the country came together on Tuesday for the Friends of the Israel Defense Forces (FIDF) National New York Gala Dinner at the landmark Waldorf Astoria New York.
A unique way to handle the release of terrorist and it doesn't impact the cost to any U.S. Citizen to house them in our prisons stateside. I wonder which one of the "Progressive Democrats" will be first in line for the opportunity?
A who's who of Jewish philanthropists and defenders of Israel packed the ballroom at the Marriott Marquis in Times Square for The World Values Network's fourth annual Champions of Jewish Values International Awards Gala.
"Mr. President,
Once again, this Assembly has convened to debate a crucially important matter. Member states will be asked to make a decision that will reflect on how this institution will be perceived.
---
GENEVA, November 30, 2015 – Despite prior promises by UNRWA, the Palestinian relief agency, to put an end to online incitement by its teachers, numerous UNRWA teachers are still inciting to Palestinian knife attacks against what they describe as "Jewish apes and pigs," and should be fired, according to a new report issued today by UN Watch, the Geneva-based watchdog group.
Read More...
---
On the day it was announced that parameters have been reached on a nuclear deal with Iran, Pres. of the London Center for Policy Research, Herb London, authors a column at The Hill critical of the Obama administration's declassification of a document detailing Israel's nuclear program.
Read More...
---
Since late June, Hamas' aggressive campaign against our Jewish homeland has sent more than 1,700 rockets into Israel from Gaza, placing the lives and security of more than four million of Israel's residents at risk. But I couldn't be more proud of our donors who have shown deep compassion and empathy for our extended Israeli family during this crisis. Contributions have resulted in some 30 mobile bomb shelters for residents in Halutza and throughout the Negev and the purchase of four new fire trucks for Israeli firefighters. Thanks to the support of Jewish National Fund (JNF), volunteers are making their way to bomb shelters across the south engaging children in programs and activities to relieve their stress, and our JNF Indoor Recreation Center in Sderot is utilized by up to 1,800 children and families a day as a safe place to play and get together.
Read More...
---
With as many as 1,000 Ben-Gurion University of the Negev students, faculty and staff deployed both in and around the Gaza Strip, American Associates, Ben-Gurion University of the Negev (AABGU) established a "Wartime Assistance for Students" fund to assist those now serving in combat. Established at the request of the University's president, the fund will provide special scholarship assistance for students who are unable to work this summer and earn the income necessary to cover their tuition and expenses. Many students are married with young children.
Read More...
---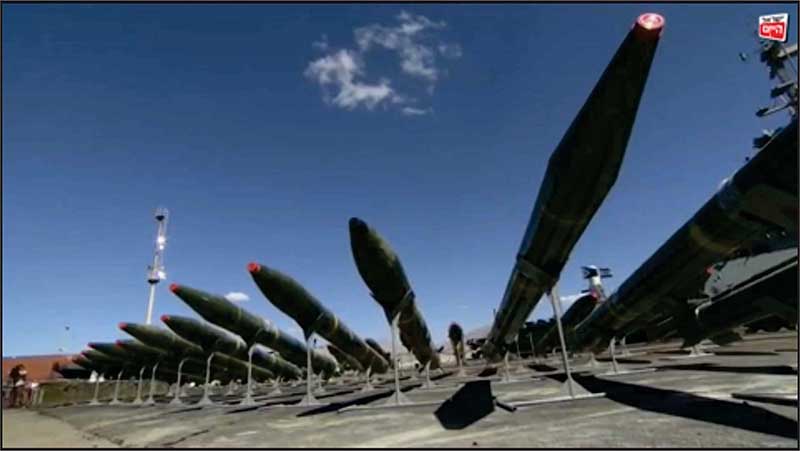 A large arsenal of deadly weapons were found on the Iranian Ship on the way to Gaza.
Israeli commandos seized control of a cargo ship carrying dozens of medium range rockets early Wednesday that officials say was bound for Gaza.
The ship carried Syrian-made M-302 rockets with a range of up to 200 kilometers – or about 125 miles, Israel Defense Forces say. They would have been capable of reaching nearly all of Israel had they reached Gaza. Hizballah fired similar rockets at civilian communities during the 2006 conflict with Israel.
Read More...
---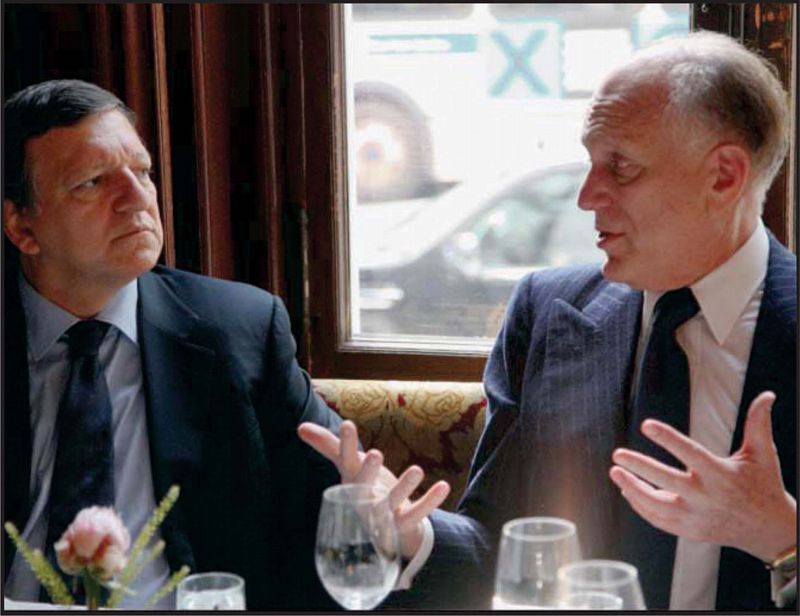 Ronald Lauder, President of World Jewish Congress (right), with the President of the European Union, Jose Manuel Barroso, of Portugal. Developing the next generation of young Jewish professionals engaged in public diplomacy.
NEW YORK – The Jewish Diplomatic Corps (JDCorps), an international network of Jewish professionals engaged in public diplomacy, will be reintegrated into the structure of the World Jewish Congress (WJC) and see its global budget and staff boosted. The corps' precursor was set up in 2006 under the auspices of Peleg Reshef of the WJC. Today, the network comprises 130 young Jewish lay leaders from 30 countries world-wide.

"This is a major investment into the future of Jewish organizational leadership. The Jewish Diplomats, or JDs, as they are called, are successful professionals in their late twenties or thirties who identify with Jewish and Israel-related issues.
Read More...
---
City Harvest, the world's first food rescue organization dedi-cated to feeding NYC's hungry men, women and children, is distributing more than 400,000Lb of produce and canned food for the Jewish High Holidays, Rosh Hashanah and Yom Kippur. Through the end of September, during a time when many Kosher observers are struggling to provide food for themselves and their families, City Harvest is working to deliver additional emergency food to its network of more than 30 Kosher food pantries and soup kitchens across the five boroughs.

Read More...
---
B'nai B'rith International sent its annual leadership delegation to Geneva to address key issues facing the United Nations Human Rights Council (UNHRC), including the council's continued obsessive focus on Israel, Iran's appalling domestic human rights record and its repeated threats against Israel, and the devastating fighting in Syria. Sixteen B'nai B'rith International leaders and supporters led by President Allan J. Jacobs and Executive Vice President Daniel S. Mariaschin met with representatives from some 40 countries.

Read More...
---
MAZON, A Jewish Response To Hunger is the only national Jewish Organization devoted solely to eradicating hunger in the US and Israel. Founded twenty-eight years ago by Leonard Fine, this (then) grass roots organization, headquartered in Los Angeles, has grown into one of the preeminent hunger fighting groups in the country. As part of The Jewish Justice Round Table, and in concert with all of the leading interfaith hunger- fighters, MAZON (the Hebrew word for sustenance) has become known as a "go to" source for effective leadership and direction in this vital area. While not formed as a disaster emergency response group, or emergency relief organization, MAZON's over eighty thousand individual donors know that MAZON knows who has "boots on the ground", and who does what best. They know how to direct donations for disaster relief so that the money goes to work immediately and most effectively.
Read More...
---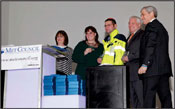 Honorees Josh Commer, an EMT worker, and Debbie Burack, an art teacher, who were critical in bringing support to all of Staten Island.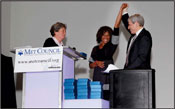 Met Council Residents Director, Dena Johnson, who evacuated most of the 116 housing residence living in Abraham I and II in Seagate, Brooklyn.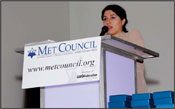 Staten Island resident, Lina, 31, sharing her post-hurricane struggles during the event.
In the month since Hurricane Sandy hit New York, tens of thousands of lives have been dramatically changed. As the crisis of the initial weeks slowly gives way to the long recovery and rebuilding effort, Met Council took a moment to shine the spotlight on the everyday individuals who performed heroic acts in the face of disaster.
On Tuesday, December 4, 2012, Met Council held the Hurricane Sandy Heroes Recognition Event at the Solo Event Space, 40 Broad Street. The cocktail reception highlighted inspirational stories of heroism from the frontlines of the storm's aftermath.
The evening would not have been possible without our generous sponsors: Solo Event Space, Solomon Langer, Royal Wine Corporation, The FoxStone Group, Abe Ziegermann, The Real Deal, HMS Associates, and The Judy Networks.
Honored heroes included Josh Commer, an EMT worker, and Debbie Burack, an art teacher, who were critical in bringing support to all of Staten Island. Since day one, Josh and Debbie have been pinpointing homes in need and providing whatever clean-up and construction services they can. Together they have led more than 80 volunteers to the relief efforts in Staten Island.
Read More...
---
My friends, as you follow the deteriorating security situation in Israel, I wanted to bring to your attention that the Sheba Medical Center has been placed on emergency alert status, and is taking a series of urgent steps to gird itself for the coming challenges.
The first wounded of "Operation Pillar of Defense" are already at Sheba. We are treating the victims of the direct strike on a Kiryat Malachi home this morning - in which three people were killed. One of the people killed was a young mother, Mira Scharf. Her husband and four-year-old son are in serious condition at Sheba, and were both operated on this afternoon.
Read More...
---
The Obama administration is baffled by the Egyptian government's response to the Sept. 11 attack on the American embassy in Cairo. It took President Mohamed Morsi two days to denounce the assault on the embassy, and even then he placed the blame on a hitherto unnoticed clip posted on YouTube rather than on the attackers. For two days after the flag-burning, Egyptian security was absent while demonstrators threatened the embassy. "A single security vehicle was imaged making an occasional and completely feckless foray through the gathering area, during the early morning of 13 September in Cairo. No Egyptian police or military or other security personnel were present," the Nightwatch letter observed Sept. 13. The Muslim Brotherhood called for mass protests against the Youtube clip, albeit "peaceful" ones.
Read More...
---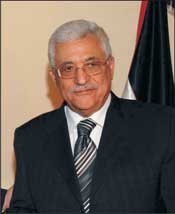 PA's President, Mahmoud (Abu-Maazen) Abbas. Accusing Israel of having disseminate drugs among thousands of Palestinian youth.
Photo: Amos Ben Gershom/GPO for Israel Sun
NY -- On June 27, several Palestinian Authority (PA) officials accused Israel of having a policy to disseminate drugs among thousands of Palestinian youth. The District Governor of the cities of Ramallah and El-Bireh, Laila Ghannam, was reported as saying in a meeting with the Italian Consul-General, Giampaolo Cantini, that "the spread of the plague of drugs among the Palestinian young generation is a deliberate act by the Israeli occupation" and that the world's attention to "occupation's (i.e., Israel's) efforts to humiliate our youth, to break their willpower, and to distance them from their (Palestinian) cause and their principles, by spreading drugs among them...
Read More...
---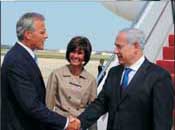 Israeli Prime Minister, Benjamin Netanyahu (right), greeted upon arrival on one of his trips to Washington by Israel's Ambassador to the United States, Michael Oren.
Photo: Moshe Milner/GPO for Israel Sun
Washington, DC—Michael Oren, Ambassador of Israel to the United States, outlined the "array" and "magnitude" of threats currently facing the State of Israel at the B'nai B'rith policy conference.
Calling Iran's nuclear ambitions "the greatest threat looming over our horizon…of monumental proportions," Oren outlined the multifaceted nature of the threat. A nuclear-armed Iran would not only have the ability to target any Israeli city, but it could open the door for terrorists and other Middle Eastern nations to access nuclear arms as well.
Read More...
---