Brooklyn teens from the Turkish and Jewish American community gathered for a twinning event at the Masbia Soup Kitchen. Though this is not the first time that these teens are getting together in a project; they formed an initiative called "Young Peace Builders", which aims to foster better understanding between the two communities. They believe that working together in projects like this will benefit the New Yorkers now and in the future. In fact, this is a model that can be copied by various communities in order to promote peace and harmony in the society.
---
Rabbi Arthur Schneier takes part in celebration commemorating fifty years of diplomatic relations between Israel and South Korea: Rabbi Arthur Schneier, President and founder of the Appeal of Conscience Foundation (right) joined Dr. Sang Jin Lee, South Koreaís First Vice Minister of Education, Science and Technology (left) and Tuvia Israeli, Israelís Ambassador to the Republic of Korea (center) at the Israeli Embassy in Seoul, as South Korea and Israel celebrated fifty years of diplomatic relations. Both countries achieved independence in 1948. Israel, on May 15, 1948 and South Korea on August 15, 1948.
---
KETURA KIBBUTZ IN ISRAELíS SOUTHERN DESERT IS HOT, DRY AND ISOLATED
It was incongruous. The meeting was held in a beautiful apartment overlooking New York Harbor, water views everywhere. The occasion was to hear about the amazing work of the Arava Institute of Environmental Studies (AIES). The institute, located at Ketura kibbutz, in the Arava Desert (part of the Negev) in southern Israel is hot, dry and isolated. The get together was organized by Professor Mehnaz Afridi, of Manhattan College, and a member of the Board of Directors of the Friends of Arava. The gracious hosts were Martin Spit and his wife Leili Rasouli. Professor Afridiís purpose for organizing the meeting was to raise awareness and support for the unique mission of the institute.
---
Established in 2008, Jewocity is a large, diverse directory where Jews from all over the U.S. can gather to find businesses, items for sale and classifieds. The site has grown rapidly since it was founded. It now lists over 47,000 Jewish-owned businesses, with many thousands of reviews included.
It's also a great place to post such offerings – a basic listing is absolutely free. You can find or post anything – a business, a service, a job, an event, houses, rentals, books, toys, clothing, electronics or jobs.
Shai Neubauer, the creator, talked to us about his site and his vision for benefiting the Jewish community. "Jewocity is the largest Jewish business directory online," says Shai. "We get great feedback from our users; people say they have always wanted a trustworthy place online to find local businesses and deals, and now there is one."
---
Over 50 leaders of Islamic and Jewish communities from across Europe met in Brussels on Monday for the first Gathering of European Muslim and Jewish Leaders to discuss initiatives for better relations between the two communities. The meeting was co-organized by the New York-based Foundation for Ethnic Understanding (FFEU), the World Jewish Congress (WJC) and the European Jewish Congress (EJC).
Read More...

---
Book Review by Jillian Nannery
The Jews, Nationalism, and the Universalist Ideal recounts the history of the Jewish nation through a combination of memoir and historical references. Moskovitz explains in detail the problems with universalism, especially in regards to the Jewish people. According to Moskovitz, by creating a world in which no tangible ethnic background exists, the minority group will inevitably suffer. He goes on to prove that most anti Semitism has been spurned by a universalist ideology.
Read More...

---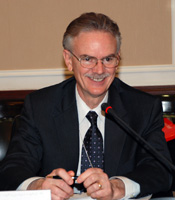 Michael Kinnamon, General Secretary of the National Council of Churches.
Photo: Julian Voloj
Statement by Michael Kinnamon, Gen. Sec., National Council of Churches
I am honored to be invited by friends at B'nai B'rith to offer these brief remarks on "interreligious responses to the Holocaust." Throughout its history, B'nai B'rith has been devoted to promoting at least two things: a) respect for religious diversity and b) moral backbone that, by remembering the past, stands firmly against radical evil in the present. I obviously, wholeheartedly, applaud both of these goals. But, in my judgment, it is the tension between them that may well constitute the major challenge facing religious communities sixty-five years after the end of World War II.
Read More...
---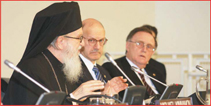 From left: Archbishop Demetrios, Primate of the Greek Orthodox Church in America; Daniel S. Mariaschin, executive vice president of Bínai Bírith International; and Allan J. Jacobs, Bínai Bírith chairman of the executive.
Photo: Julian Voloj
Remarks by Daniel S. Mariaschin, Exec. VP B'nai B'rith Intíl, At the Annual UN Holocaust Commemoration
Eminences, Excellencies, Reverend Clergy, Distinguished Leaders, Friends:

I'd like to first thank the eminent Christian leaders who have preceded me on this dais for having joined us on this occasion, and for their thoughtful and important reflections. These mean a great deal to us at B'nai B'rith, and in the Jewish community.
Read More...
---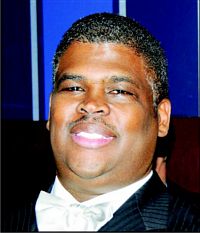 Talk about the stars aligning, the day after the nation celebrates Martin Luther King's birth we'll inaugurate the nation's first Black president. It is such an incredible time in our history one that many never thought would happen and certainly not at this time. That is one of the ironies and the challenges we now face. To borrow the line from Norma Desmond in Sunset Boulevard Barack Obama was ready for his close up. He had the intelligence, charm, brilliance, oratory and most of all he had the audacity to become President of the United States.
Read More...
---
When Ori Winitzer originally created Soccer for Peace he envisioned a one–time event that would raise funds for soccer equipment in the integrated Israeli town of Neve Shalom/Wahat Al-Salam, Hebrew and Arabic for Oasis of Peace. Despite Winitzer's short-term intentions, Soccer for Peace proved to have long-term potential.
Read More...
---
The first time I heard the name Chiune Sugihara was about a year ago from my Israeli-Bosnian friend, Sasha Toperich. Sasha, a renowned classical pianist and the founder of the World Youth Leadership Network (WYLN) - a non-profit organization that aims to unite the international youth community through good works and cultural exchange - had just arrived from Japan, where he was giving a concert in Yaotsu - Chiune Sugihara`s hometown. .
Read More...
---
Building a shared future for Israel's Jewish and Arab citizens. Is it a dream or can it become a reality? The Abraham Fund Initiatives has been a leading advocate for coexistence and equality since 1989. Since then they have funded dozens of organizations each year with this goal in mind. Arab Israelis have had their economic gap with their Jewish counterparts reduced over the years, but wages still show a 40% difference. There are other discrepancies as well including a much higher infant mortality rate among the Arab citizens. Read More...
---
Thank you Reza. You've given us a great deal to think about, and wrestle with. [With the diversity of people and views in the room, I expect that some members of the audience might take exception to a few of your conclusions, but that's what makes for an interesting program.and you have certainly given us that!] Read More...
---
The idea is great. The place, the Islamic Cultural Center in New York, looks fantastic. Three bottles of Coke for the thirsty, two plates of biscuits to the hungry, and numerous chairs for the tired bones who are not learned in the art of sitting on the floor welcome the herd of Jews. Read More...
---
Rome, Italy - Pope Benedict XVI, Joseph Ratzinger, responds warmly to the appeal by Isaac Herzog, Israel's Minister of Tourism, to encourage Catholics to visit Israel. Mr. Herzog's request was delivered personally through his envoy in Rome, Suzanne Klagsbrun. Read More...
---
Neve Shalom/Wahat al-Salam, Israel - Major Jewish-American organization have been discussing, recently, the reality of Jewish citizens in Israel living together with the State's Arab citizens. The Israeli Democracy Institute, United Jewish Community, Jewish Funders Network, American Jewish Joint Distribution Committee, the Anti-Defamation League, Conference of Presidents of Major Jewish Organizations, UJA-Federation of New York, New Israel Fund, Alfred and Hanna Fromm Fund, and the Andrea and Charles Bronfman Philanthropies, and even AIPAC, have all formed task forces, held conferences and panels or are planning events addressing this issue. Read More...
---
Shalom Articles:
• The annual Marting Luther King Junior Tribute
• American Christians: The Righteous Gentiles of Today?
• The Congress of Racial Equality (CORE)'s 23rd Annual Reception and Dinner in NYC