With A Grammy® Win for its band, the Klezmatics, the Studio City, CA based Jewish Music Group (JMG) Has their Niche Market in Hand and Mainstream Audiences In Their Future
http://www.jewishmusicgroup.com/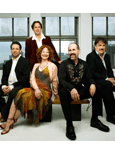 Studio City, CA (February 12, 2007) – Grammy® Winner: Best Contemporary World Music Album (Vocal or Instrumental) Wonder Wheel (Lyrics By Woody Guthrie), The Klezmatics [Jewish Music Group] – Category 73
A Grammy® win is no small accomplishment, for any record company, large or small. For the Jewish Music Group (JMG), the just announced Grammy® WIN for their group, the Klezmatics is another step toward the small company's ultimate goal of expanding their niche market and turning it into mainstream gold.
The Jewish Music Group (JMG) was officially formed May 2005 by industry veterans Richard Foos and David McLees and has only just released its first titles a little more than one year ago in November 2005. The company has a stated dual focus on marketing entertainment products with Jewish content more effectively into its own market, but also the somewhat difficult and rewarding prospect of crossing over into the more mainstream market. Some have been skeptical of that second focus, but JMG President David McLees explains, "Not only do we think this Grammy® nomination & WIN for the Klezmatics (for the 'Best Contemporary World Music Album') will help put our label on the map, but we are also gratified to see Matisyahu, who is not signed to our label, nominated for Best Reggae Album. This is real. Music and entertainment with Jewish content is starting to be accepted in a bigger way than ever before."
Sales of JMG's Klezmatics holiday album "Woody Guthrie's Happy Joyous Hanukkah" "took off" since the Grammy® nomination announcement with the album being the #2 seller for Holidays releases with JMG distributor, RED.
The small, but growing, label is home to many other artists with similar breakthrough potential ranging from the Hip Hop duo "TaShma," to singer-songwriter "Rav Shmuel," to the College Rock Band "Moshav" (aka "The Moshav Band"), and the Jewish folk music legend "Debbie Friedman." McLees, at this particular moment, is a little reluctant to discuss his other artists, "today is about the Klezmatics and their accomplishment. It took some real vision on their part to record their first true all English album as a (post-humous) collaboration with legend Woody Guthrie and we are all over-the-moon excited for them, THEIR GRAMMY WIN and, of course, for us."

Contact: Handsonpr@aol.com or 310-341-3201