Heavy Metal Hanukkah?!
By Scott Levy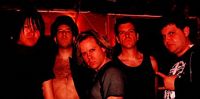 Gods of Fire are a traditional heavy metal band from New York City with a flair for the theatrical and an ultra-modern song about Hanukkah titled "Hanukkah Gone Metal". Appropriately this new title will be performed at the MLD (Major League Dreidel) Tournament on December 21, 2008 at Fontana's Bar December 21st at 07:30 PM (105 Eldridge Street - between Broome and Grand). After lighting the Hanukkah candles, be sure to bring along the lighter for the heavy metal renditions of covers of such classics as "Oh Hanukkah", "Hava Nagila" and "Shalom Alecheim".
Those wanting (all are welcome) to spin in the December 21 MLD Tournament can go to Major League Dreidel's website at www.MajorLeagueDreidel.com and sign up to reserve a spot (space is limited). A $10 donation includes a sanctioned MLD gold dreidel and a bag of chocolate gelt. All proceeds from this event will go to The Survivor Mitzvah Project. There are new MLD prizes this year, and several MLD chochkes will be raffled off.
More on Gods of Fire
Drawing upon influences such as Iron Maiden and Dio, the band produces music that is as epic, dynamic, and rich as a vast battle in Lord of the Rings, or as tense and menacing as a horror novel. Stage shows are equally dramatic with costume changes, props, and actors playing various roles. A Gods of Fire show at its peak is one part heavy metal thunder, and one part great "B" horror film madness.
Because of the uniquely cinematic nature of their music the band has been offered many unique opportunities they have readily accepted. In 2006 the band were musical directors and performers in a fictional off-Broadway play about competitive Air Guitar. Gods of Fire have also been the opening act for many US Air Guitar licensed events, as well as on the recent Air Band Tour which played many major East Coast clubs. In 2005 their song "The Long Walk" was prominently featured in the trailer for the Showtime Pictures film The Roost, which was shown theatrically nationwide. "City of Gold," another song from their debut album Wrath of the Gods, was used in the film itself.
The band is currently recording a follow up album in their newly built Brooklyn studio, and playing regionally throughout the East Coast. There is an anticipated late 2008-early 2009 deadline set for the release tentatively titled The Land beyond the Dark. True to the current realities of the music business the band will once again self release the album through their own Black Thirteen Records in both physical and virtual formats.
Visit www.gods-of-fire.com to learn more.