Sandler�s "Zohan" Confronts the Israel-Palestine Conflict with Humor
By Dana Rosenwasser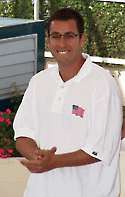 At first glance, Adam Sandler's latest comedy "You Don't Mess With The Zohan" doesn't look like it has any particular substance except using Middle Eastern culture and an absurd plot to portray clichéd toilet humor. Although accurate, Sandler also bases this film on the highly controversial Israeli-Palestinian conflict; making it more comparable to his previous gay rights themed "I Now Pronounce You Chuck And Larry" than the senseless "Little Nicky." Chock full of strong sexual innuendo, "You Don't Mess With The Zohan" will please audience members based on their familiarity with the Middle East, as well as Mr. Sandler's ass.

The movie begins with a beefy Israeli Sandler wearing cutoff acid-wash jean shorts and a Mariah Carey T-shirt. Playing the role of Zohan, he is basically an invincible Israeli Defense Force Operative used to destroy terrorists on command. He also sports a poor Israeli accent.

Being fed up with the endless violence in his country Zohan fakes his own death in order to pursue a dream of meeting his muse Paul Mitchell and becoming a hair stylist. The pure absurdity of this plot fits in perfectly with Sandler's repertoire of films; creating near impossible situations for corresponding characters. In this case people can somehow relate to dreaming about chasing a career that sounds ridiculous to their family and friends. {It is with this that Sandler first suggests a theme of hope for the improbable to be furthered by additional topics.}
Smuggling himself on a flight to New York City, Zohan then arrives wielding a self-cut 80s hair style, and isn't welcomed with open arms. Immediately he encounters mass amounts of racism by white upper class men mocking his accent by spouting "listen salami, bologna, applesauce, go back to your pretzel stand," as well as ridicule from hair stylists at a trendy salon chain.
Israel's reputation for being at least a decade behind American trends makes Zohan's hair style, ensemble and word choice all worth more than just a giggle. Similarly, scattered Arabic cuss words offer added implications; with not much thought, mimicking those funny-sounding words in a packed movie theater results in calling your neighbor a whore.
After wandering the city in search of opportunities, Zohan finally lands a gig in an area bearing a striking resemblance to his motherland; one side of a street is occupied by Palestinians and the parallel by Israelis. Ironically, Zohan finds his niche in a hair salon owned by Dalia (Emmanuelle Chriqui); a young Palestinian woman serving mostly elderly Jewish ladies.
During this part of the movie, laughs again correspond with the audience's knowledge of Middle Eastern cultures and stereotypes. On the Israeli side, Zohan's sidekick Oori (Ido Mosseri) ushers him into an electronics store full of haggling middle-aged men called "going out of business." He lets us know that this deadly place is where most Israeli immigrants come to make a living after relinquishing their aspirations associated with the land of the free. In contrast, the Palestinians have their own network of taxi drivers and gather to watch world poker on television over a bowl of dates.
Even though the given groups live relatively peacefully in such close proximity, the occasional nonsensical spat arises now and then. For example, after the discovery of a vandalized Palestinian store, the dispute is settled quite easily and calmly since both groups "didn't come to America to fight." It isn't until someone mentions that he wants to shtup Laura Bush that a disagreement arises and then erupts into physical violence. As Zohan and Oori leave, the latter exclaims, "See? This is what happens when they talk politics!"
These political moments like the aforementioned are the high points of the movie proving that Sandler is capable of taking real life events and molding them to fit his style. He then defers the Palestinian-Israeli bickering for a second to make room for the next conflict involving the true players in politics.
A conglomerate run by an all-white male board of directors tries to buy out both streets in order to construct a mini mall. This situation presents a significant point of the film in which the company's actions portray a realistic illustration of the Western world's mode of land and power acquisition. People with active minds and a concrete understanding of the modern world and its politics will enjoy the irony.
As far as the casting goes, Sandler brings back acquaintances as well as old friends. Of course Rob Schneider plays one of the main Palestinians and his ex-husband "Larry Valentine" even makes a guest appearance. Despite other various cameos, perhaps the best edition to "You Don't Mess With The Zohan"'s cast is Sandler's ex-roomie, Judd Apatow. The man responsible for the creation of the hugely successful "The 40 Year Old Virgin" and its following worked alongside Sandler and Robert Smigel to write the film. As a result fans of both works will be able to enjoy Apatow's signature snappy dialogue as it meshes well with Sandler's sarcastic immaturity. Add those talents up with "Happy Gilmore" director Dennis Dugan and you've got something fit for diehard fan, but maybe not a newcomer.
Because the primary target age of most Sandler films includes ages between the lower and upper teens, it should be noted that superfluous toilet humor, incessant genital jutting pelvic movements and the sexual rampages of Zohan are a bit ridiculous to the point of negating their funny effect. As a result, it might put off a new audience attempting to find authentic Middle Eastern comedy.