Ron Nachman: The Soul of Ariel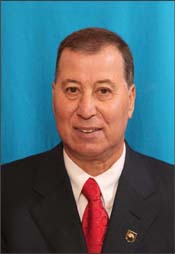 Ron Nachman, Ariel's energetic Mayor: "The city of Ariel is a very important strategical center of the State of Israel. It's mission is to defend the 'soft belly' of the country, blocking any potential enemy."
By Gad Nahshon
Ron Nachman is the famous Mayor of Ariel. For 28 years, Nachman has been the soul of this important city located in Judea, Samaria. Nachman was a manager in the Israeli radio industry, a former member of the Knesset, and a new national pioneer: After the Six Day War, he decided, with a few friends, to establish Ariel. As early as 1972, motivated by a national mission and a personal contribution to Israel's defense and security, Ron Nachman dedicated his life and career to the well-being of Ariel and its non-stop development.
Ariel was founded by Ron Nachman and forty families in 1978. The Israeli government was led by Menacham Begin and the Likud when these pioneers settled on top of a rocky and barren hill. Ariel, with its achievements, economic and cultural activities, and a growing population of 20,000 residents also had 13,000 students of its university center. It was continually attacked by the U.S. State Department, Israel's enemies, as well as those Israelis on the left who are fighting for the rights of the Palestinians and who claim to be dreamers of peace with those who dream to eliminate Ariel and Israel.
In order to learn about the national mission and location of Ariel, I spoke to Ron Nachman. He said that "The real project of Ariel started in August of 1967. I would like to stress the fact that all the governments of Israel supported the idea of Ariel: Arik Sharon, Eizer Weizman, Moshe Dayan, and Menachem Begin. But Shimon Peres and Yitzhak Rabin also supported Ariel! Why Ariel? Ariel was chosen because of the following aspects: national defense/security. We are very close to the sea shore, we are located only around 8 miles from the 1967 'green line.' We are located in front of the 'soft belly' of Israel! It is a very important strategical center of Israel. If our enemy manages to occupy this center or 'soft belly', it will cut Israel into two parts, right down the middle. Then Israel will be totally destroyed. Therefore, Ariel's mission is to defend this center. We are defenders of Israel. We are located 700 miles above the sea! We are also fighting for the victory of Ben-Gurion's Zionist vision."
Ron Nachman dedicated his life and energy to the building of Ariel. He made efforts to increase the city's population. I remember that Nachman came to Ben-Gurion in order to attract Russian 'olim' to live in Ariel. He never slept but always initiated new projects and challenged all kinds of opposition including those Israelis who defined Ariel as an occupational city which persecutes Palestinians.
Nachman, today, has health issues and we wish him the best. Nachman always expressed his love for Ariel. He said, "In August 1978, we had 17,000 residents and 13,000 students in our academic center. Many of them were Palestinians. They enjoyed our education like anyone else. We built an industrial center with 160 factories, a flourishing economy and 10,000 workers. 45% of our population are Russian 'olim'. We also have a great cultural center."
Recently, Nachman received an important academic victory. The University of Ariel was officially recognized, certified, and accredited, as a full University, with full University status! Previously, Ariel University had the status of a college which meant it could not award PhD's and it could not receive financial aid from the official governmental budgets. The Council of Higher Education, the Minister of Education, and the Minister of the Treasury, recognized Ariel's University status on a par with the Hebrew University or Bar-Ilan University. It is a great achievement of Ron Nachman who enjoys the support of others, such as, Eli Cohen, the Chairman of the University's trustees.
It should be noted that many Presidents of Universities opposed the new status of Ariel University. They claimed, for example, that the quality was very low, there were no institutes for research, and that there are too many universities in Israel that would face the prospect of the Minister of the Treasury, Yuval Steinits, cutting their share of financial aid from the government.
Not all the professors supported this opposition. Professor Israel Oman, Israel's Nobel Prize Laureate, defended Ariel. Ron Nachman and others argued that the opposition was not professional but political. Nachman said in the Today Israel newspaper: "It is a guild of hypocritical presidents who only wish to keep the governmental aid for themselves. Their war against Ariel is a political one. They want to eliminate Ariel."
Ron Nachman must challenge Israelis who ignore the world's anti-Israeli and anti-Jewish terrorism. They also ignore the non-stop crusade for the elimination of Israel and the murder of its citizens. Recently, Israeli actors, singers, and writers, published a manifesto saying that they will not perform in Ariel. Israelis should be ashamed to boycott other Israelis! But the majority support Ariel. Noam Semel, the executive director who built a theatrical empire, The Cameri, said: "I gladly will perform in Ariel, the great 'Cameri' will go over there, no problem."
But there were 155 Israeli professors and scholars who signed a petition in November of 2011, against Ariel, defending the rights of the Palestinians. However, Ron Nachman is happy because his dreams were realized, namely, the high quality of life in Ariel and the victory of his city University. He even thinks about the future of Ariel by founding the Ariel National Leadership program for its youth.
The birth of Ariel took place on a hill which the Arabs defined as the 'Mountain of Death' but only devoted pioneers such as Ron Nachman changed the name to the 'Mountain of Life, Survival, and Hope.'