Interview with Maj. Gen. (R) Sidney Shachnow, Commander of US Army Special Forces - The Green Berets - on its 50th Anniversary
By Henry Levy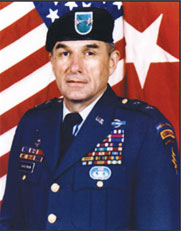 Maj. Gen. (R), Sidney Shachnow, in his service days in the Green Berets.
On the afternoon of October 3, 2012 I had the privilege of interviewing Major General Sidney Shachnow prior to the Green Beret Foundation's Gala celebrating the 50th Anniversary of the Green Berets. The General is a Holocaust survivor who joined the US Army after high school, became the commanding officer of the Green Berets and is held in the highest regard by those who served under his command. He is thoughtful, articulate, has a wonderful sense of humor, and lives on a horse farm in North Carolina with his wife Arleen. Here is his story.
Sidney Shachnow was born in Kaunas, Lithuania in 1934. From the ages of seven to ten he was imprisoned in the Kovno concentration camp which was once a ghetto with 40,000 Jews. When it was liberated by the Russians in 1944 only 5% of the people had survived. His father escaped a work detail and joined Russian partisans. His mother arranged for a sea captain to adopt his younger brother and Sidney was smuggled out of the camp to live with a religious Catholic family just days before all the children were forced to march towards their execution. After the war he was reunited with his mother, who picked up his brother and they had to fend for themselves with no job, no income and no organizations to support them. Sidney developed a sixth sense and an ability to read people which made his a successful beggar and smuggler of black market contraband for American GI's. His family endured a 2,000 mile, six month journey, mostly on foot, across Europe ending in Nuremberg, Germany. Finally in 1950 they obtained visas and immigrated to Salem, Massachusetts. He attended school for the first time and after graduating high school enlisted in the army. In 1962, as a young company commander, he heard that the military was looking for Green Berets. He applied, was accepted, promoted to Captain and served in the Special Forces for the next 32 years.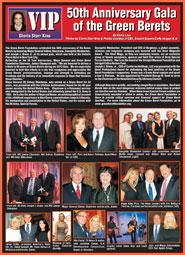 Photos of Green Berets 50th Anniversary by Gloria Starr Kins
Training was, he said, "It was hard before you start. It's like climbing a mountain. When you are at the bottom it's difficult. When you are on top looking down it's not too bad." He married six weeks before joining the military and had no clear vision it would be his career. He mused, "I had many opportunities in the military and when opportunity knocks you get up off your ass and open the door."
One of his lasting memories took place at the end of the cold war when he was the commanding general of the Berlin Brigade during the fall of the Berlin Wall. Recalling a moment filled with irony he said, "There I was, a Holocaust survivor living in the villa that Hitler's Finance Minister, General Fritz Reinhardt owned and which was Hermann Goering's headquarters. At a dinner with my Russian counterpart and senior KGB officers they were laughing. When I asked them why, they replied, "Here you are, a Jew. You were liberated by us, the Russians. Now you are defending the Germans who had incarcerated you and committed atrocities against your people while you are getting ready to fight us, your new enemy."
When asked if as a child he lost his faith in Kovno, he replied, "In Lithuania I was very religious but I had a lot of questions to which I didn't get the right answers. When I wondered why God allowed the concentration camps, the Rabbis responded that it always boiled down to having faith. That eventually led me to have my own direct relationship with God. I talked to him but I can't say that he answered back. What I can say is that now I am more spiritual than religious. I've spoken at synagogues about the Holocaust. I don't enjoy doing it - it's very difficult. I started out not appreciating the significance but later on I was concerned about the event being remembered. I have 14 grandchildren and 5 great grandchildren. How much does each of us know about our grandfather or great grandfather? Do we even remember when they were born? What they did? It was even rare we knew they existed." This was a very logical reason for Shachnow to not only speak out, but to write a book about his life. That book, "Hope and Honor", is a gripping memoir that received enthusiastic reviews.
Some guidelines that Major General Shachnow live by are: Don't ask your subordinates to do anything you wouldn't do yourself. Don't be afraid to make tough decisions even though some people may not like them.
Empathy is a valuable trait … being able to put yourself into someone else's shoes and see things from his perspective
When asked which people had the greatest influence on his life, he said, "My greatest counsel was my wife - always solid and she made sure I had both feet planted firmly on the ground and saw things in perspective. She is a good listener. She lets me blow off steam and eventually I come up with my own solution - she just had to give me airtime."
Shachnow concluded that he has had tremendous luck. He never had his life's path planned out and with so many uncertainties and twists and turns he "sort of dealt with it day by day." He said that without education there is "a concrete ceiling, never mind a glass ceiling." He credits the military for giving him the opportunity to go to Officer Candidate School and get a Masters Degree and a PhD. He believes he has had tremendous luck but his legacy is based on far more than luck. The admiration, respect and devotion that were evident in the speeches, comments and ovations of his colleagues and soldiers under his command, were a well deserved testimony to that.