State of Israel Honors Knicks� Allan Houston with MLK Award
By Alan Manheim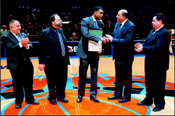 From left: Rene Reinhardt, from the JNF; Bob Kaplan, Director of Intergroup Relations for the JCRC; Allan Houston, Assistant General Manager for the New York Knicks; Ido Aharoni, Acting Consul General of Israel in New York; Gil Lainer, Consul for Public Affairs at the Consulate General of Israel in New York.
In celebration of Black history month, on February 16, 2011 Knicks Assistant General Manager Allan Houston received the 2011 Martin Luther King Award in front of players and fans at Madison Square Garden. Mr. Houston received the award from Ido Aharoni, Acting Consul General of Israel in New York.
The Martin Luther King Jr. Award has been presented by the Consulate General of Israel in New York for the past twenty years to individuals and organizations promoting ethnic and cultural understanding. This annual tribute to the late Dr. Martin Luther King Jr. honors the dream of peaceful coexistence between people of diverse religions, cultures and ethnicities. Every year the State of Israel, together with the Jewish National Fund and the Jewish Community Relations Council of New York honor those whose work keeps alive Dr. King's legacy of hope and peace.
Allan Houston had an illustrious career with the Knicks that was cut short by a serious knee injury. He is a devoutly spiritual and religious man and is a father of six children ranging in age from five months to eleven years. It is ironic that Mr. Houston is receiving this award after being accused of an anti-Semitic remark almost ten years ago. The charge was leveled in a New York Times Magazine article by Eric Konigsberg in April of 2001. Koningsberg's criticism was largely directed toward Charley Ward another Knick player of that era, but Allan Houston was also mentioned.
It was alleged that Ward, and Houston to a lesser extent, accused the Jews of persecuting Jesus. In an interview to the Jewish Post, just before receiving his award Allan Houston said, "My words were misrepresented in that article, no Christian should believe that the Jews persecuted or killed Jesus. And through my many visits to Israel I have developed more understanding in my heart and have become good friends with leaders of the Jewish community."
At the game that night, Mike Breen, the television voice of the NY Knicks, commented that "Allan Houston is one of the finest people you'll ever meet" Jill Martin of MSG TV said, Allan Houston is a generous, honorable man who spends so much of his time giving to others." And George Willis sports columnist of the NY Post stated, "Allan was one of the best on the court and even better off the court, treating reporters and members of the media with great respect."
Rabbi Bob Kaplan of the Jewish Community Relations Council of New York added that during many trips to Israel, "Allan Houston used both his passion and skills not only to teach basketball but also to show his love for the Israeli people."
"This tribute today honors Allan Houston for his efforts in promoting diversity and tolerance," said Acting Consul General Aharoni. "Allan Houston embodies the spirit of Dr. Martin Luther King Jr, through his work in creating a peaceful co-existence between people of diverse religions, cultural, and ethnic backgrounds." And the Consul General mentioned that besides the United States, "Israel is the only country that commemorates Martin Luther King Day with a special session of its legislature, as well as in every Israeli mission worldwide."
In association of this award and in recognition of Mr. Houston's outreach to Israel, the Jewish National fund has planted trees in his honor in the Dr. Martin Luther King Forest in Israel.