Children and the Holocaust
7th Annual UN Holocaust Remembrance Day
By Henry Levy
From left: (top row) The audience standing during the Day of Commemoration of Victims of the Holocaust memorial ceremony at the UN General Assembly hall. UN Photo/JC McIlwaine; Master of Ceremony, Mr. Kiyo Akasaka, UN Under Sec.-Gen. for Communications and Public Info; From left: H.E. Peter Wittig, German UN Ambass.; Rabbi Arthur Schneier, Park East Synagogue; Rosemary DiCarlo, Dep. US Rep. the UN; H.E. Ron Prosor, Israeli UN Ambass. (center row) Ron Prosor (left), Israeli UN Ambassador, and former Israeli UN Ambassador, Dan Gillerman, at the "Children and the Holocaust". UN Photo/JC McIlwaine; Dr. Robert Krell, Keynote Speaker; Valerie Amos, UN Under-Sec. Gen. for Humanitarian Affairs and Emergency Relief Coordination. (bottom row) Herman Hoch, President of Park East Synagogue; Dr. Ruth Westheimer, Holocaust survivor; and Mrs. Wiltig, wife of German UN Ambassador; Amir Dossal, Founder and Chairman of Global Partnerships Forums; Holocaust survivor, Roman Kent; H.E. Witold Sobkow, Poland's UN Ambassador; Busso von Alvensleben, German Consul General to NY; and Ewa Junczyk-Ziomecka, Consul General of Poland to NY.
Photos: Gloria Starr Kins & UN Photos
"One and a half million Jewish children and tens of thousands of other children, including those with disabilities or those labeled as 'inferior', perished during the Holocaust," said Ban Ki-moon, Secretary General of the UN as he opened the Seventh Annual Holocaust Remembrance Day ceremonies. We will never know what they could have contributed to society."This is why we strive to promote children's rights here and everywhere," he continued.
H.E. Nassir Abdulaziz Al-Nasser, President of the UN General Assembly said that as this year the UN focuses on children and the Holocaust, "we acknowledge those victims loss to their families. Let us insure that ethnic cleansing and mass killings have no place in our society. The nations of the world make up one human family."
H.E. Ambassador, Ron Prosor, representative of Israel to the UN, spoke in very moving terms of the tragic loss of Jewish life, especially the children who represented the future of the Jewish people. He remarked, "The commitment of 'Never Again' must be universal." He decried the fact that hate fills the textbooks of children in the schools attended by many Arab countries who continually lambast Israel for not giving the Palestinians a State and making peace.
H.E. Ambassador, Luis Lithgow, of the Dominican Republic called the Holocaust "One of the worst crimes against humanity." He continued that under no circumstances should we ever allow this lesson to be forgotten. He was proud of the fact that in 1948 his country gave asylum to over 100,000 Jews and that they are a nation where people of all religions can live together in harmony.
Dr. Robert Krell, child survivor, psychiatrist, university professor and keynote speaker told us that 93% of the Jewish children were murdered during the Holocaust. He said that silence was the language of the child survivor and many maintained that silence throughout their lives. He spoke of Elie Weisel's comments that while there were those who thought they had to help us survivors adjust to life, we had to adjust to death. Even Deputy US Ambassador to the UN, Rosemary DiCarlo paraphrased Weisel saying that evidence matters and memory has become the sacred duty of those of good will.
There were wonderfully moving performances by young performers from the YM & YWHA of Washington Heights and Inwood, as well as Cantor Azi Schwartz, of Park Avenue Synagogue who chanted the memorial prayer El Maleh Rachamim.
The audience in the General Assembly included survivors, members of the Diplomatic Corps, leaders and members of Jewish organizations the media and the general public.
Remarks By H.E. Nassir Abdul Aziz Al-Nasser from Qatar, Pres. of the 66th Session of the UN Gen. Assembly, at Park East Synagogue, NYC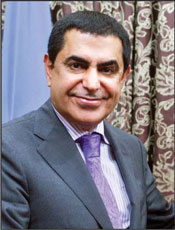 H.E. Nassir Abdulaziz Al-Nasser, President of the Sixty-Sixth Session of the United Nations' General Assembly.
UN Photo/Mark Garten
Rabbi Schneier, Mrs. Schneier, Congregation of the Park East Synagogue, Holocaust Survivors, Mr. Secretary-General, Mrs. Ban, Members of the Diplomatic Corps, Distinguished guests, ladies and gentlemen, Good morning. I have the honor today to participate in this Holocaust Remembrance Service.
Allow me first to acknowledge Rabbi Schneier. A Holocaust survivor himself, the Rabbi must be commended for his commitment to building bridges among faiths, and across barriers.
I would also like to acknowledge the Park East Synagogue in its more than one hundred and twenty years of faithful service to the Jewish Community.
As you may know, the International Day of Comme-moration of the Victims of the Holocaust was established by the United Nations General Assembly in 2005.
This international day ensures that the Holocaust will forever remain, in our time and for future generations, a warning to all people about the dangers of hatred, bigotry, racism and prejudice.
It also serves to reinforce the urgent need for the full protection of all human beings' rights and freedoms, without distinction to religion, race or other status.
This year, the focus of this commemoration is "Children and the Holocaust". We pay tribute to the children who survived, and to their families. And we remember and honor the children who perished. Children for whom the basic standards of rights were tragically absent. Children who experienced the worst of life: separated from their families; exposed to brutal labor; dying from starvation.
We join millions of people around the world to say with one, strong voice:
Never. Never again! Never again!
Sisters and brothers,
To cultivate world peace, we must first cultivate peace within ourselves. The United Nations offers a framework in which to build and support this peace.
The UN Charter – born in the immediate aftermath of World War Two and the Holocaust – founded the United Nations "to save succeeding generations from the scourge of war."
As part of our efforts to build peace, we focus on what brings us together: our shared humanity. This commitment is rooted in our scripture, the Holy Quran, and I quote: "We created you from a single (pair) of a male and a female, and made you into nations and tribes, that ye may know each other, not that ye may despise each other.".
Recognizing the critical need for dialogue among different faiths and religions, the General Assembly has declared the first week of February as the annual "World Interfaith Harmony Week". Many events will take place at the United Nations next month. I hope each of you will join us in celebration.
In today's world, the need to find peaceful resolutions to disputes has become more relevant and urgent than ever before. Mediation is, therefore, a cornerstone of my Presidency. I firmly believe that we can - and should- employ mediation and other peaceful tools to avert the many human and economic costs of conflict.
But we still need to do more to reach out, to respect and to understand one another. This is an even more compelling obligation today, than it was before global communications and a deeply interconnected world became our destiny.
Initiatives that enhance mutual understanding, harmony and cooperation – that turn words into action - are the way forward.
We in Qatar are proud to be the home of the Doha International Center for Interfaith Dialogue. Established in May 2008, the center works to promote a culture of dialogue and peaceful coexistence.
Rabbi Schneier himself also works tirelessly to promote dialogue and understanding among different cultures, religions and peoples.
But let us not pretend that we can ever fully rid the world of hatred or intolerance. I have seen first-hand the destruction and brutality that continues in this world today. But I have also seen the hope and anticipation glimmering in the eyes of those who are standing up for freedom and dignity.
Those who are standing up for what they know to be right and true. And those who are resilient and through their courage are changing the course of our history.
Today we are witnessing these shifts across the globe. So, let us come together and join hands, deeply aware of our past, yet optimistic for a brighter future. Our shared future, and that of our children.
Let us take this opportunity to reaffirm that those who perished in the Holocaust will never be forgotten. And let their memory inspire us to do our utmost to live according to our scriptures, according to our shared values. And according to the Universal Declaration of Human Rights, in peace and harmony with all members of our human family.
Shabbat Shalom. Assalam o Alaikum.
UN Secretary-General's Remarks at Park East Synagogue Commemoration on the International Day in Memory of the Millions of Victims of the Holocaust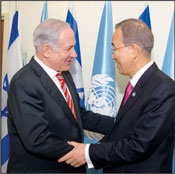 UN Sec.-Gen., Ban Ki-moon (right) and Prime Minister, Benjamin Netanyahu, met last month in Jerusalem.
UN Photo/Eskinder Debebe
Rabbi Schneier, Your Excellency Mr. Nassir Abdulaziz Al-Nasser, President of the General Assembly, Excellencies, Holocaust survivors, Ladies and Gentlemen, Thank you for inviting me to join your congregation's commemoration of the International Holocaust remembrance day I was very moved by last year's observance in this house of worship, and I am glad to be back. This year is also special It is the centennial of the birth of Raoul Wallenberg.
And it is the year in which your friend and mine, Arthur Schneier, marks half a century as Rabbi of Park East Synagogue. Congratu-lations.
Rabbi Schneier, not long ago you acknowledged that religious leaders have a tremendous responsibility. You said, and I quote: "We can use our pulpit for incitement, or we can use our pulpit to pronounce peace and coexistence".
We all know which side you have chosen: the side, the cause, of mutual respect and understanding. We at the United Nations admire what you have done during your decades of service. You have been a bridge-builder. You have provided a voice of moderation, helping us, as you have put it, to "swim together against the tide of extremists and radicals". You have been a strong advocate for UN values and the UN Alliance of Civilizations. And you have done all this after having to rebuild your own life. So much of your world was destroyed - by the Nazis, by anti-Semitism, by persecution.
I know that many of you here today also experienced this first-hand. Yet you recovered. Even more than that, you have not given up on humankind, though you had good reason to do so.
Instead, Rabbi Schneier, you have played a leading role in our shared efforts to build a world of dignity and security in which no such horror can ever happen again. That is the mission of the United Nations, and we thank you for being our partner in it.
Ladies and Gentlemen, the United Nations attaches great importance not only to this single day of remembrance, but to our work throughout the year to educate the world about the universal lessons of the Holocaust. Our Outreach Program continues to mobilize teachers and young people. Our partners include Yad Vashem and others. I visited Yad Vashem before and I'm going to visit again this month.
This past November, we worked with the International Criminal Court and the International Bar Association on an event that examined the legacy of the Nuremberg laws and their influence on jurisprudence today. And this year, on International Women''s Day in March, our Holocaust and the United Nations Outreach Program is organizing a conference at the University of Southern California on women and the Holocaust and the impact of war and mass violence on women today.
The Holocaust affected so many different groups, and so many professions, that it is vital to reach new audiences with this history. Next week at the United Nations, this year's General Assembly observance is dedicated to the children who faced the evil of the Holocaust.
One and a half million Jewish children perished in the Holocaust. Tens of thousands of others were murdered, including people with disabilities, as well as Roma and Sinti. Many died of starvation or disease. Many others were orphaned by the war, or ripped away from their families. We will never know what these boys and girls might have contributed to our world. And many survivors were too shattered to tell their stories.
Today, we seek to give voice to those accounts. And every day, everywhere, the United Nations works for children's well-being. We draw inspiration for this work from the landmark Convention on the Rights of the Child and its protocols on children in armed conflict and the sale of children, child prostitution and child pornography. Children are uniquely vulnerable to the worst of humankind. We must show them the best this world has to offer.
Excellencies, Ladies and Gentlemen, As you may know, this month marks the beginning of my second term as Secretary-General. I thank you for your support on this. It is a great honor to serve this great organization for another five years. This is a pivotal moment in world affairs. We are witnessing shifts in global economic power.
We have seen the birth of democratic movements in North Africa and across the Middle East. Climate change has placed us on a collision course with the planet. Inequality, economic uncertainty and distrust in institutions are all on the rise. Technology continues to link us more closely than ever before. Future generations may well describe this period as an inflection point, when the contours of a new world began to take shape.
We have made important progress since the Second World War and the Holocaust. But in a world of 7 billion – and with global population expected to increase by another 500 million in just the next five years – we must all do more to steer as a global society.
This past September, I identified five imperatives for collective action: These are sustainable development, prevention, building a more secure world, supporting countries in transition and empowering the world's women and young people.
Next week I will unveil a plan of action that aims to advance our work on each of these imperatives – these generational opportunities. Our work for human dignity will underpin all we do. And our memory of the years when that dignity was torn from so many millions -- so fast, so brutally – is likewise part of the bedrock from which we operate.
Let us all work together today to realize human dignity for all, and to realize the UN's full potential in building the future we want.
Thank you very much. Shabbat Shalom.