The Jewish Board of Family & Children�s Services Raises $1.25 Million
By Staff Writer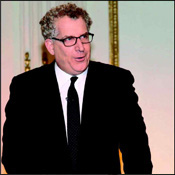 David Moore
Photo: Michael Priest
The Jewish Board of Family and Children's Services (JBFCS) celebrated its Annual Spring Benefit, honoring the work and support of four extraordinary New Yorkers: Brad S. Karp, Chairman of Paul, Weiss, Rifkind, Wharton & Garrison LLP, and JBFCS Board of Trustees Members David S. Kleger, Ira Schuman, and Jamie B.W. Stecher. Led by the evening's MC, WNBC's Melissa Russo, this special event was held at New York City's iconic Plaza Hotel and featured a cocktail reception and seated dinner. The evening rose over $1.25Million in funds to benefit JBFCS' 175 community-based programs, residential facilities, and day-treatment centers that annually serve over 55,000 New Yorkers-in-need across all faiths, races, and cultures.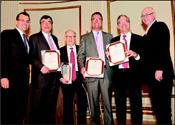 (from left) Anthony E. Mann, Ira Schuman, David S. Kleger, Brad Karp, Jamie B.W. Stecher, Paul Levine.
Photo: Michael Priest.
As the dinner began, Russo introduced a short docu-video to illustrate a first-hand look into the efforts of JBFCS—"through the stories of a couple of our clients…their challenges, their victories and the people on our staff that help them succeed." Following the touching video, Russo led guests in enthusiastic applause for the clients and JBFCS team members whom the video documented and who were all in attendance.
In his address, JBFCS Board of Trustees President Anthony E. Mann articulated his awe at the incredible work of the agency's team and the impact their work holds, saying "it never ceases to amaze me how the work of our dedicated staff is able to transform lives, one person at a time…and that individuated work has a ripple effect throughout that person's family, their community and the five boroughs of New York City and Westchester."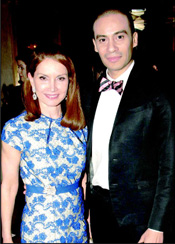 Jean Shafiroff, Victor de Souza.
Photo: Amber De Vos/Patrick McMullan
JBFCS' Executive Vice President and CEO Paul Levine expressed his gratitude for the support of those in attendance—"you are responsible for helping us to raise over $1Million…thank you…that has impact, and it's huge." As Levin explained, $1Million makes it possible to fund the salaries of almost 20 social workers for a year; in that year, each social worker works with about 100 clients; so, accordingly, 2,000 clients and their families are supported within that year from those funds. To the honorees, Levine praised their level of dedication and commitment, saying, "We would not be who we are without each of you."
As the evening came to a close, the honorees were presented with awards with individual heartfelt remarks by JBFCS Trustee Daniel J. Leffell, JBFCS Chairs of the Board John A Hermann and Jean L. Troubh, and JBFCS Board of Trustees Vice President Fran Levy. Accepting their awards, Karp praised the work of JBFCS, "improving the lives of tens of thousands of New Yorkers" and looked toward the future and his continued relationship with JBFCS—"I hope it's just the beginning." Next, Kleger thanked the Board for "making this an extraordinary organization." Schuman thanked his family, friends, and colleagues for their continued support of his work with JBFCS and the efforts of the organization, while Stecher told the crowd of a recent visit to Kaplan House—JBFCS' urban residential facility for older adolescent males that provides an extensive independent living skills program and therapeutic and support services—and his awe at the accomplishments of both the clients and JBFCS team, while expressing his gratitude to the crowd for "helping us help them." As Stecher closed his remarks, he noted the personal impact JBFCS has had on him—"I have served on many charity boards…nothing has made me as proud as this one."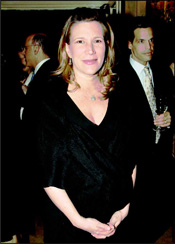 Melissa Russo.
Photo: Amber De Vos/Patrick McMullan
JBFCS is one of the largest and most respected mental health and social service nonprofit organizations in the country. Through a comprehensive range of community-based programs, residential facilities, and day-treatment centers, JBFCS serves more than 55,000 New Yorkers annually from all religious, ethnic, and economic backgrounds. At the heart of JBFCS are nearly 2,000 professionals who serve with commitment and compassion: social workers, psychologists, psychiatrists, and a cadre of clinical support personnel. The efforts are backed by more than 2,000 volunteers who open their hearts and give of their time every year—as mentors, phone companions, big brothers and sisters, and study buddies, exemplifying every day what it means to take care of one another. As leaders in the field of human services, JBFCS mission is clear— to get help to those who need it. For further information, please visit www.jbfcs.org.