PRESSURE FOR BROADER MANDATE GIVEN TO BLAIR
By: Julie A. Sergel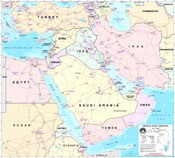 Tony Blair's title as Mid-East envoy is being tested, despite the fact he has yet to set foot on ground in the region equipped with his new role. The stakes are high; conjecture and speculation abound. The world is wide-awake and a concerted demand is placed on finding remedy. Quartet members meet today (July 19th) with hopes to spill out a clearer description of what Blair will be allotted to do.
U.S. Secretary of State Condoleezza Rice, UN Secretary-General Ban Ki-moon, EU diplomat Javier Solana, and Russian Foreign Minister Sergei Lavrov will meet with Blair in Lisbon, Portugal.
The initial thrust of the former prime minister's presence in the Middle East is to fortify Palestine, as outlined by the international committee shortly after his appointment. As Quartet Representative, he will:
mobilize international assistance to the Palestinians, working closely with donors and existing coordination bodies

help to identify, and secure appropriate international support in addressing the institutional governance needs of the Palestinian state, focusing as a matter of urgency on the rule of law

develop plans to promote Palestinian economic development, including private sector partnerships, building on previously agreed frameworks--especially concerning access and movement

and liaise with other countries as appropriate in support of the agreed Quartet objectives
Essentially, Blair is responsible to "help create viable and lasting government institutions representing all Palestinians, a robust economy, and a climate of law and order for the Palestinian people."
Most agree the initial steps to establish a stable Palestinian framework are both vital and necessary starting points in achieving the larger goal of a peaceful two state resolution. However, the hope is that this will certainly not play out as a static role.
Due to the fact that much has taken place since the Quartet last gathered in Germany at May's end, beyond Blair taking his post--the Hamas takeover of Gaza and the resounding internal split of the Palestinians--unrest has only grown in the region and talk is being forced into action.
However, to befuddle matters, it seems Washington has drawn a line in the sand, allotting Secretary Rice and President Bush the focus of "political negotiations" and Blair (in the context of a more administrative assignment) "to focus his considerable talents and his efforts on building those Palestinian institutions," according to U.S. State Department spokesman Sean McCormack. He is also quoted as saying, "I think all in the region and around the world are really going to look to the United States and Secretary Rice for leadership on pushing forward the political tracks, whether that's between the Israelis and the Palestinians or between the Israelis and the Arabs."
Press briefings from the State Department reiterate Washington's want of control over politics, with spokesman Tom Casey confirming a stalemate on dialogue with Hamas.
James Wolfensohn (former World Bank President and Mid-East envoy whom Blair has replaced) was similarly assigned the task of administrative reconstruction-a job heavily reliant upon negotiating clout-and for lack of it, cause for a frustrated end.
A propensity towards diplomacy has always been seen as key in Blair's cache for progress. An open letter to Tony Blair from ten Ministers of Foreign Affairs of the Mediterranean States of the European Union was recently posted (July 10, 2007) in Paris. The report encouraged Blair in this nearly insurmountable task with a great hope for resolve despite intense odds. A "terrible feeling of impotence" was described as taking hold of the entire international community but serving as catalyst for change. "The international community's nervousness about doing anything at all has caused too much damage," said the note. An agreed "change of perspective" had prompted the group to offer tireless support and four objectives for Blair to carry out:
Establish a position of genuine hope--to offer the people shared and realistic goals in tackling issues of Jerusalem, refugees, borders, etc.

Secure Israel-a robust international force (NATO, UN chapter VII type) is to be considered, alongside a peace plan based on an inter-Palestinian agreement.

Communicate to Israel immediate measures that must take place in order to fortify Mahmoud Abbas's position-transfer of taxes owed, release of main Palestinian leaders and prisoners without blood on their hands, freezing of the settlement policy and removal of wildcat posts.

Appease Hamas-reopen borders between Gaza and Egypt and facilitate movement between Gaza and Israel, to aid return of dialogue between Hamas and Fatah.
Concluding that the historic opportunity "may be the last one," the ministers reminded Blair of "the extraordinary privilege of soon being able to help make a reality of what had until now been only an idea: two States, Israeli and Palestinian, living side by side in peace and security."
Palestinian negotiator Saeb Erekat requested that Blair "place equal emphasis on the fulfillment of Israeli obligations and responsibilities under the 'road map'…. parallel with those of the Palestinians," in a letter addressed to Quartet reps, as printed in the London Guardian. Erekat went on to say that the Palestinians [expected to see] "a full and genuine freeze in settlement construction, including an end to wall construction" in order to trust the validity of Blair's commission.
The "road map" for peace was introduced in 2002 by the Quartet as framework for a secure state of Israel and a peaceful, democratic Palestine. The various phases have been revisited and stalled accordingly.
Amr Moussa, Secretary-General of the Arab League, has also asked the former prime minister to act as an honest broker, petitioning for a wider goal beyond Palestinian foundations.
Clear objectives for the new envoy were set out on a recent National Public Radio (NPR) interview with Robert Malley-Middle East and North Africa program director for the International Crisis Group. Malley advised that Blair would need to attain the confidence of both sides, be able to pressure people to do what they may not want to (both sides), and rallied for a broader mandate, "He's going to have to be able to deal with more sensitive issues, and that's going to depend very much on whether the United States is prepared to give him that room to maneuver." Malley vied, "You can't deal with a political situation as fraught as the Palestinian one if you're excluding a constituency as large as Hamas is."
Despite the pleas volleying in the broader international community, Washington continues to dismiss the idea for request regarding Blair's role being widened. Some even report that Blair is not concerned with the fine print. Maybe it's the final clause in the job description that frees Blair from contractual upset. The charge to "liaise with other countries as appropriate in support of the agreed Quartet objectives" may serve him well and offer the freedom others in the world note as key for success in fulfilling the post.
Blair has been assembling his own team-a staff to help coordinate various organizations and donors-including Nick Banner (of Foreign Office and Downing Street) as chief of staff and Daniel Levy (son of Lord Levy, Blair's former UK Mid-East envoy). It's been rumored that an entire wing of the American Colony Hotel in East Jerusalem may function as office headquarters for Blair and his staff