Behind the Scenes at the UN: MEETINGS GALORE & BALAGAN* IN THE "MUDDLE" EAST
*Balagan stands in Hebrew for Chaos; Great Confusion
By Naomi Farrell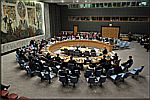 UNITED NATIONS (WUP) According to the frequency of activities of the United Nations with an almost obsessive focus on Israel, one would think that Israel is the most important nation on the Planet.

In the Congo, as well as murdering thousands of civilians, rape is carried out as an act of war, brutally mutilating hundreds of women and girls - a way of destroying their society. In Chad children are kidnapped to be trained as child soldier killers. Sudan's State-sponsored slaughter of civilians goes on year after year in and out of Darfur. The recent conflict in Sri Lanka estimates over a thousand civilian casualties. In Afghanistan, the Taliban recently blew up some 20 schools and threw acid in the faces of young girls who tried to go to school.

Among all of these, only a comparatively few Security Council Meetings were held, and resolutions passed, to stop the wrongdoing, which were subsequently ignored. Of course there is always a statement by the Secretary-General, "deploring" the terrible event and requesting that they stop. Lots of luck!

For Israel, on the other hand, there have been some four Security Council meetings in the month of January, and four so far in February. In early January one was considered serious enough to be held on a Saturday (emergency) and then the next week, Jan 8th, lasting till the wee hours with private consultations with the Arab League, Mahmoud Abbas, Condoleeza Rice, and important dignitaries from Europe who all flew in to New York for this purpose. Simultaneously, in Cairo, President Mubarak and the French Foreign Minister were contributing their part in attempts to resolve the Mideast crisis working on plans having meetings with Hamas and Israel.

Hamas shooting rockets at Israel and Israel coming into Gaza with all its force in attempt to clean out the terrorists, and unfortunately causing a lot of damage with many Palestinians killed and injured, homes and buildings destroyed which resulted in the predictable cries of outrage against Israel in the streets of many cities of the world. Walking along First Avenue and 47th Street, across from the UN on my way to work, Palestinian teenagers and children were demonstrating. They held gory enlarged photos of bleeding babies, presumably dead, the same as shown on many of the Arab TV networks. The leader shouted passionately into his bullhorn, "Israel thinks it is fighting with a small weak society but they are at war with all of Islam around the world."

There have been more meetings here at the UN regarding this in the past two months than about any other issues in the world probably ever. How important we are! Are we held to a higher standard or is Israel a convenient smoke screen to cover the sins of the bashers? Besides the frequent Security Council Meetings, a "Special Emergency Session of the General Assembly," was called and for several days, some seventy countries vented their thoughts about Israel. Not all bad.

Of course the annual General Assembly meeting of the "Inalienable Rights of the Palestinian People against Israeli Occupation" also took place within this period in which surprisingly the Palestinian Ambassador Riad Mansour spoke quite politely about Israel, discussing the possibility of peace. No name calling or insults this time.

Security Council passed Resolution 1860, demanding an immediate cease-fire, which was ignored by both sides, but eventually held in a very fragile way while negotiations are taking place.

The Human Rights Council issued a report, condemning Israel of gross violations against humanity. Amnesty International sent a fact finding team which also cited criminal abuse of the Palestinian people in Gaza and accused Secretary-General Ban ki Moon of being too timid on the extent of his inquiry. He had actually agreed to accept Israel's investigation of the destruction of UN buildings. In the daily press briefing one of the Arab journalists exclaimed, "he is expecting Israel to do an investigation on themselves, is he kidding?" A few days later after similar pressure, especially from the Arab Press, he sent a representative, and later assembled a UN investigative team. Almost every arm of the UN sent representatives to look and report, including the Secretary-General. The U.S. sent George Mitchell as a special representative, hoping that his talents as a negotiator might help.

For several weeks, during Israel's 22 day military action, in Gaza - "Operation Cast Lead", John Ging the head of UNRWA which is the official United Nations Refugee Agency in charge of the Palestinian refugees in the camps in Gaza (which supplies them with food, health care and education) held daily press briefings via video-cast from Gaza into the UN press briefing room here in New York. This was incorporated into our daily noon briefings.

He gave detailed reports of the "horrors" he was witnessing with statistics each day of how many Palestinians were killed and injured and always included that the people are starving because Israel closed the crossings to let supplies in. Not much mention of rockets fired into Israel. During most of that time, the Rafah crossing bordering Egypt was closed and they did not seem concerned about the plight of their hungry Arab brothers. In the meantime, Hamas was transporting cattle and sheep and other supplies as well as weapons through the hidden tunnels from Egypt. During the reports of "starving people" in Gaza, someone was eating steak and lamb kabobs!

The participants in these daily press briefings gradually dwindled to mostly Arab media. They were so outspoken against Israel that the Spokesperson of the Secretary-General, Michele Montas issued a statement reminding the press that these briefings were for the information to correspondents and cannot be used as a platform for propaganda and ones own personal issues. For example, the previous day a journalist from Lebanon asked, "Why should the tunnels be closed to stop weapons smuggling, when Hamas needs the weapons to defend themselves from the attacking Israelis so they can shoot back?"

In an about-turn the UNRWA chief himself, John Ging announced that he was withholding shipments of supplies to Gaza during a time when the Israelis opened some border crossings. Before this, he gave daily reports blaming Israel for the starving people of Gaza. This surprising action was in response to Hamas gangs robbing the UNRWA warehouses. After lots of statements of outrage from the international community, Hamas returned the stolen goods and apologized, saying it was a "mistake" or "misunderstanding". At present all the nations who generously pledged lots of help and money are temporarily withholding their assistance until they can be sure that their donations will reach the poor people of Gaza and not the Hamas crooks.

Israel is now bracing for a wave of lawsuits, being accused of substantial human rights violations, crimes against humanity, and war crimes during the "Cast Lead" operation. The International Federation for Human Rights (FIDH), the Euro-Mediterranean Human Rights Network (EMHRN) and the International Commission of Jurists (ICJ) also hit out at Israel. The rights organizations had a group of monitors in the Palestinian territories for a number of days during Israel's military operation.

All this when Israel's political house is in disarray.