Jewish Family Butchered by Palestinian Murderers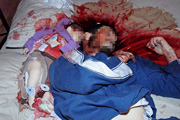 Fogel family butchered in bed. Photos: Miri Tsachi/Israel Sun
Horror in Samaria: A terrorist infiltrated the West Bank settlement of Itamar, southeast of Nablus, early Saturday and stabbed five Jewish family members, including a 3 month old baby, to death. These photos were released by the family. They have given full permission for their use and they to ask you to report on the horrific reality of murdering children and babies in their sleep. The shocking attack occurred around 1 am as the terrorist entered the family home and murdered three children aged 11, 3, and a baby girl along with their parents. The victims were apparently sleeping as the killer came in. Fogel family butchered in bed.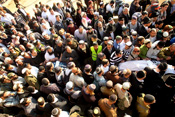 20,000 attend Itamar massacre victims' funeral. Photos: Miri Tsachi/Israel Sun
20,000 attend Itamar massacre victims' funeral Udi, Ruth Fogel, three of their children – Yoav, Elad and Hadas who were butchered Friday night in a terror attack, laid to rest at Jerusalem cemetery. Five coffins, two regular sized, 3 small ones. This is the appalling scene that met the eyes of the thousands attending the funeral of the five members of the Fogel family who were brutally murdered. The funeral was held at the Givat Shaul cemetery in Jerusalem. According to the police, some 20,000 people attended the funeral.