Going All the Way to the Ends of Earth to Save Another Human Being's Life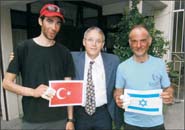 From left: Nadav Ben Yehuda; Israeli ambassador to Nepal, Hanan Goder; and Turkish climber, Aydin Irmak. Photo by Nitzan Arny/Israeli Embassy Katmandu for Israel Sun


Official diplomatic relations between Turkey and Israel may be down in the dumps, but atop the Himalayas, two men, nationals of Israel and Turkey formed a bond that may last forever.
A 24-year-old Israeli climber abandoned the dream of his lifetime in order to save a life close to the summit of Mount Everest. He had just 300 meters (1,000 feet) to go. But Nadav Ben Yehuda didn't think twice when a fellow Turkish climber, Aydin Irmak, 46, was injured on the way up the world's tallest mountain.
Had Ben Yehuda ignored his fellow climber, he would have become the youngest Israeli to reach the summit of Mount Everest, at the crest of the Himalayas. But the young climber, who himself suffered severe frostbite and other injuries, turned back to rescue a Turkish climber who had gotten hurt while climbing to the peak. The two climbers were rescued by helicopter and transferred to a hospital in Katmandu. It is not yet clear whether Ben Yehuda's fingers can be saved.