LIVE FROM SDEROT
Conference call with victims of Hamas' Missile Attacks
By Henry J. Levy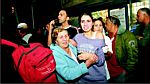 In Sderot, over 250,000 Israeli's have been suffering from having Kassam missiles, mortar shells and Katyusha rockets fired at them non-stop for over eight years … over 8,000 of them.

Imagine having a fifteen second window to get to safety from the time one is alerted that a bomb is on the way until it detonates.

Imagine having to run for safety multiple times every day … even as much as sixty times a day.

What kind of life is that?

peaking to us from Sderot, Israel was Taly Levanon, CEO of the Israel Trauma Coalition, Anat Lerner, Director of the Early Childhood Programs in Sderot and Chen Abrahams of the Gvanim Association. Joining them from New York were Michael Miller, executive director of the Jewish Community Relations Council and Assemblyman Rory Lancman [25th Assembly District, Queens], host of the event, both of whom just returned from Sderot.

Each of these people wanted Americans to understand that much more is going on in Israel than a confrontation between Israel and Hamas. What is at stake is the mental health of the people of Israel who have been traumatized on a daily basis for eight long years.

Taly Levanon mentioned that the percentage of children worried for the safety of their fathers as they go to military service has increased from 16% to 45%. The clinical social workers at the Israel Trauma Center have to deal with the worries of the children and see those colleagues around them suffer from burnout from the stress of their work.

Chen Abrahams told the journalists on the conference call that Sderot became a place of no work, no schools, no restaurants and no malls. She said, "We are all living in a war zone. Houses are shaking all the time. Windows are about to break. Over 70% of the population is suffering from trauma."

Anat Lerner spoke of the children from infancy to six years of age who were born into a life under war conditions and do not know any other life. She worries of the unknown effects this will have on their lives as they grow into adulthood.

Michael Miller, who had just returned from Israel with Mayor Bloomberg, said the focus should move from the war itself to the social welfare and mental health welfare of those Israelis caught up in these traumatic events. He also praised the role of the Israel Trauma Coalition as unsung heroes.

One of the questions asked was about the effect on the Israelis since the war began. The response was that the levels of anxiety were rising but there was a sense in Israel that finally something is being done [with the strong counter attacks to Hamas' missile firings] and there is a sense of solidarity and a chance for hope. People are afraid that the situation may revert to how it was before but they cling to the hope that there will be peace or they could not continue to live in Sderot. When asked if the Israeli children are growing up with hatred toward the Palestinians - Chen said that as a mother her big task is to educate her children that both sides are going through misery now but we must all move away from hate.

The Israelis acknowledged that Hamas was launching missiles from houses and mosques and are taking advantage of their people. They feel that the Palestinian people should demand a normal, quiet and prosperous life.

There was no consensus of whether the pullout from Gaza in 2005 was a wise decision, only that they did not want to see the current cycle of violence recur again and again.