State of Israel Bonds' $56 Million Luncheon
By Henry J. Levy
Healthy and vibrant real estate, construction and banking industries are critical signs that our economy is getting better. So it is a testament to the generosity of the leaders in these fields that their concern for the continued success of the Land of Israel and their desire for a secure and excellent return on investment resulted in raising over $56 million in State of Israel Bonds at their annual luncheon in New York City in November 2009. Thankfully this year's honorees have been putting their money behind their kind words for Israel Bonds for years. And as one can imagine their rewards go far deeper than monetary … they touch on championing a true democracy in the Middle East where the world's great religions have a chance to live side by side.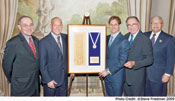 William Macklowe, Chairman and CEO of Mack lowe Properties received the Israel Peace Medal. He has been active in Israel Bonds for over fifteen years and is a member if the Real Estate Board of New York's Board of Governors. He was joined by his wife Julie, daughter Zoe, father Harry, a former honoree, family, friends and nearly 500 people from the industry.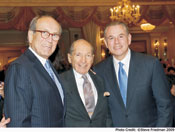 The highlight of the event was the keynote speech by Alan Dershowitz. His opinion was that Israel was living in the best of times and the most dangerous of times. While it is free from terrorism since the Gaza War, and life is fairly good, even in Sderot, it is facing its most dangerous year in existence since 1948.
Dershowitz felt that the likelihood Iran would develop nuclear weapons was greatly increased since Rafsanjani would probably accept a trade off of 15 million Iranians killed in retaliation for a nuclear attack on Israel. He noted that Israel's strongest Muslim ally, Turkey, began to waiver with its recent cancellation of joint naval maneuvers. Also Jordan introduced a resolution at the United Nations to adopt the Goldstone Report accusing Israel of war crimes in Gaza Dershowitz called the report "wrong and perverse with a biased conclusion that Israel was wrong but could not conclude that Hamas intentionally fired missiles behind their own civilians".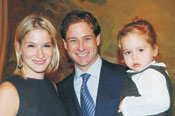 He was certain it would lead to universities divesting their investments in companies dealing with Israel and Israeli companies. Another divisive organization has come along in Washington D.C., the J Street lobby, that has split the Jewish community and given the Obama administration and the media another voice to listen to and give credence to. Unfortunately, according to Dershowitz, J Street has replaced being Pro-Israel with being Pro-Peace which has given the enemies of Israel cover.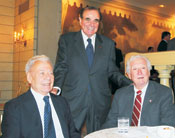 This jeopardizes Israel's right to defend itself and deal with the threat of Iran. Israel cannot survive militarily alone - it needs external help. Dershowitz said. "Netanyahu wants to turn the West Bank into a showcase of what cooperation can be - a sort of West Berlin, Israeli style. Israel put its people and visitors in harm's way. Our part of the deal is to help support them." He added that a strong Palestinian economy would be a deterrent against aggression. He also was reminded of a Friday night prayer, the essence of which was that God will give his country strength and then God will give peace … in that order. Finally Dershowitz concluded with his own prayer for Israel … "May you go from strength to strength."
To help keep Israel strong we can all do our part by supporting its economy and investing in Israel Bonds. To learn more about the wonderful investment opportunities available visit their website at www.israelbonds.com or call them at 1-800-229-9650.