Israel: 60 Years of Statehood
Exclusive interviews with Ehud Olmert, Shimon Peres, Abraham Foxman, and other Jewish leaders
By Ada Hos-Peles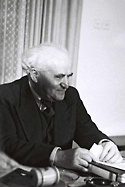 May 14, 1948, 4:00PM.
Leaders of the Jewish community, (YISHUV), gathered at Tel Aviv Museum on Rothschild Blvd, to declare the establishment of a new/old country – The State of Israel, the birthplace of Jewish people.
David Ben Gurion, then the head of the Yishuv and later the state's legendary first Prime Minister, had declared the restoration of the Jewish independence, lost two thousand years earlier. It was established as a safe heaven for the Jewish people in the aftermath of the Shoah, promising freedom of religion for all faiths. Ben Gurion said "In order to be realist – you must believe in miracles". Now the miracle is a fact.
The USA and USSR (Previous Soviet Union) were the first countries to recognize the state of Israel. Since then Israel has established itself as the America's number one ally in the region. Though, according to Ambassador Richard Holbrook, who served in State Department in the Forties – President Harry Truman had to fight vigorously nearly all his government - mainly George Marshal - that was against recognizing Israel...
In 1948 the Jewish Yishuv population was 650,000. Today, at the 60th anniversary it is 7,282.000. Of them 75% Jews, (5.5 million), 16.5 % Muslims, 3.3 % Druze and 2.1 % Christians.
Israel has tremendous achievements, being not only flourished as the only true democracy in the Middle East - but also military/diplomatic overtures, economical / educational (there were only two Universities, now there are eight.) / scientific and medical innovations / hi-tech / and cultural-artistic achievements as well. And last - not least: Israel had absorbed over 3 million immigrants from more than 100 countries during these years. Despite being forced to wage a constant struggle for survival – the Jewish State has tirelessly sought peace with its neighbors.
We have asked Israeli and American leaders to share with The Jewish Post readers what comes to their minds and hearts at this milestone in Israel's statehood. We gathered theirs, and others - thoughts and feelings. Here are - with some editing for brevity - their greetings and their message:
SHIMON PERES, PRESIDENT OF ISRAEL:
"As we stand poised to celebrate Israel's 60th Anniversary, we can only but look back on our achievements with great deal of pride. From its inception, practically rising from the ashes of the unspeakable horrors of the Holocaust, Israel has had to fight for its survival through seven wars and relentless attacks on its very existence.
"Yet we persisted in turning the vision of a homeland for the Jewish people into reality. We have created a model democracy, an independent judiciary system and set ourselves at the forefront of fields such as science and technology, hi-tech, agriculture and medicine, to mane but some of the areas in which Israel excels,
"But we should not allow ourselves to rest on our laurels. We must seek to educate our younger generation for leadership role in our three Tomorrows: The Israel Tomorrow, the Jewish Tomorrow and the Global Tomorrow. We must bridge the growing social gap in our country. We must cultivate stronger ties with the Jewish Diaspora and engage the young in these communities to connect with Israel. We must initiate breakthroughs in spheres such as nano-technology, desalination to alleviate water shortages, find alternative sources of energy, green the desert and make inroads in ever more sophisticated medical applications. During these years, we have made peace with Egypt and Jordan and hope that the peace negotiations with the Palestinians will bear fruit.
"We must be true the values dictated by our Prophets, a legacy that has united the Jewish people through the ages and that must continue to serve as our beacon for the generations to come.
"As Israel celebrates 60 years of independence I wish the citizens of our country, the Jewish people and our friends throughout the world a peaceful and prosperous anniversary year."
EHUD OLMERT, PRIME MINISTER OF ISRAEL:
A special message to the Diaspora Children:
"Dear Children,
I am happy to send you my warm greetings from Jerusalem – the eternal and undivided capital of the state pf Israel and the Jewish people – on the occasion of the State of Israel 60th birthday.
"Sixty years ago, brave Jews from all over the world fought for the independence and freedom of the State of Israel – and won. Since then, the State of Israel has become a modern and vibrant democracy.
"Some of you wonder why the State of Israel should be an important part of your lives. There are many reasons. The modern State of Israel ties us to our proud history in our Land from the glorious days of the Kings of Israel, through the ancient height of our civilization and th heroic stand of the Maccabees. The modern State of Israel serves as safe haven for Jews across the world and embraces and absorbs their cultures – beginning with the Holocaust survivors of Europe, the Moroccans, Yemenites, Russians, Ethiopians and Jews of every color and speaking 110 languages. The Jewish people, wherever they may be, belong to each other – we are truly brothers and sisters – and we must ensure that we always have somewhere to come home to, even if we live in different places.
"I invite you to become a part of Israel – learn our shared history and language and come visit us. We need each other to ensure our future as a people and as a country, and I call on you to play a role in this important mission. Chag Sameach!"
DALIA ITZIK. SPEAKER OF THE KNESSET:
"The state of Israel is an unusual success story. A wonder by any historical standards. We had no miracles. We built this splendid achievement with our own hands. There is no country in the world like the state of Israel".
TZIPI LIVNI. FOREIGN MINISTER OF ISRAEL:
"In its early age of 60, the state of Israel has reached extent unusual achievements. Israel's modern, flourishing economy is based mostly on hi-tech, research and scientific developments.
"The establishment of the state of Israel expresses a historical justice and understanding of the international community that supporting it - is vital. It is essential to grant the Jewish people self-national-expression that provides measures to end the national conflict, stretching from the Meditation Sea to the Jordan River. The Jewish people have chosen this path – to be able to flourish and prosper in a sovereign state, though it's not founded on the whole land that expresses the Jewish historic aspiration. We didn't change our belief and aspiration.
"Israel has been an independent state for 60 years, but being a part of the international community is of great importance to us.
"Independence also mean for us partnership with the global society in which we live: partnership in promoting democratic values, partnership in facing common challenges and partnership in sharing the knowledge and experience we gained throughout the last 60 years of developing our historic homeland – despite the lack of natural resources.
"(It is true that Moses was promised that Israel would be a land of milk and honey – and indeed we have plenty of milk and plenty of honey – but what about some water, or at least oil? They were unfortunately forgotten in the promise…)
"Israel in its 60th year is proud to be a part of the free world. Our wish is to continue and contribute efforts in promoting the free world's values on the one hand, while on the other hand confronting those who wish to harm the free world and its values.
"Above all I am proud that despite all the challenges Israel is a country that seeks peace with all its neighbors since its foundation. Generation after generation living in this land has prayed for such peace – and we are ready to sacrifice for it.
"In my view, seeking peace is one of the sources of our national strength. It is integral to our children's education, it is most popular word in Jewish prayer, in our songs, literature and poetry, and in the speeches not just of our politicians, but of our army generals as well.
"It is the same peace that I am fully obligated to achieve. It is the same peace that will end the conflict and not remain another disappointing slogan in this conflict. You can fail in making peace, and you can make a failed peace – the price in both cases Is tremendous.
"We need peace to answer a terrible reality of terror, a peace that ill rotect our fundamental interests because without those - there will be no peace. Two nations living side by side in peace and security – each providing the answer to the national aspirations if its people. A peace with security – because security is not an empty word or an excuse, just as peace is not only a piece of paper – peace and security must be seen on the ground.
"In this Independence Day I would like to ask the world to respect our aspiration to make peace in the right way, iin a real way – a peace that would last or generations to come.
"And we will continue to make Israel a better place to live, because it is our home –we are proud of it and we love it".
***
We have asked two American leaders four questions:
1. What is the event most important in Israel's 60 years, that has affected your life, and why.
2. Where have you been when the state of Israel was born?
3. What is your hope/wish for Israel for the next 60 years?
4. What do you think Israel should do now – to achieve it?
Here is their response.
ELI E WIESEL. NOBEL LAUREATE:
1. "The Six Day War. I remember its emotional impact on me. For three weeks, since mid May. I covered (for Yedioth Ahronot) the UN and heard Ahmed Shukairy and his Arab colleagues predict the end of Israel.
"Like many Jews in Diaspora, I lived in fear. I flew to Israel Tuesday night. When I arrived - the Old City of Jerusalem was already Jewish. I will never forget my first visit to the Wall. I tried to describe those memories in my novel 'A Beggar in Jerusalem'.
2. "I was in Paris. In the afternoon I listened, in the room of a friend, to the radio broadcast of Ben Gurion reading the Declaration of Independence. Then I went to the synagogue. It was Friday evening. Since I left Sjghet, I have rarely prayed with more kavanah.
3. "What can the Jew I am wish for Israel if not both internal and external peace? How long can a population go on fighting terrorism? Let Hamas and Hezbollah give up their murderous ambitions to destroy the Jewish State, and the entire world would envy Israel's economic prosperity and intellectual creativity.
4. "How to achieve peace? I wish I knew. Many Israelis believe in a two-state solution. But the extremists want one state only: theirs. That's the problem.
ABRAHAM FOXMAN. NATIONAL DIRECTOR OF THE ANTI-DEFAMATION LEAGUE:
1. "The 1967 War for two reasons. First, because Israel faced a serious threat of annihilation, accompanied by silence and indifference of all except the United States. Second, because of Israel's miraculous victory. I understood how important our role was in supporting Israel and in maintaining a strong US-Israel relationship.
2. "I was with my parents in Displaced Persons in Austria, having survived the Holocaust.
3. "I wish that a lasting peace will be achieved sooner than later so Israelis can live without the daily threat of terrorism and war.
4. "Israel has already made great sacrifices for peace and undoubtedly may have to make more. Israel must remain committed to being a Jewish State and democracy and maintain a credible military edge".
Ada Hos-Peles is an Awarded journalist, ("Best Journalist of the Year Award"). She has written for Maariv magazines, Israel. Also she is Former Spokesperson for Shimon Peres and the Labor party in Israel. Ada can be reached at adahospeles@earthlink.net