Ephrayim Katzir (1916-2009), Israel's Fourth President from 1973 to 1978, Dies
Official Publicity by Israel's Government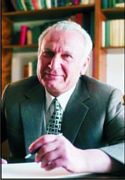 Professor Ephrayim Katzir - eminent scientist and the fourth President of the State of Israel - was born in Kiev in 1916 as Ephrayim Katchalski. Katzir, who Hebraicized his name when he became President, was what Israelis call "almost a Sabra"; his family immigrated to British-ruled Palestine when he was six years old, and he grew up in Jerusalem. In 1941, he completed his Ph.D. thesis on simple synthetic polymers of amino acids and continued his education at the Polytechnic Institute of Brooklyn, Columbia University and Harvard University.

Professor Katzir was one of the founding scientists of the Weizmann Institute of Science in 1949, an institution with which he has been associated throughout his professional career, both before and after serving as President. As founder and head of the Institute's Biophysics Department, his pioneering studies in the study of proteins contributed to the deciphering of the genetic code, the production of synthetic antigens and the clarification of the various steps of immune responses. The understanding of polyamino acid properties led, among other things, to Weizmann scientists' development of Copaxone, a drug used worldwide for the treatment of multiple sclerosis.

Along with his scientific research, Professor Katzir was profoundly involved in the social and educational aspects of science. He headed a governmental committee for the formulation of a national scientific policy, trained a generation of younger scientists, translated important material into Hebrew and helped to establish a popular science magazine. He served as Chief Scientist of the Israel Defense Ministry and Chairman of the Society for the Advancement of Science in Israel, the Israel Biochemical Society, the National Council for Research and Development and the Council for the Advancement of Science Education. He headed the National Biotechnology Council and was President of the World ORT Union - a network of vocational schools.
Three landmark events "defined" Katzir's Presidency. His term in office began on May 24, 1973 - just over four months prior to the outbreak of the Yom Kippur War and exactly a year after the tragic death of his brother, Professor Aharon Katzir, who was murdered in the May 1972 terrorist attack at Ben-Gurion Airport. A third momentous event, this a joyous one - the visit of President Anwar Sadat of Egypt in Jerusalem in November 1977 - took place near the end of his term as President.

In 1966 he accepted the invitation of Prime Minister Levi Eshkol to head a committee charged with advising the government on its future activities in science and technology. The result was the appointment, in several government ministries, of Chief Scientists charged with promoting applied research in governmental institutions, institutes of higher education and industry, leading to greater cooperation between the three sectors.

Throughout his five years in office, President Katzir emphasized science and higher education, but also reached out to numerous individual families in distress and devoted much time to promoting volunteerism as an avenue for narrowing educational and socio-economic gaps. During his term of office, the Presidential Award for Volunteerism was inaugurated - an annual prize granted in recognition of twelve individuals who distinguished themselves in volunteer work.

Ephraim Katzir stepped down from the Presidency in May 1978 to return to scientific research at the Weizmann Institute and was named Institute Professor, a prestigious title awarded by Weizmann faculty and administration to outstanding scientists who made significant and meaningful contributions to science or to the State of Israel. He also devoted himself to the promotion of biotechnological research in Israel and founded the Department of Biotechnology at Tel Aviv University.

Katzir authored hundreds of scientific papers and served on the editorial and advisory boards of numerous scientific journals. International scientific symposia were held in Rehovot and Jerusalem to celebrate his 60th, 70th and 80th birthdays.

Prof. Katzir was a member of the Israeli Academy of Sciences and Humanities and of numerous other learned bodies in Israel and abroad.