25th Israel Film Festival Announces Award Winning Filmslate
Celebrating the Best of Israeli Cinema May 5-19, 2011 at AMC Loews 84th St. NYC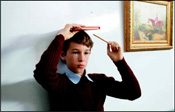 Teen whose delayed puberty is intensified by his dysfunctional family is featured in Intimate Grammar, by Israeli director, Nir Bergman.
INTIMATE GRAMMAR Directed by Nir Bergman, is set as Opening Night Film, sponsored by the Jerusalem Film Foundation.
Enriching the American vision of Israeli life and culture through the powerful medium of film, the Israel Film Festival has definitively become the largest showcase of Israeli films in the United States. 2011 marks the 25th anniversary of this much acclaimed showcase that celebrates Israeli cinema in the United States, and today, Meir Fenigstein, the Founder/Executive Director of the Israel Film Festival, announced its most dynamic program since its establishment. Encompassing over 30 titles, including award-winning features, documentaries and television programs, the Festival runs from May 5 through May 19, 2011 at the AMC Loews 84th Street 6 (2310 Broadway).
This year, the IFF falls on Israel's 63rd Independence Day, and the festival is proud to honor this anniversary with special programming. Over a dozen filmmakers will join us from Israel for their films, festival Q&As and gala celebrations.
The Opening Night film is the New York premiere of Nir Bergman's acclaimed film INTIMATE GRAMMAR, which recently won the Best Feature Film Award from the Jerusalem International Film Festival as well as the Sakura Grand Prix from the Tokyo International Film Festival (Mr. Bergman's second Sakura Prize!).
The 2011 Israel Film Festival will begin its milestone anniversary year with a VIP Reception in the Edwardian Room of the Plaza Hotel, and then the participants will segue to the adjacent Paris Theatre for the Awards presentation and Opening Night Film. The 25th Israel Film Festival is proud to honor Philanthropist Charles Bronfman with the 2011 IFF Humanitarian Award; Actor Liev Schreiber, 2011 IFF Outstanding Achievement In Film Award; and celebrated Producer/Director Micha Shagrir with the 2011 IFF Cinematic Achievement Award.
Among his many accomplishments, Charles Bronfman is Chairman of The Andrea and Charles Bronfman Philanthropies Inc. a family of charitable foundations operating in Israel, the USA and Canada. He is Co-Chairman of Birthright Israel, which provides an educational travel experience to Israel for young Jewish people throughout the world. To date, the program has brought over 250,000 young adults to Israel to strengthen their knowledge and appreciation of their history, heritage and cultural identity. Liev Schreiber is considered one of the finest actors of his generation with a repertoire of resonant, humanistic and oftentimes gritty portrayals that have garnered him praise in film, theatre and television.
Included among his numerous independent and major studio films are SALT, X-MEN ORIGINS: WOLVERINE, THE MANCHURIAN CANDIDATE, and, on Broadway, David Mamet's "Glengarry Glen Ross" for which he won a Tony Award, and most recently "A View from the Bridge" opposite Scarlett Johansson for which he received his third Tony Award nomination. Schreiber joined us at the 2008 IFF Awards when he presented the Outstanding Achievement in Film Award to his DEFIANCE director, Edward Zwick. Micha Shagrir is credited with planting the seeds of the Israeli film & television industry in the 1960s. Throughout his career, Mr. Shagrir has remained faithful to the classical Zionist symbiosis between the individual and society, and has been guided by a desire to view the reality and myths of our lives in a sobering, critical and loving manner. He continues to be a conduit of Israel's film Industry.
"We are proud and honored to celebrate these remarkable men," said Fenigstein. "They are creative thinkers whose artistry, vision, generosity and achievements are legendary around the world, but particularly in the United States and Israel."
All Israel Film Festival films, except for Opening Night, will screen at the AMC Loews 84th Street 6 (2310 Broadway). Ticket prices for all regular films are $13, and $11 The Opening Night Film will screen at The Paris Theatre (4 West 58th Street) following a VIP Reception at the The Edwardian Room at the Plaza Hotel. Tickets will be available online beginning on Sunday, April 17 at www.IsraelFilmFestival.com or call the IsraFest Foundation toll-free at 1-877-966-5566.
The annual Panavision Audience Choice Award for Best Israeli Feature Film will be presented at the IFF's Closing Night presentation. The award carries a state-of-the-art Panavision package worth over $60,000 for the director and producer to use toward their next film shot in Israel. One of this year's films, Avi Nesher's THE MATCHMAKER, was shot utilizing funds he was awarded from the Panavision Audience Choice Award he received from the IFF for his entry in the 23rd IFF in 2008, THE SECRETS.
In the last two and a half decades, the Festival has presented more than 800 feature films, documentaries, television dramas and short films to over 900,000 filmgoers and brought hundreds of Israeli filmmakers to the U.S. to share their art. The Israel Film Festival is produced by IsraFest Foundation, Inc., a non-profit organization created in 1982. The 25th Anniversary festival is presented in association with the Government of Israel, Consulate General of Israel in New York, Israel Film Fund, Rabinovich Foundation-Cinema Project, and sponsored in part by Bank Leumi USA, New York Post, Nu Image/Millennium Films, Cheryl and Haim Saban, Israel Bonds, El Al Airlines, and other corporations, organizations and individuals who believe in the importance of promoting Israeli culture in the USA.
The Festival's mission is to showcase the finest new Israeli films in order to share with American audiences the country's rich culture, diverse stories and modern Israeli life. The 25th Festival Chairman is Arnon Milchan; The Honorary Committee includes Avi Arad, Mark Canton, Gil Cates, Michael Douglas, Richard Dreyfuss, Meyer Gottlieb, Dustin Hoffman, Lainie Kazan, Penny Marshall, David Matalon, Mike Medavoy, Bette Midler, Rob Reiner, Jane Rosenthal, Terry Semel, Nina Tassler, and many others. Proceeds from the Gala Opening Night event will provide funds to support the IsraFest Foundation and scholarship funds at the top six film schools in Israel.
FEATURE FILMS
(Tentative)
Opening Night Gala Presentation
INTIMATE GRAMMAR | Directed by Nir Bergman
In the early 1960s in Israel, a new generation is growing up: the militant Israeli generation that will not go through another Holocaust. But Hinda's sensitive son, Aharon, doesn't fit the mold. His soul seeks refinement and art, which he can't find at home. How could he? For his father, a Holocaust survivor, human existence is reduced to war and survival. Aharon refuses to become like his parents. During three years, he does not grow an inch, until he realizes he is partly responsible for this, and so he embarks on a dangerous inner journey: to cross the boundary dividing childhood and adolescence. (2010, 110 min.) Sakura Grand Prix Tokyo International Film Festival; Best Full-Length Feature Film Jerusalem Film Festival. NY Premiere. Nir Bergman will attend.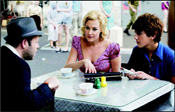 From left: Actors Adir Miller, Maya Dagan and Tuval Shafir in the film The Matchmaker, directed by Avi Nesher.
THE MATCHMAKER | Directed by Avi Nesher
Set in 1968, an Israeli born teenage boy gets a summer job with a holocaust survivor who brokers marriages and smuggles goods on the side. His office is located in the back of an old movie theater run by Romanian dwarfs who were saved from the gas chambers. The boy embarks on a dangerous coming of age ride during the Six Day War in Haifa, where love assumes surprising shapes and history is transformed into mythology. (2010, 113 min.) Winner of 4 Israeli Academy Awards.
BROTHERS | Directed by Igaal Niddam
Dan works the land on a kibbutz in southern Israel. Aaron, his brother, is a doctor of law and philosophy and a distinguished scholar of the Torah, who comes to Jerusalem from the U.S. to defend the rights of Torah students who do not join the Army. The conflict which arises between two brothers reflects a society torn between religious and political principles. (2008, 116 min.) Nominated for "Best Feature" at the European Film Academy 2009. NY Premiere. Igaal Niddam will attend.
INFILTRATION | Directed by Dover Kosashvili
Israeli director Dover Kosashvili adapts one of Israeli literature's most celebrated novels by author Yehoshua Kenaz, in this multi-character, multi-tonal look at a platoon of aspiring Israeli soldiers, set in 1956. Set over ten years before the Israeli army's epochal victory in the 1967 war, Infiltration offers a series of vignettes designed to show a smorgasbord of Israeli attitudes and mores and ultimately the challenges of creating a homogenous society from so many disparate pieces. Everything from Stanley Kubrick's Full Metal Jacket to Oliver Stone's Platoon gets referenced in Kosashvili's entertaining, thought-provoking tale. (2010, 116 min.) US Premiere.
THIS IS SODOM | Directed by Adam Sanderson and Muli Segev
Zohi Sdom revives the traditions of wacky Israeli comedies with a large serving of infantile humor, ridiculous characters and pure fun as it recounts the story of the birth of the Jewish people and the advent of monotheism. Set during the last week in history of the infamous city of Sodom, a close look reveals that the biblical reality is no different than our reality in 21st century Israel. (2010, 88 min.) Winner of Israeli Academy Award for "Best Supporting Actress." NY Premiere. Adam Sanderson is coming. (The film is the highest grossing Israeli film in Israel in the last 25 years).
ZION AND HIS BROTHER | Directed by Eran Merav
A sensitive coming-of-age drama set in a gritty working-class neighborhood of Haifa. Fourteen-year-old Zion and cocky older brother Meir live with their divorced mother in a dumpy apartment, and can count only on each other. After a tragic accident involving a neighborhood Ethiopian boy, the brothers are challenged by thorny questions of personal responsibility and morality. (2009, 84 min.) Official Selection at the 2009 Sundance Film Festival.
2AM | Directed by Roi Werner
In a city where everything is possible, a guy and a girl look for the impossible - a parking space! The search for the parking space makes them "victims" of the situation they find themselves in which becomes a night trip stringed with various characters and surprising events - a trip in which they must face each other (and confront themselves) as an absurd situation unfolds. (2010, 83 min.) US Premiere.
RABIES | Directed by Navot Papushado and Aharon Keshales
A brother and sister, in their twenties, run away from home after their dark secret is discovered. They find temporary refuge in a deserted nature reserve. When the sister falls into a hunting trap, set by a psychotic killer, the brother sets out on a race against time to rescue her. A forest ranger and his old dog, two apathetic cops, four tennis players and a murderer, wandering carefree amongst his traps, will all be gradually drawn into a whirlwind of misunderstandings, fears and violence. (2010, 90 min.)
REVOLUTION 101 | Directed by Doron Tsabari
Revolution 101 outlines the path to civil revolution. The film combines material that is both documentary and fictional and focuses upon a film director's struggle to restore Israeli public broadcasting to its rightful owner-the public. The film accompanies Doron Tsabari and Ori Inbar, its protagonists, during seven years of tenacious struggle against corruption, deterioration, and inflexibility, until a new law is legislated that will guarantee well-managed public broadcasting. Doron and Ori, together with their supporters, embark on a journey into the world of Israeli politics and discover how decisions are made in the public administration, the government, and the Knesset. (2010, 85 min.)
SALSA TEL AVIV | Directed by Jorge Weller
A romantic comedy with music and salsa dancing! Vicki is a single mom and a Mexican salsa dancer. After months of unemployment in Mexico, she goes to Israel to work there, and on the plane she meets Yoni. Vicki and Yoni are from completely different worlds - almost everything divides them: religion, culture and social class. Despite everything, they slowly fall in love filled with passion, jealousy, misunderstandings and comical situations, until the surprise ending. (2011, 90 min.) US Premiere. Jorge Weller is attending. (Film is mostly in Spanish with a bit of Hebrew).
DOCUMENTARY FILMS
(Tentative)
AMOS OZ: THE NATURE OF DREAMS | Directed by Masha Zur Glozman
An engaging and intimate portrait of the acclaimed Israeli iconoclastic and internationally celebrated author Amos Oz, nominated for this year's Nobel Peace Prize. The film traces Oz's childhood, his adolescence on a kibbutz where he met his wife (the sole editor of his works), and his family tragedies including his mother's suicide. (2010, 86 min.)
LAND OF GENESIS| Directed by Moshe Alpert
Throughout the entire world, Israel is presented through news broadcasts on television, often a series of violent images of terror and war. The breathtaking Land of Genesis introduces a completely different Israel - an Israel of amazing landscapes and multitudes of plants and wildlife. Israel is located at the meeting point of three continents. The film follows three mammals in their respective geographic habitats, as the seasons change. Each of the animals will open a window to the world of plants and animals of the region, a world filled with amazing beauty, a world in which there is no hatred, and which is guided only by one urge: the urge for survival. (2010, 87 min.) The film was produced in association with Israel Nature and National Parks.
TEACHER IRENA | Directed by Itamar Chen
Teacher Irena tells of...teacher Irena, an extremely charismatic woman, who has only one thing in her life - an enormous amount of love for the children. A single parent, all she ever does, inside the school, and outside of school hours, is take care of the kids, coming from different backgrounds, and different social status. A moving film about an extraordinary woman… (2010, 52 min.)
MISSING FATHER | Directed by Yair Elazar
Decades after the death of Israel's dishonored Lieutenant General David Elazar (Dado), his youngest son launches a personal investigation into the life of this legendary military genius. Now a father himself, Yair Elazar feels compelled to understand the father whose many absences from home made him an enigma. Yair meticulously compiles archival footage, interviews with friends and colleagues, and his own ambivalent memories into a biography of the real Dado. In the making of this documentary, Yair works to restore his father's reputation and place in Israeli history, while reclaiming his own place in his father's life. (2009, 86 min.) This film will play on Israel's Memorial Day in honor of the soldiers of Israel's armies.
THE HANGMAN | Directed by Netalie Braun
The administrator of the mass deportation of Jews to the Nazi death camps Adolf Eichmann, was hanged in Israel's first and only execution. Shalom Nagar, a religious Jewish ritual slaughterer and street philosopher who believes in charity, was the hangman. His life encapsulates the story from the perspective of "the other" - the marginalized Sephardi prison warden who was forced to do the dirty work of hanging the arch-enemy, and thus to carry a national burden that dramatically shaped the country, and his life. (2010, 60 min.) Best Documentary Film, Haifa International Film Festival 2010.
STRANGERS NO MORE | Directed by Karen Goodman and Kirk Simon
In the heart of Tel Aviv, there is an exceptional school where children from 48 different countries and diverse backgrounds come together to learn. Many of the students arrive at Bialik-Rogozin in the wake of poverty, political adversity and even genocide. Here, no child is a stranger. (2010, 40 min.) Winner of Best Short Documentary at the Academy Awards in 2011. Karen Goodman and Kirk Simon will be in attendance.
PRECIOUS LIFE | Directed by Shlomi Eldar
A film by Israeli TV journalist Shlomi Eldar that recently made the Academy Awards' documentary short list, Precious Life is unusually compelling both as a real-life medical drama and as a frank and nuanced consideration of the quagmire faced by Israelis and Palestinians alike. At the heart of it is the story of Mohammad, a Palestinian baby with an immunity disorder that has already killed two of his sisters. His parents have managed to bring him from Gaza to a hospital in Tel Aviv-medical facilities being what Eldar describes as the "only bridge left" between people living on either side of the checkpoints-but their quest to save the child is imperilled by a host of factors. (2010, 86 min.) Winner "Best Documentary" at the 2010 Israeli Film Academy Awards.
JUST LIKE THE QUEEN OF ENGLAND | Directed by Micha Shagrir
A French boy, street-smart and charismatic, is left to fend for himself after the Nazi occupation of Paris leaves him motherless. The 69 years that followed were an emotional journey that is only now being truly examined. Layer by layer, the past and present of David Bergman unfold into a dramatic story of longing and strength. From the Paris of his childhood to the kibbutz of his youth, from the national stage to his private studio, Bergman travels with filmmaker Micha Shagrir in this starkly intimate film, showing an unshakable and unforgettable emotional tenderness. (2010, 88 min.)
WHEN ISRAEL WENT OUT | Directed by Meni Elias / Produced by Micha Shagrir
Between the years 1983-1985 thousands of Falasha Jews marched nearly 200 kilometers from the region of Gondar in Ethiopia to the Sudanese border, with the hope of reaching the Land of Israel. These immigrants, many of them elderly, women and children, suffered from the heat and the lack of water and food during the difficult journey. Almost 2,000 people did not reach the final destination. During the month of November 2009, a camera-crew follows a group of eight Israelis for eleven arduous walking days. Three of the groups were Ethiopian Jews, who had marched the same route 25 years earlier. The film is dedicated to those who did not survive the journey in the hope that it will strengthen the sense of pride and identity of Ethiopian Jews with their unique Heritage. (2010, 78 minutes)
TELEVISION DRAMA
(Tentative)
CHAMETZ | Directed by Alon Levi
15-year-old Ayala is a free spirit and a conservative, religious, girls' boarding school is the last place where she could ever feel happy. When she returns home for the Passover Holiday, Ayala has one thing in mind - to convince her widowed mother Gila to let her come home for good. She is surprised to find that Gila has a new boyfriend named Eithan, who already acts like a surrogate father to Ayala's little sister Tutti and in general makes himself quite at home. Once again, she feels left out and rejected. While obsessively cleaning the house for the holiday, mother and daughter's relationship will reach a boiling point. (2011, 38 min.) First Award of Best Television Drama Film, Haifa International Film Festival 2010.
LENIN IN OCTOBER | Directed by Evgeny Ruman
The comedy Lenin in October takes place in Ashdod. Grisha has almost given up on his dream of opening a restaurant. The sudden death of a rich uncle in Russia changes all that. The uncle leaves all his money to his beloved nephew for the very purpose of opening a restaurant, but there's a catch. The uncle was a sworn Communist all his life and the restaurant must be dedicated to the sacred values of Communism. Grisha doesn't really mind. What is important here is the dream; ideology is a distant second. But how do you go about finding a statue of Lenin in Israel? (2010, 50 min.) Special Jury Mention, Haifa International Film Festival 2010.
SPECIAL HOMAGE TO MICHA SHAGRIR
The 25th Anniversary Screening of Avanti Popolo To be screened on Israel's Independence Day
AVANTI POPOLO | Directed by Raphi Bukaee / Produced by Micha Shagrir
Two Egyptian soldiers, Haled and Gassan, are stranded in the Sinai desert at the end of the Six Day War in 1967. This compelling and comical saga follows these soldiers' attempts to find safety and water. The pair encounters Israelis on patrol, and Haled, who as a civilian's an actor, attempts a virtuoso performance of Shakespeare's Shylock in order to obtain the precious water: "I am a Jew! Hath not a Jew eyes?" to which the Israeli responds, "He's got his roles confused." But all the soldiers are equal victims of the politicians. Their journey together emphasizes human solidarity on the one hand and the irony of their situation on the other. The "enemies" stride across the sand singing "Avanti Popolo," an Italian revolutionary song whose words neither side understands. An intelligent and artistic satire on the absurdity of war. (1986, 84 min.) Israel's 1986 Oscar entry for Best Foreign Film.
Films and Programs Subject To Change.