Remarks at UN Holocaust Memorial Ceremony
by Danny Danon, Israel's UN Representative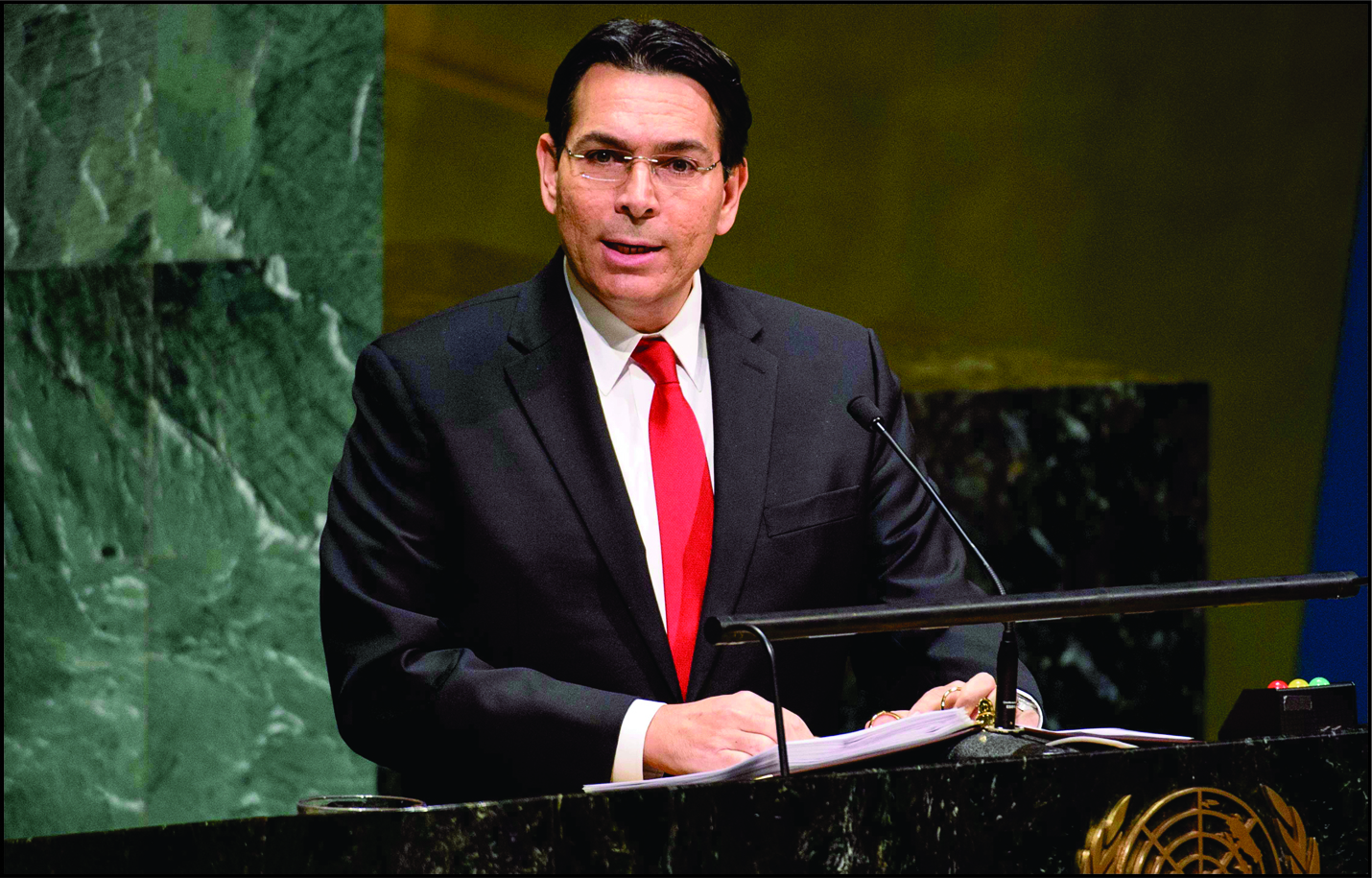 Israel's UN Representative, Ambassador Danny Danon, delivers remarks during the Holocaust Remembrance Ceremony.
Photo: Courtesy The UN
March 8, 2019

His Excellency, Peter Thomson, President of the General Assembly; Her Excellency, Ambassador Michele Sison, Deputy Permanent Representative of the United States to the UN; Secretary-General, your presence here today as you begin your term yields special significance to all of us; fellow ambassadors, distinguished guests, dear survivors, we come together today to remember the most devastating tragedy in history, the Holocaust, the Shoah.

We remember the victims of the Nazi regime, the loved ones lost, and the shameful treatment of human life and human dignity. We remember our history, as painful as it may be, that we learn from it and never let it repeat itself. And we remember the bravery of the survivors, those brave souls who are slipping away from us as they implore the next generation to heed the lessons of the darkest of periods with two simple words: never again.

I commend the Member States for coming together 12 years ago and passing the resolution establishing International Holocaust Remembrance Day. This important day serves as a reminder of the United Nations at its best, as it was meant to be. It serves as a beacon to our collective conscience, reminding us all of the importance of preventing tragedies like this one and the grave consequences of failing to recognize the warning signs of hatred and bigotry.

It is our duty as UN Member States, as world leaders, as human beings to work together to prevent extremism and violence by promoting tolerance, understanding, and compassion. But simply remembering the Holocaust is not enough. If we fail to learn the correct lessons, then we lose sight of the magnitude and significance of the worst crime ever committed against humanity. If we are not careful, then we run the risk of allowing the Holocaust to be misappropriated or even cheapened.

Recently, we have seen this happen all too often, including by Member States of the United Nations. The same memories, and the values of tolerance and acceptance that we teach our children, are now being misused. Under the guise of human rights intolerance, we are witnessing a growing phenomenon where Israel is subject time and again to false analogies that can be only blamed on hatred and intolerance.

Two months ago, the Permanent Representative of Ecuador stood here at this very podium and unabashedly compared Zionism with Nazism. He compared the national movement of the Jewish people, the realization of thousands of years of yearning for our homeland, to the most vile and hate-filled movement the world has ever seen. The worst part of that episode was the silence during his hateful statement. The representatives of the world who were gathered in this hall sat and said nothing. The nations of the world sat silently and did not protest as the state of the Jewish people was singled out and libeled.

When Member States do not even react while ambassadors are allowed to poison the UN, something within the institution itself has gone wrong. Sadly, it is not the only example of the misuse of the sacred memory of the Holocaust. During a meeting of the Security Council, the most powerful UN institution, the Representative of Venezuela accused Israel of committing, "A final solution of the Palestinians." Such hate. Such lies. Thankfully, during that dark moment, a number of our colleagues from around the world stood up and demanded a clear and immediate apology for such blatant anti-Semitism.

The UN does not have an internal mechanism to prevent such misconduct. We, the Member States, are that mechanism. It is our responsibility not to allow anti-Semitism and abuse of the memory of the Holocaust to seep unchallenged into the language and actions in the UN. The sad truth, ladies and gentlemen, is that anti-Semitic language, and even action, has even been adopted by senior UN officials and agencies. An Under-Secretary-General had the nerve to say that Israel's existence as the world's sole Jewish state is equivalent to the crimes against humanity committed in the 20th century, and the UN remained silent.

This past March, the ironically named Human Rights Council-it's not here, it's in Geneva-voted to create a database, a blacklist of Jewish businesses operating in parts of Jerusalem and Israel. As during other periods of our history, dark forces wish to label our businesses, our livelihood, so that we can be delegitimized and boycotted. Once again, the UN is silent. Today, I stand here as Israel's Permanent Representative and say proudly that blacklists and anti-Semitic smears will not defeat us. Israel will continue to flourish as a strong, independent, and free democracy, and the Jewish people will continue to build and grow as we have done for thousands of years.

Mr. President, we are extremely fortunate to have here today with us a special guest, a witness to provide testimony, Noah Klieger. Noah made his lifelong mission to use the beautiful power of the spoken and written word to educate and warn about the evil humanity can inflict upon the world. Noah is a hero. Yes, Noah, you are a hero. Noah is a hero in so many ways. Not only did he survive Auschwitz, but he also fought in the resistance, and then immigrated to Israel on the famed Exodus ship. Once in Israel, he enlisted in the IDF and then fought bravely in our War of Independence.

To this day, Noah continues to fight. He understands the power and the necessity of using truth to fight lies. This is why he has led almost 200 delegations to Auschwitz, teaching and engaging with the next generation. Noah's willingness to speak the truth is an inspiration to all of us. His presence reminds us that the Holocaust cannot be denied or forgotten, distorted or misused.

Dear friends, when we come together in this forum, and we are not afraid to speak up, we can make a real difference. We have to be willing to call out those who would take advantage of the UN and the international community. At the same time, it is important to note the progress that has been made. More and more political and religious leaders around the world are speaking out against anti-Semitism. Mr. Secretary-General, we appreciate your strong words today condemning anti-Semitism.

Here at the UN, we had an important seminar on anti-Semitism. This was a positive development. But the UN can do so much more. As anti-Semitic incidents rise throughout much of the world, this body must take a leading role. This is why we are asking that the Secretary-General appoint a special envoy who will oversee the UN's efforts to combat anti-Semitism. Such an appointment will send a much louder message than any word possibly can.

Mr. President, we must not allow the Parliament of Nations to become a platform for promotion of hatred and intolerance. But this is not enough. It is important that we honor the memory of the Holocaust by making the world a better place, by pledging never to remain silent in the face of atrocities or human rights violations. We must, however, also make sure to cautiously weigh our words when comparing any events to what Winston Churchill correctly called the greatest, most horrible crime ever committed in the whole history of the world.

Upon assuming my post last year, one of my first meetings in New York was with Elie Wiesel of Blessed Memory. Marion, we are so grateful that you could join us here today. This noble man was the most eloquent voice of those who survived and of those who perished in the Holocaust. He taught all of us so much. For me personally, I will never forget how when I arrived here at the UN, he implored me to always speak up when I witness injustice or wrongdoing. One of Elie's most famous sayings was, and I quote, "We must take sides. Neutrality helps the oppressor, never the victim. Silence encourages the tormentor, never the tormented."

Let us all pledge to heed these words of wisdom. Let us all have the courage to stand up when wrong is being committed around the world, and let us never shy away from speaking the truth in the defense of the Jewish people and the Jewish state.

Thank you.
Remarks at UN Holocaust Memorial Ceremony
by Antonio Guterres, UN Secretary-General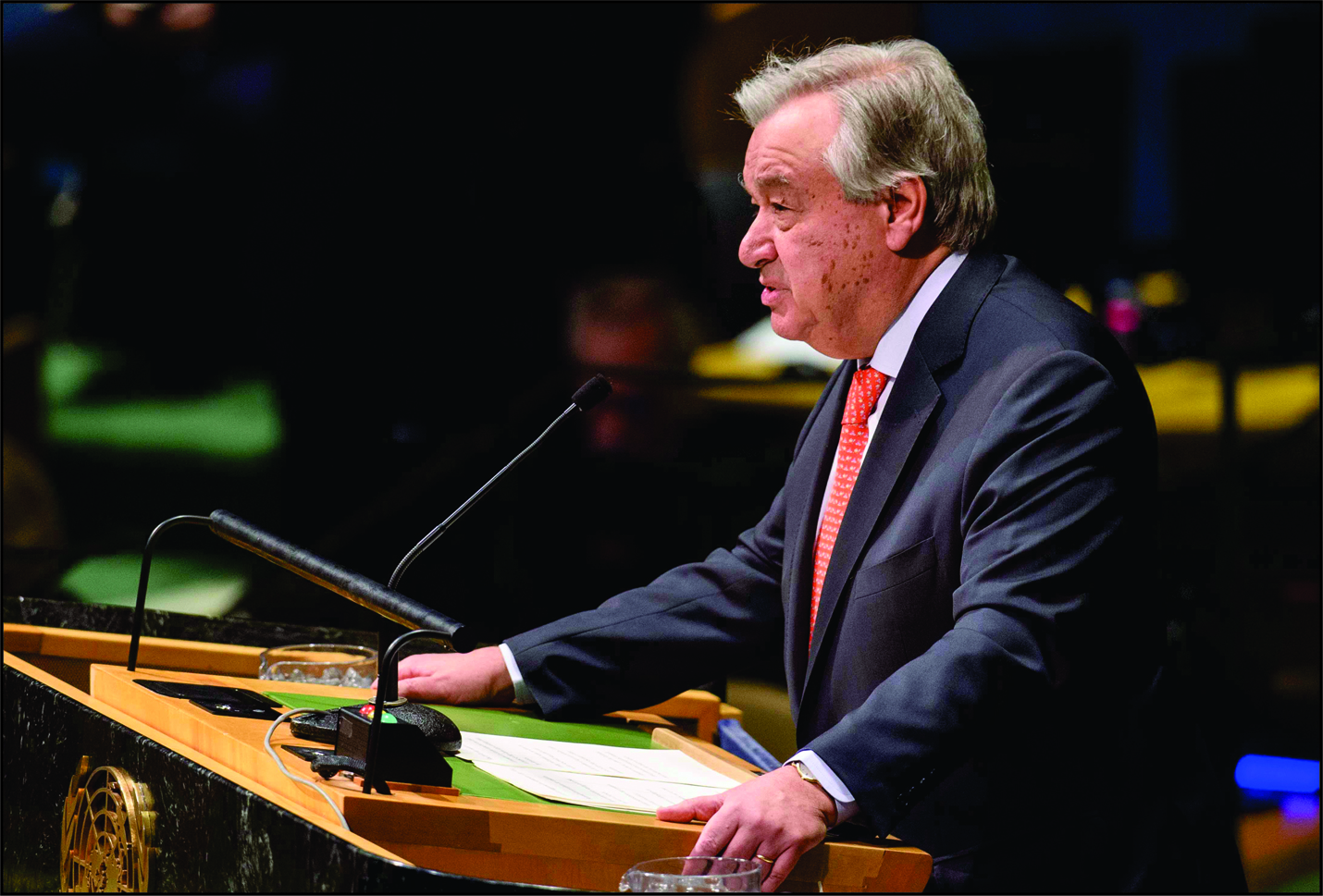 UN Secretary-General, Antonio Guterres, makes remarks during the Holocaust Remembrance Ceremony.
Photo: Courtesy The UN
March 8, 2019

We are here together to remember the victims of the Holocaust - the six million Jews and many others murdered during a period of unprecedented, calculated cruelty, when human dignity was cast aside for a racial ideology.

I extend a special welcome to the Holocaust survivors with us today, especially Mr. Marian Turski and Ms. Inge Auerbacher, who will share their testimony.

This International Day marks the liberation of the Auschwitz-Birkenau death camp 74 years ago yesterday. I also pay tribute to the veterans here today for their role in bringing the war and Holocaust to an end.

Yesterday was, by the way, also the 75th anniversary of the lifting of the siege of Leningrad. That prolonged the blockade -- 872 days of siege, starvation and suffering - that was a horror within the horror.

As we remember, we also reaffirm our resolve to fight the hatred that still plagues our world today.

In fact, it is necessary - more and more - that we sound an alarm.

It is just three months since a man armed to the teeth entered the Tree of Life synagogue in Pittsburgh shouting "all Jews must die".

He murdered 11 worshippers observing Shabbat.

It was the worst anti-Semitic attack in the history of the United States.

Last month at a Jewish cemetery near Strasbourg, in France, vandals smeared swastikas on dozens of tombstones and defaced a monument to Holocaust victims.

And just days ago in Bulgaria, stones were thrown through the window of Sofia's central synagogue.

I would like to be able to say that these incidents were aberrations, or that they are only the last gasps of a prejudice that deserves to die.

But sadly, what we are instead seeing is the flame of a centuries-old fire gaining in intensity.

Not only is anti-Semitism still strong - it is getting worse.

We must rise up against rising anti-Semitism.

According to the Anti-Defamation League, anti-Semitic incidents in the United States increased by 57 per cent in 2017.

The European Union's Fundamental Rights Agency reported last year that 28 per cent of Jews had experienced some form of harassment just for being Jewish. Many added that fears for their safety have led them to stay away from Jewish events - or even to contemplate emigrating.

Another poll in Europe by CNN revealed the strong persistence of classic anti-Semitic motifs.

In fact, the old anti-Semitism is back.

At the same time, we are seeing attempts to rewrite the history of the Holocaust, to distort its magnitude and to sanitize the wartime records of leaders, citizens and societies.

Meanwhile, neo-Nazi groups are proliferating.

A recent Public Broadcasting System Frontline programme conducted an in-depth exploration of one of the extremist and white supremacist organizations in the United States that promote hatred against Jews, and also other minorities, homosexuals and others.

Their views are right out of "Mein Kampf". They have, by the way, a similar book written by their leader.

Their recruitment methods target the disaffected.

They seek out people with military experience - and encourage sympathizers to join the armed forces to gain weapons training.

And the massacre in Pittsburgh was precisely in keeping with their advocacy of violent, so-called "lone wolf" attacks.

Inevitably, where there is anti-Semitism, no one else is safe. Across the world, we are seeing a disturbing rise in other forms of bigotry.

Attacks on Muslims in several societies are on the rise, sometimes even outpacing other forms of hatred.

Rohingyas, Yazidis and many others have faced persecution simply for who they are.

Intolerance today spreads at lightning speed across the Internet and social media.

Perhaps most disturbingly, hate is moving into the mainstream - in liberal democracies and authoritarian systems alike.

We have seen this throughout the debate on human mobility, which has featured a stream of invective, falsely linking refugees and migrants to terrorism and scapegoating them for many of society's ills.

Major political parties are incorporating ideas from the fringes in their propaganda and electoral campaigns.

Parties once rightly considered pariahs are gaining influence over governments.

And where once some political figures used the so-called "dog whistle" to signal their followers, today they also feel able to trumpet their noxious views for all to hear.

Political discourse is being coarsened.

And with each broken norm, the pillars of humanity are weakened.

That is part of what Hannah Arendt identified as the path towards totalitarianism.

We should not exaggerate the comparisons to the 1930s.

But equally let us not ignore the similarities.

We see some societies wanting to turn back the clock on diversity.

Political establishments have a profound and growing trust deficit.

The demonization of others rages on.

Such hatred is easy to uncork, and very hard to put back in the bottle.

One urgent challenge today is to heed the lessons of history and the Holocaust.

First, by keeping memory alive.

A recent poll in Europe found that one third of people say they know little or nothing about the Holocaust.

Among millennials, some two-thirds had no idea Auschwitz was a death camp.

As the number of survivors dwindles, it falls to us all to carry their testimony to future generations. This is our duty and we must make sure that what the memory of survivors is able to tell will persist forever.

Education is crucial - about the Holocaust, about genocide and crimes against humanity, about racism and the history of slavery.

The United Nations and the Holocaust Outreach Programme has activities in dozens of countries, and we are strongly committed to expanding its reach.

And, we must stand up to those who disseminate hatred.

I have asked my Special Adviser on the Prevention of Genocide to assess the efforts of the UN system in countering hate speech and to devise a global plan of action to deepen this essential work.

We had, just last Saturday in Park East Synagogue, a very moving testimony from Rabbi Schneier proposing that we should gather Ministers of Education all over the world to make sure that in schools these questions are clearly introduced in the curricula and that students will never be able to deny these facts.

Because indeed, countering hate speech is essential to preventing hate crimes.

That means rejecting hate in schools and workplaces, at sporting events and on the street.

And it means reaffirming universal values and equal rights.

Finally, we must bring those rights to life.

Proclaiming principles is not enough.

Vilifying the violators is not enough.

We must go further by working for a fair globalization, by building democratic societies, and by addressing the roots of the anxieties and angers that make people susceptible to populism and demagoguery.

Governments and international organizations must show they care and make rights real in the lives of all.

One of the great shocks of the Second World War was how a society of such high attainment proved so ripe for Hitler's venom.

In his diaries of the years from 1933 to 1945, Victor Klemperer wrote, and I quote:

"Curious: At the very moment modern technology annuls all frontiers and distances..., the most extreme nationalism is raging." This was said in the '30s.

We are not immune to the same risks today.

Our response must be clear: to strengthen all we do to build the defences, the laws and the mindsets that will uphold the dignity of all, for all time, having the fight against anti-semitism in the front lines.

Thank you very much.
Remarks by Sara Bloomfeld, US Holocaust Museum Director, at UN Holocaust Memorial Ceremony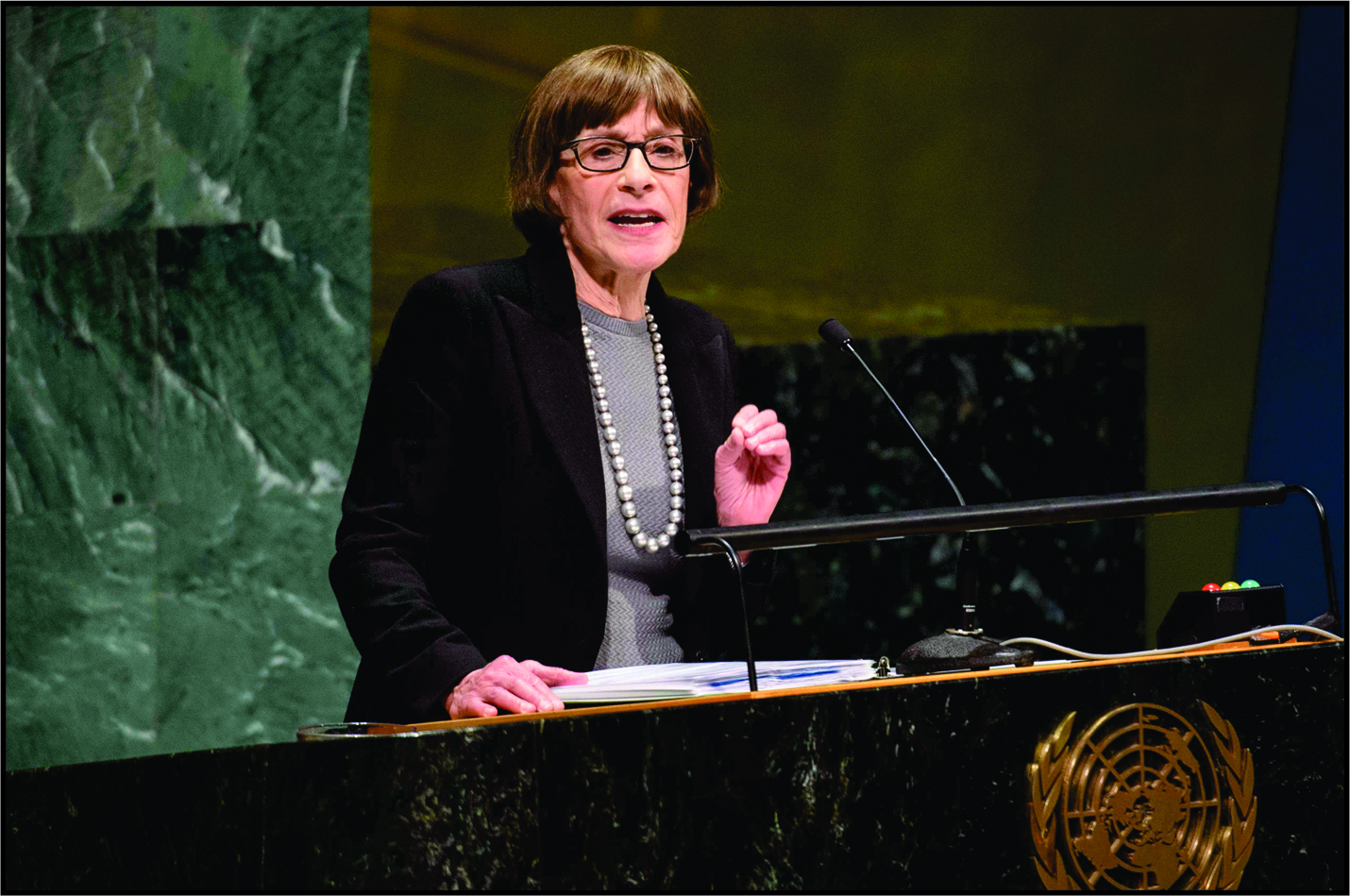 Sara Bloomfield, Director, US Holocaust Memorial Museum, Washington DC, addresses the UN Holocaust Remembrance Session.
Photo: Courtesy The UN
March 8, 2019

Mr. Secretary General, Madam President of the General Assembly, Madam Undersecretary General, Excellencies, US Holocaust Memorial Museum Chairman Howard Lorber, Ladies and Gentlemen, and most especially our honored survivors and veterans, it's a privilege to be with you on this important

When the United States Holocaust Memorial Museum opened 25 years ago, Elie Wiesel said, "The Museum is not an answer. It's a question." Many questions. Since we recently commemorated the 70th anniversary of the adoption of the UN genocide convention, which was meant to be one answer to the Holocaust, I could start with this question: has it been effective? It certainly hasn't prevented genocide, antisemitism or hate.

A bigger question comes from history itself. Why did the Holocaust happen? What made it possible? Germany was an advanced, educated country with a democratic constitution, free speech and a rule of law. Germans had won more Nobel prizes than any other country. It would be comforting to think that Nazism was a sudden aberration. It was not. It was not a meteorite that one day just fell from the sky. It had deep roots in German and European history. That history has much to teach us for our own times. As Voltaire said, "History never repeats itself, man always does."

The Nazi Rise to Power

In the late 19th Century, Europe was undergoing enormous economic, political and social changes. New technologies led to rapid industrialization, urbanization and globalization, which resulted in vast increases in poverty, disease and crime and new questions about identity, community and about how to organize societies. Significant social dislocation led to a perception of winners and losers; to pervasive uncertainty, fear and resentment; and to desperate searches for easy answers to complex questions. In Germany, World War I, the Russian Revolution, the Great Depression and widespread disillusionment with democracy created a perfect storm for nationalism, racism and antisemitism to flourish. Exploiting centuries of other forms of antisemitism and modern eugenics, Adolf Hitler combined hatred of Jews and racial ideology with national pride and unity. It's been said that when a person has a big idea, and it's their only idea, beware. That was Hitler. His idea was race, antisemitic racism. And the promotion of Germany as a proudly ethnic state for the Aryan people.

Weimar Germany experienced a chaotic period of clashing extremes - communism vs. Nazism, creating backlash vs. backlash, as the center hollowed out. Nazis instinctively understood what brain science now confirms - that we are emotional creatures - that we respond well to simplistic solutions that address our basic fears. The Nazis provoked fear, but they also offered hope and a new future - a racially pure future. They skillfully created an inverted universe, redefining morality. Protection of the German race became a moral act. The Golden Rule was rewritten: Do unto your ethnic comrade as you would have him do unto you. The notion of universal human dignity was considered a weakness, a reflection of so-called Old Testament Jewish values. Carl Schmitt, a political theorist and Nazi supporter, condemned the idea of universal human rights saying, "Not every being with a human face is human."

It might be comforting to think that all Germans were, like Schmitt, fervent Nazis. But by the time Hitler assumed power, 55% of Germans had never voted for him. Consider this: The 1920 Nazi party platform had 23 points. Only four were explicitly antisemitic. Others included goals such as: outlawing child labor, education of gifted children, old age welfare and land reform.

Clearly, some Germans were rabid antisemites, but hardly all. Many thought Hitler's antisemitism was too violent, yet they also saw that he offered an answer to years of multiple crises. That answer rested on the Nazis' promotion of ethnic revival, the creation of the racial state and the elimination of what they considered existential threats to the "biological community," namely the Jews. Most Germans were indifferent to the escalating persecution of their Jewish co-workers, neighbors, even friends. And that is precisely what all perpetrators count on - indifference. And without the indifference of most and the collaboration of many, the Holocaust would not have been possible.

It's sobering to realize that the Nazis were in power for eight long years before they began the genocide of the Jews. Eight long years when Germans, Europeans and the international community knew what was happening inside the ever-expanding Third Reich.

A Changing World

What does this mean for our times? First, the obvious conclusion that after 2,000 years of various forms of antisemitism, we know it's not an eradicable disease. Nor is hate.

So can we tackle the problem of indifference? Is that too ineradicable? We are all susceptible.

We, too, live in an era of unprecedented change. The last century began with war, revolution and an economic crisis. Our century began with war waged by Al Qaeda, a technological revolution and a severe recession.

Holocaust history reminds us of the vulnerabilities of human societies in times of rapid change. And, we are facing an ever-accelerating rate of change that we can't begin to comprehend. In 2001, futurist Ray Kurzweil predicted our society would effectively experience 20,000 years of technological progress in the 21st Century.

Remember, the Nazis were skilled in deploying the latest technologies along with a dangerous mix of propaganda, terror and the law. The Holocaust is a warning that technological progress is not moral progress.

With all this change, how will we face unprecedented moral questions when social trust is so low? Think about the difficult questions we are facing now about free speech and hate speech in light of the internet. As Tom Friedman says, everybody lives in cyberspace but no one's in charge.

And just imagine the questions we will confront about what it means to be human in light of advancements in bio-engineering and artificial intelligence. Remember, the Nazis invoked so-called racial science as a modern idea that would redefine humanity and morality.

What can help us navigate the perilous road ahead?

We will need historical perspective, critical thinking and moral anchors. We will need constructive ways to have difficult conversations. That's why Holocaust history is uniquely suited to this moment.

But first, we need a relentless fidelity to historical truth, which means the politicization of the Holocaust has to end. It must stop being exploited as a propaganda tool for extreme nationalists as well as antisemites on both the right and the left. The United Nations General Assembly has rightly condemned Holocaust denial, but it must be relentless and treat this as one of many dangerous forms of antisemitism worthy of condemnation, especially in today's perilous climate. And the abhorrent politicization of UN bodies by some member states in order to delegitimize the State of Israel must also end.

Second, the Holocaust seems incomprehensible, which is precisely why we must comprehend it. It was a watershed in our understanding of humanity. At the beginning of the 20th Century, we assumed education and democracy could protect us. The Holocaust revealed enduring truths about human capabilities. About good and evil. Also about all of us humans who normally don't inhabit either end of that spectrum. It reveals not only our susceptibility to fear, resentment and indifference. We now know from Holocaust scholarship, it reveals other powerful motives such as greed, peer approval and career advancement that can make us complicit in the face of hate, antisemitism, even genocide.

History helps us look back, but life is lived forward. The citizens of the Weimar Republic did not understand that they were sitting on the abyss of evil. Today we realize just how susceptible they were. The Weimar Republic could not withstand multiple crises and rapid change. There was no strong foundation of democratic practice and values. Social trust was lacking as was a robust civil society. Jews, a longstanding and effective scapegoat throughout European history, became one again. And ordinary Germans found ways to rationalize this.

The Power of the Individual

So to return to Elie Wiesel, the Holocaust is a timely cautionary tale. The unthinkable is always possible. That all societies are fragile should provoke many questions for us:

When do ends not justify the means?

Can we distinguish between the symptoms and causes of the problems?

Most importantly, this question: What is my role?

It's easiest to blame or categorize others, but the Holocaust reminds us that individuals - for better or worse - have more power than they realize.

As Elie Wiesel challenged us, these are not one-off questions. We need to continually keep asking these questions of the world, and of ourselves.

What makes people susceptible to antisemitism, hate or indifference?

How can I avoid simple answers to complex problems?

How can I not only listen, but hear, and hear with empathy and humility - those who look, pray and think differently?

How can I actively promote social cohesion by advancing the common good and searching for shared values that transcend differences?

The ultimate question: What is my responsibility for the future?

The study of Holocaust history helps us look back and see where warning signs were missed; where unintended consequences were ignored; where wishful thinking prevailed. And, this looking back is what we owe the victims. To remember their lives. To remember the horror of their deaths. And to remember most of all that we failed them.

We cannot fail them again by forgetting. We cannot fail them again by ignoring rising antisemitism and distortion and politicization of the Holocaust. We cannot fail them again by not learning from our failures.

When we look back in history, it must be to see who was lost. It must be to see what happened, and what failed to happen. And it must be to see ourselves.

Thank you.
Remarks at UN Holocaust Remembrance Ceremony
by Sandro de Bernardin, President International Holocaust Remembrance Alliance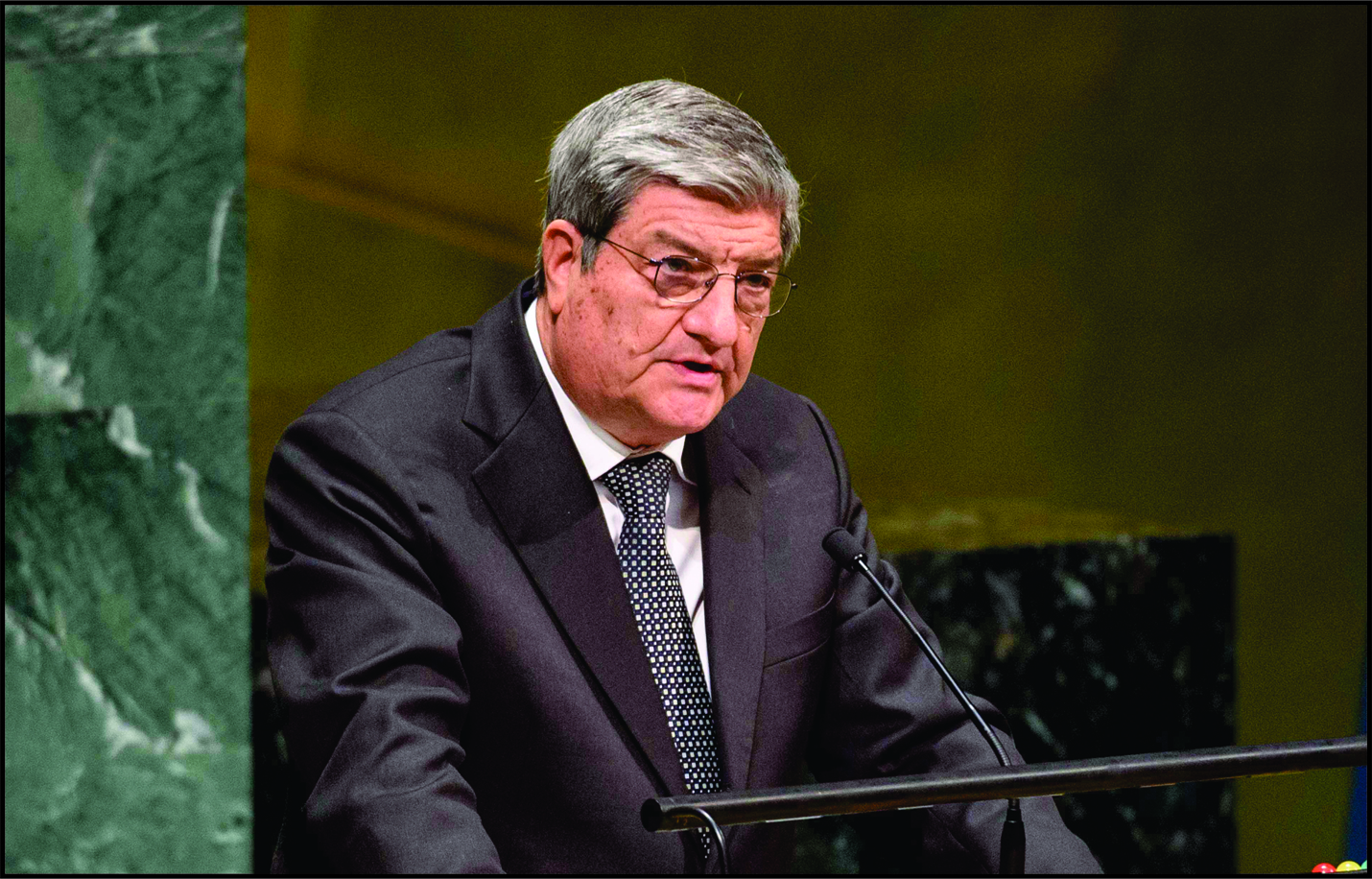 Sandro de Bernardin, President of International Holocaust Alliance, delivers his remarks during the United Nations' Holocaust Remembrance Ceremony
Photo: Courtesy The UN
March 8, 2019

It is a great honor to address you in my capacity as the Chair of the International Holocaust Remembrance Alliance: an intergovernmental body of 32 member countries that are formally committed to strengthening, advancing and promoting Holocaust education, remembrance and research. The creation of the IHRA was prompted, some twenty years ago, by the findings of a poll, showing that the horror of Auschwitz, Treblinka, Sobibor were at risk of disappearing from the collective memory of new generations. Since then, the members of the IHRA have worked to reverse this trend.

But is collective memory in better shape today?

In particular, are people aware enough that the Holocaust was not an incident of History that came out of the blue, but was the outcome of a process marked by very specific milestones? And that prominent among these milestones was the legal discrimination of sectors of the social body? That the Holocaust was announced by the progressive denial of human rights of individuals and groups?

The IHRA Community are not very tranquil in this respect. And last year they decided to intensify their commitment against the ongoing distortion of the narrative of the Holocaust, as well as the trivialization of some features of the Nazi and Fascist persecutions. In this context, in 2018 - on the 80th anniversary of the Italian racial laws - the IHRA began a first systematic survey of discriminatory regulations introduced in various European countries during the Thirties. I am sure that, when the study is completed, its findings will be relevant also for present political debate.

In his novel If This Is a Man, based on his personal experience in Birkenau, Primo Levi reported of a recurrent nightmare of deportees: to survive, to go back home, to tell their stories and to not be believed. We have to admit that, still today, that nightmare often comes true. Indeed, I daresay, the first human right to be protected is the right to memory. Therefore, the defense of human rights should start with the safeguarding of the record and the countering of distortion. Mr. Secretary-General, I definitely like the exhortation, under the umbrella of which we are convened today: Demand and Defend Your Human Rights. Yes, Demand: because human rights are a public good and, as such, the property of all.

A public good is indivisible: so, it cannot be denied to anybody, neither an individual nor a given group. Moreover, we learnt by experience that the hate, that begins towards one group, only seldom ends with that group. And yes, Defend: because - as Hillel the Elder warned- "If I am not for me, who will be for me? And when I am for myself alone, what am I? And if not now, then when?" (Pirkei Avoth 1, 14).

To demand and to defend cannot be seen as perfunctory tasks. What is at stake is too important to be treated as a matter of ordinary administration. The protection of fundamental values always requires a proactive stand and affirmative action. To be effective, such action is to be based on the joint commitment of governments and civil society, pooling all political, bureaucratic, scientific, educational and mediatic tools. Interaction between government officials and experts is precisely what characteristics the work of the International Holocaust Remembrance Alliance. I think it is a good model.

With this in mind, I expect this meeting to contribute to spreading a simple message: when you hear calls to restrict anyone's rights, when you hear the sound of the bell of discrimination, "never send to know for whom the bell tolls. It tolls for thee" (John Donne, Devotions upon Emergent Occasions).

Thank you.
Return to Home Page
Back to Top