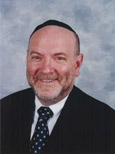 Dear Cyber Rav,
Whenever my son is not present, I rise to say a prayer for the sick in his behalf. Am I to stop at some point given that his condition is lifelong? He was recently diagnosed with a disease, which sounds worse than it really is, but what means that he needs to take medication for the rest of his life and have periodic blood tests. His skin will remain blotchy, clear up, and then return to an abnormal state. There is no cure, just hope that one day this condition will go away. He is handling it all so amazingly well! I am convinced that God has definitely given him a wonderful gift--a fabulous, upbeat, positive attitude!! He is so bright and optimistic, good-hearted, etc. I so wish he did not have to endure this!
Wanting to Pray and Wanting to Stop
Dear Wanting to Pray,
Should we stop saying mi shebeirakhs for your son? That's a good question. Of course, we would love for him to achieve a refu'ah sheleimah, a complete recovery. I guess my question is this: Is he sick? We know that he has a permanent condition for which medication therapy exists, and we know that he does have this blotchy skin syndrome which is equally upsetting--but is he sick?

By your own admission, you think of him as one of the healthiest children you know--bright, polite, optimistic, fair, etc. I think of other children who do not suffer from his ailments, but who are not quite as healthy as he when it comes to one's total persona or humanity. As the Mommy, you do a lot of worrying, which I see as not only a tribute to your concern for and connection with your son, but also as an indication that among mothers, you're eminently normal. And, of course, we all wish that he would not have to deal with the medical challenges he faces. And yet--I think a legitimate question to ask, is the one above: is he sick or does he have a condition that he is going to have to deal with for the rest of his life, and given a loving family and supportive friends, he will in fact deal with this situation and do so with great success. There are a lot of people in this world with so called "disabilities" which they do not regard as disabling in anyway. It's just the way we look at it.

And so--I don't think your saying a mi shebeirakh for him is in anyway wrong. You want him to be perfectly healthy. My question for you to ponder is whether this wonderful little boy isn't already the picture of health, if not perfection. Then again, perfection is highly overrated.
Rabbi Rafi Rank
The Cyber Rav