THE PRICE OF TWO DEAD ISRAELI SOLDIERS
By Rabbi Rafi Rank, The CyberRav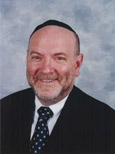 Shabbat Shalom, Everyone. CyberRav here with a bit of Aural Torah for you!
It was a hard week for Israel. For two years the country and Jews around the world have prayed for the safe return of Ehud Goldwasser and Eldad Regev, two Israeli soldiers whose kidnapping in July of 2006 sparked the 34 day war between Israel and Hezbollah. This week, Israel's prayers were answered, partially. Ehud and Eldad have finally returned to Israel, in coffins, and have since been buried in Israel's sacred soil.

It was a controversial return. The two were not simply returned to Israel gratis, but were part of an extensively negotiated prisoner exchange. Yes, Israel finally got Ehud and Eldad back, but in order to do so, Israel returned the remains of 199 killed Lebanese soldiers, four Lebanese combatants, and one convicted terrorist. The terrorist, Samir Kuntar, a Lebanese Druze, was convicted of killing an Israeli police officer in front of his 4 year old daughter, and then bludgeoning his daughter to death. The murders took place in 1979 and Kuntar, at the age of 16, was sentenced to 542 years in prison. He's apparently gotten out early.

Tzahal, the Israeli Defense Forces, abides by a code in which it vows to leave no soldier on the battlefield or behind enemy lines. It's an absolute for them and whenever we choose to live with absolutes, the inability to moderate the absolute can bring us to decisions we might later regret. Kuntar received a hero's welcome in Lebanon. And this is what Kuntar had to say during his reception: "I return today from Palestine, but believe me, I return to Lebanon only in order to return to Palestine." Has veShalom—God Forbid!

As someone I know once said, the only thing worse than having to bury a child is not having the child to bury. The grief of the Goldwasser and Regev families has certainly been intense, not knowing whether their two boys were dead or alive. We can all sympathize with the agony of that terrible situation. Then again, responsible leadership will never endanger the lives of a nation in deference to the desires of a few, no matter how legitimate those desires may be. If you were the prime minister of Israel, what would you have done?

This week, Israel answered the question of exactly what is the price of two dead Israeli soldiers. They are worth the remains of 199 killed Lebanese soldiers, four living Lebanese combatants, and one, very-much-alive terrorist. They say that Jews are smart businessmen. Not always.
Return to Cyber Rav Archives
Back to Top