THE ROMANCE OF PARIS AND ROME
By Jessica and Pat Levy-Lavelle
What city has both the Statue of Liberty and the world's best falafel? If you guessed New York, keep guessing. It's Paris, as we learned recently. Having tied the knot, we wanted to spend our honeymoon exploring two European cities renowned not only for romance, but also for life well-enjoyed. With savory food, good walking, plenty of history and culture, plush accommodations, and hassle-free communications, Paris and Rome did not disappoint.

After landing at Charles de Gaulle - a mere eight hours from JFK - our time in Paris began with checking into our accommodations at Hotel Napoleon, a four-star property on a quiet side street less than a block from the Arc de Triomphe and the world-famous Champs de Elysees, a wide boulevard perfect for shopping and strolling. Hotel Napoleon's decor is what we imagined might be called classic Parisian, with lavish beige-and-rose furnishings, dark wood, oil paintings, and chandeliers. Our room was elegantly appointed, with a sitting room, a bedroom separable by sliding panel doors, a spacious marbled bathroom with jetted tub, and a balcony overlooking the neighborhood. With these luxury accommodations - plus a friendly and knowledgeable English-speaking staff, a decadent breakfast buffet (including, among other options, crepes, goat cheese, fruit, fresh yogurt, croissants, cereal, blood orange juice, and coffee) and previous visitors including Ella Fitzgerald and Salvador Dali - Hotel Napoleon was easy to get used to and made for a fantastic base camp. (Hotel Napoleon, 40, Avenue de Friedland, www.hotelparisnapoleon.-com)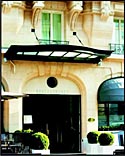 From the hotel on the first day of our trip, we walked easily to one of Paris's oldest and best-known bakeries, LaDuree (16, rue Royale, www.laduree.fr/index_en.htm), where we enjoyed croissants and coffee. After a short rest back at the hotel, we then headed on to Montmartre. Montmartre is a neighbor-hood that jumbles apartments, small bakeries, artsy stores, restaurants, and sights (such as the Moulin Rouge and other cabarets where Parisian residents such as Van Gogh used to frequent) on the hills leading up to a pinnacle on which the Sacre Couer Basilica, a famous landmark, is located. The square in front of the church has one of the best views of the City of Lights, as Paris is known, and it provided us with a bird's-eye visual orientation as the sun set on our first day.
Walking around was a great way to acquaint ourselves with all the lovely neighborhoods of the City of Lights, though it was not until our second day that we had a true overview of Paris. This overview was provided to us by Rachel Kaplan, the owner of French Links Tours. Ms. Kaplan, a native New Yorker, has found herself living in Paris for well over a decade, after being drawn initially by the prospect of writing about the Jewish influence in the development of Paris. Her years of experience translate into not only a fluent knowledge of Parisian history, but also of an enthusiastic readiness to introduce visitors to the abundant opportunities Paris offers for a wide variety of interests. Whether you love antiquing, shopping, cuisine, art, gardens, or architecture, Ms. Kaplan knows where to take you and what you need to know.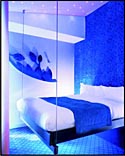 After meeting us at our hotel, with a chauffered car, Ms. Kaplan took us on a thoroughly enjoyable half-day tour of Paris' most-famous sights, including Montmartre (where she pointed out a residence used in Woody Allen's "Everyone Says I Love You" and explained the neighborhood's history as a Mecca for artists), the Paris Opera (where the composer Wagner became anti-semitic after becoming jealous of a Jewish composer whose opera was heralded while his own was pelted with tomatoes), Notre Dame (one of the most prominent churches in the world), Le Marais (a beautiful and intimate neighborhood which remains the heart of Paris' large Jewish community), and the Latin Quarter. She also took us - upon hearing of our love for food - to Rue Montorgueil, a lively pedestrian avenue lined with some of the city's best markets and well-know eateries. We stopped at La Maison Stohrer (51, rue Montorgueil), which was founded in 1730 and has been making some of the city's best pastries ever since. Along the way, she explained the history of Jews in Paris, and told us surprising facts - including that France has the world's fourth-largest Jewish population, with half living in Paris. (French Links Tours, www.french-links.com).
After we parted ways with Ms. Kaplan at Les Deux Magots - a cafe in the French Quarter patronized not only by us, but also formerly by Ernest Hemingway, Pablo Picasso, Albert Camus, and others - we walked to the Jardin Luxembourg, an elegantly manicured and popular public garden, where we sat alongside locals enjoying the scent of flowers on a lingering breeze. After that, we walked on to the Musee de Orsay, one of the best-known museums in the city and the largest collection in Paris of Impressionist paintings. We saw Van Gogh's "Starry Night," Whistler's "Portrait of the Artist's Mother," and others by Manet, Monet, Degas, and Renoir (62, rue de Lille, www.musee-orsay.fr/en/home.html). We finished the day walking to the Eiffel Tower, at the end of a public park much like the Mall in Washington, filled with groups of young Parisians enjoying picnic dinners.

"When in Paris, go Parisian," we figured, so the next day we had our sights (and stomachs) on picnicing. We set out for Boulevard Raspail, where there is a produce market bursting with flowers, fresh bread, various cheeses, peaches and cherries. We also visited Poilane (http://www.poilane.fr), which - like the Boulevard Raspail market - is recommended by New York's Barefoot Contessa, and boasts the city's best artisan bread. After window-shopping in the neighborhood, and accumulating treats, we had lunch in a local park alongside locals. Later, we wandered the Jardin des Tuileries, a public garden of fountains and statutes and flowers between the Arc de Triomphe and the Louvre, and then hit the Louvre to see Michaelangelo's "Mona Lisa" and innumerable other works. After the Louvre, we wandered through the the Marais neighborhood, and - lured by a restaurant musician Lenny Kravitz deemed as having the world's best falafel (which seemed to be perpetually shuttered), we stumbled into Chez Hannah. This cute Israeli restaurant, which was packed with locals hungry for amazing falafel, roasted eggplant, and other delights, ended up being one of our favorite and most affordable Parisian meals (54, rue des Rosiers). We finished the night with a look at the City of Lights lit up, on a night boat tour along the River Seine past the Eiffel Tower, Notre Dame, and other illuminated sights.

The following day we wandered around Paris' two islands, Ile de la Cite and Ile Saint-Louis, touring Notre Dame and visiting Berthillon, Paris' famous ice cream parlor (29, rue de Saint-Louis), which was utterly (or perhaps udderly) delicious. We also visited Mariage Freres, one of Paris' best-known and oldest tea houses, where we struggled to choose amongst the dozens of fragrant varieties of teas to take home (35, rue du Bourg-Tibourg, in Le Marais). While Berthillon and Mariage Freres did not disappoint, our dinner that night, at Mon Vieil Ami (69 rue de Saint-Louis), did. Although the restaurant was recommended by Barefoot Contessa and other critics for a nouveau twist on classic French cuisine, and the atmosphere and presentation were top-notch, the flavor (for us) failed to deliver.
After bidding adieu to Hotel Napoleon, we spent our last two nights in Paris at The Five. Located in the southern part of the Latin Quarter, south of the River Seine, The Five is a completely different way to stay in Paris. If Hotel Napoleon is classic and tastefully conspicuous, The Five is modern and discreet. Tucked on a small side street, The Five is a relatively new luxury boutique hotel with cozy rooms appointed with LED stars on the ceiling, satellite televisions, modern art, L'Occitane bath products, and scented ambient lighting. Completing The Five's charms was a cozy, bright, wine-cellaresque breakfast room with pastries, fresh fruits, and other delights (The Five Hotel, 3, rue Flatters, www.thefivehotel.-com).
Having settled into The Five, we spent our time wandering through the Latin Quarter. The Five is in a residential neighborhood with ethnic eateries, small shops, and a little fountained square where, on a Sunday afternoon, locals danced while a woman crooned old favorites. After being waylaid by an organic bakery and a couple of jewelry shops, we made our way by foot (the best way to explore Paris) across the river and back through Le Marais to Musee Picasso, an elegant house that once contained Picasso's studio and now boasts the world's largest collection of the artist's works. Although it was interesting to see, we left feeling like it might be best reserved for true fans of Picasso.
Taking a tip from Rachel Kaplan's book Best Buys to French Chic: The Insider's Savvy Shopping Guide to Paris, we spent our last day in Paris taking the metro to Le Marche aux Puces, a massive antique market on the edge of Paris with hundreds of dealers. Wandering through rows and rows of shops and stalls, we came to a back-corner, out-of-the-way alley from which strains of classic Parisian music could be heard. We discovered a small café, Chez Louisette, where we had cafe au lait and listened as Solenna, a female vocalist backed up with an accordian and piano, regaled the several diners (appearing to be mostly regulars) with a worn but graceful smile and an infectious love for Edith Piaf.
Recharged with caffeine, we hit the antiques. At Le Marche aux Puces, there is truly something for everyone, from fine furniture to small mass-produced trinkets from yesteryear - and several multiblock areas known for particular types of antiques. We had time only to explore one of the several areas, where at one small stall we found a framed antique postcard of the Eiffel Tower perfect for remembering our trip by. After leaving the Le Marche aux Puces, we wandered through the city past Montmatre and tried to go to Musee l'Orangerie, along the banks of the Seine, which contains Monet's famous Water Lilies for those who get there early enough (we didn't). Undaunted, we took delight in accumulating the basics for a picnic dinner, and spent our last evening in Paris in the rich bask of a setting sun on the breakwater of the Ile de Saint Louis surrounded by locals doing the same.
Another recommended option for lodging in Paris is the Hotel Montalembert. Located in the heart of the Latin Quarter, it's a short walk away from the Musee d'Orsay and the Louvre and very centrally located. The rooms are smartly appointed with a modern look, cast in shades of beige, brown, and oak wood, and the staff has a reputation for being pleasant and helpful. The staff speaks English and happily makes reservations, provides a large DVD selection, and offers advice on where to go and what to see in the area. Along with the first class service, the hotel offers many first-class comforts and perks like teddy bears for children and manicures and massages for charge in certain rooms. (Hotel Montalembert, 3 rue de Montalembert, http://www.montalembert.com/).
We highly recommend you to visit www.epoquehotels.com which is the premier booking agent for some of the most exciting, high class boutique hotels throughout the world, with a special emphasis on France. They were extremely knowledgeable and heplful to us and we are sure that you will benefit from their expertise as well.
From Paris, we went on to Cinque Terre and then continued on, by train, to Rome. Our base camp in Rome - the four-star Hotel Mediterraneo - was not only a convenient walk from Rome's Termini rail station, but also a true delight. We were greeted warmly by staff in the lobby, a vaulted spectacle of marble, rich wood, and floral displays. Our spacious room, meanwhile, had a marbled bathroom, a foyer and sitting area appointed with classic furniture, and a private patio overlooking the majestic jumble of ancient and modern buildings of central Rome. Hotel Mediterraneo also has a fitness center, rooftop terrace, and a breakfast buffet with made-to-order coffee drinks. (Hotel Mediterraneo, Via Cavour 15, http://mediterraneo.hotelinroma.-com/).
We spent our first night in Rome meeting friends in the charming square in front of the Pantheon, a monumental Roman edifice built in the first century AD and still standing. We wandered the small backstreets awash in the warm glow of streetlights and the bustle of neighbor bistros. After a dinner of pasta, salad, and wine, we wandered to the famous Trevi Fountain, a massive baroque sculpture with water gushing from the aqueducts that still bring water to Rome after centuries. Lit up at night, it attracts locals and visitors alike, and the tradition is to make a wish and throw a coin over your shoulder. Then we went just two blocks farther, to Gelato di San Crispino, one of the city's favorites, where we quickly learned why it had such a reputation, enjoying rich flavors ranging from bergamot to Valrhona chocolate to blackberry as we finished off the night. (Gelato di San Crispino, Via Panetteria 42).
If you've never been to Rome before, there is an overwhelming cornucopia of sights to see, including the Roman Colosseum, where gladiators once fought to the death; the Imperial Forum, a collection of ruins that once comprised the political and religious heart of the Roman Empire; and Vatican City, which holds Michaelangelo's Sistine Chapel. All are must-sees, and it's best to save at least two or three days for Rome's delights.

As it was, having previously traveled in Rome, we took a different-and no less pleasurable-approach to the city on the final day of our trip, focused on wandering through neighborhoods and letting our senses lead the way. After setting out from the Hotel Mediterraneo, we wandered past the Colosseum and the Forum, and across the Tiber River to Trastevere, a quaint neighborhood of narrow lanes, artists' workshops, church bells, and cafes. After wandering for awhile, past a farmer's market and in and out of local shops, we worked up an appetite, and headed for Trattoria da Lucia. It is not easy to find, but is more than worth it, and made for one of our favorite meals on the trip. This small, reasonably-priced restaurant has been family-owned and -run for over seventy years, and its walls are packed with a combination of family photos and accolades from local and international press. Under an umbrella on a small and unassuming cobblestone lane, we ate a lunch of fresh rustic Italian bread, whipped honey and pecorino cheese, grilled vegetables, and penne all'arrabiata. (Trattoria da Lucia, Vicolo del Mattonato 2) Only a short walk away is one of the best gelaterias in Rome, Gelateria alla Scala, and we couldn't resist unusual but perfectly executed flavors like pear and cinnamon. (Gelateria all Scala, Via della Scala 51).

After having our fill at lunch, we figured more wandering and window shopping would help us burn off some calories. We left Trastevere and headed back across the Tiber River, and onto Campo di Fiore. This plaza, whose name literally translates as "field of flowers" for the fact that it remained a meadow until the Middle Ages, remains a popular meeting spot for young Italians. The streets surrounding it are still named for the various trades that congregated in the area beginning in the 1700s.

We chose to wander up Via dei Cappellari ("Street of Hatmakers"). Though we found no haberdashers, we did pass artist workshops and antique stores, on our way to the Spanish Steps. Although not nearly as old as much of Rome, having been built in the 1700s, the Steps are a Roman gem. They're a perfect place to sit, rest, and people-watch, if you can find a space amidst the hundreds who come to take in the scene. It's no wonder that John Keats, the famous English Romantic poet, decided to live out his days in the house across the street. After dinner at a neighborhood pizzeria, we walked to Piazza Navona, where we got the famous "death by chocolate" tartufo at the Tre Scalini Gelateria. Enjoying the sights, sounds, and tastes of an evening in Rome, we called it a day.

The next morning, sadly, saw us heading for the airport and back to New York. As we headed out, we wondered what it was that had made the trip so special. Obviously, the food and culture are top notch but more surprising to us were the people and the warm manner in which we were received by those residing in Paris and Rome. As a bemused and kindly baker told us, as we bit - with involuntary oohs and ahhs - into a warm, fresh-baked piece of chocolate bread one Paris afternoon, we made a good choice indeed.