Baltimore: A City of Firsts
By Patrick & Jessica Levy-Lavelle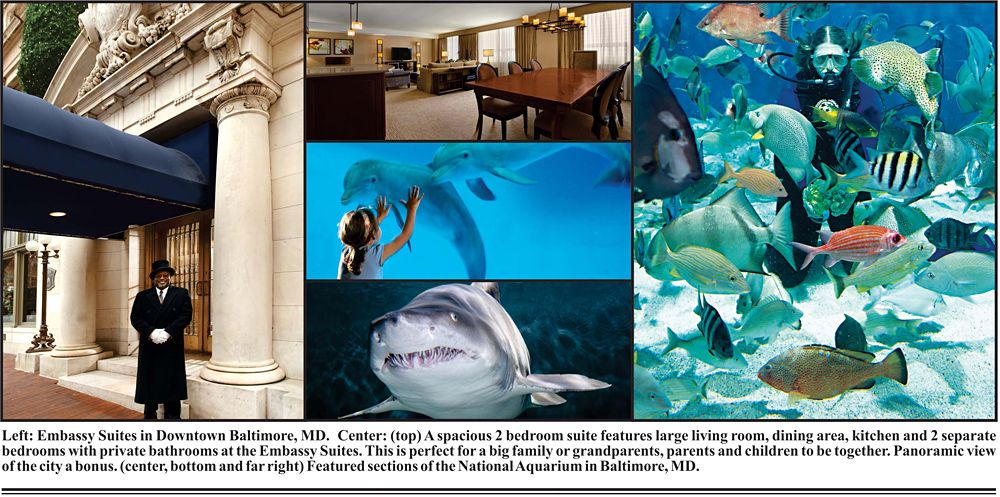 Baltimore is a city of firsts. Birthplace of our national anthem. First stop on Babe Ruth's illustrious career as a baseball icon. First JCC in America.

As we learned on a recent Jewish Post of New York press trip to Charm City (as it's sometimes called), Baltimore is also a first-rate destination for a weekend getaway.

Our first stop was the recently-renovated Embassy Suites Downtown Baltimore (222 St. Paul Place * (410) 727-2222). This property – one of the tallest buildings in Baltimore, and thus boasting panoramic views of the city – stacked up to and exceeded our expectations as our weekend home away from home. The facility has both traditional hotel rooms as well as multi-room suites. Furnishings are both sleekly modern and uncompromisingly cozy. Complimentary amenities include made-to-order breakfasts; an evening reception with beer, wine, and hors d'oeuvres; wi-fi in all rooms; and workout facilities including yoga and a sauna. The staff was warm, knowledgeable, and professional. And the location – just up the hill from Baltimore's Inner Harbor – meant that it was easy to reach many of the city's prime attractions.

After enjoying breakfast at the Embassy Suites, we headed down toward the Inner Harbor. Shops line the water and provide many tasty options for indulgences. We exercised restraint as we made our way along the waterfront to the National Aquarium (501 East Pratt Street * (410) 576-3800). This is one of the very best aquariums in the country, and does not disappoint. Young and old alike will find exhibits that captivate. The aquarium's living collection includes over 17,000 animals from more than 750 species of fish, birds, amphibians, reptiles, and mammals all residing in award-winning, naturalistic habitats.

The Aquarium's newest exhibit, Blacktip Reef, is a massive coral reef exhibit, with blacktip reef sharks, green sea turtles, honeycomb stingrays, and many brightly-colored tropical fish. Other exhibits include a dolphin show, a habitat focusing on the animals of Australia, and an impressive rainforest at the Aquarium's top floor – replete with lush greenery, sloths, and toucans.

After working up an appetite touring the Aquarium and walking over to Little Italy, we indulged in pizza and salad at Isabella's Brick Oven Pizza and Panini (221 South High Street * (410) 962-8888). They were good, but not as good as New York pizza.

After a short reprieve back at the hotel, we were ready for a more authentically bite of Baltimore. We walked to the Lexington Market, one of the oldest markets in the United States, with crab cakes in mind. Faidley Seafood (203 North Paca Street * (410) 727-4898) did not disappoint, and remains one of our tried-and-true favorites of the region. This family-owned business has been around since 1886, and is famous for its jumbo lump crab cakes. The seafood market atmosphere is no frills – paper plates and communal high tables – but it has a certain earnest authenticity. And the crab cakes are the best we've ever had.

Our culinary tour de force would not have been complete without our dinner stop later that evening. Baltimore has diverse food options, and the bustling enthusiasm that has greeted Lebanese Taverna (719 South President Street * (410) 244-5533) over the last few years shows that Baltimoreans have good taste. Lebanese Taverna began in DC, and is now has a small, carefully cultivated group of locations. The Baltimore location has been in existence for several years, and is located in the tony Harbor East neighborhood – replete with high-end shopping, apartments, and harbor views. The restaurant itself is an atmospheric palette of modern furnishings and traditional Lebanese flourishes.

Lebanese Taverna's atmosphere is matched by its warm service and authentic cuisine. We were wowed by the Lebanese wines (including the recommended reserve wines from Lebanon's own Bekaa Valley), and the wide selection of cocktails and drinks of all varieties. Dinner started with fresh tabouli and zesty hummus. We enjoyed salmon with a tomato-cilantro-pine nut sauce, and a selection of grilled meats and vegetable over an aromatic bed of Lebanese rice. Both the fish and meats had a tender texture that won us over. We couldn't stop before experiencing the freshly fried awamat – Lebanese donuts with a honey-saffron syrup and a yogurt-milk pudding for dipping. The little puffs paired perfectly with a licorice-infused house tea. It was also wonderful to see the wide range of diners who filled the restaurant with a bustling energy, from those celebrating special events to young families out for a festive dinner which is sure to have pleased any palate. If the proof is in the pudding, Lebanese Taverna hits the mark.

After Lebanese Taverna, we went back to the hotel to relax and finally to hit the pillow at the end of a satisfying day.

Our next and final morning in Baltimore began – after the breakfast at Embassy Suites – with a trip to the Babe Ruth Birthplace and Museum (216 Emory Street * (410) 727-1539). Babe Ruth may forever be a Yankee, but he got his start – quite literally – in a little brick rowhouse in Baltimore. His father was a barkeep in a tavern, now demolished, that once stood nearby where part of Camden Yards (present-day home of the Baltimore Orioles) now sits. The museum recounts Babe Ruth's birth (which happened in a small bedroom upstairs still outfitted in period-era furnishings), and his early days as a rambunctious troublemaker his parents could not control. It also recounts his formative years at a religious reform school after his exasperated parents sent him away. It was there, apparently, that he caught the attention of a certain Brother Matthias who taught him discipline and fielding. From there, after twelve years at the school, Babe Ruth caught a contract with the Baltimore Orioles. As his reputation grew, Babe Ruth outgrew Baltimore and got a lucrative contract with the Yankees. The rest is history. This little museum does a great job capturing the many facets of Babe Ruth's larger-than-life persona – from his historic feats on the baseball field to his experience as a father of two girls (greeting their suitors with a robust handshake in one hand and a guarded baseball bat in the other to discourage waywardness). It was thoroughly enjoyable.

We finished our time with a trip to the top of Federal Hill Park (300 Warren Avenue). This lookout – named for a community celebration of the then-new U.S. Constitution in 1789 – sits just south of the Inner Harbor, and is in a hilly neighborhood of historic homes (part of which is on the National Register of Historic Places). Locals jog up and down the many stairs to the top for exercise, or enjoy the playground. We enjoyed the scenic, panoramic view of downtown Baltimore, and took everything in as our trip came to an end. From cuisine (whether crab cakes or Lebanese donuts) to sights (whether one of the nation's best aquariums or Babe Ruth's birthplace), Baltimore – or, that is, Charm City – truly makes for a charming weekend.