Follow Me: The Life of Yoni Netanyahu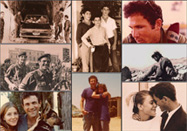 Clockwise from top left: Israeli soldiers returning from Entebbe raid, July 4th, 1976. Photo courtesy of Ministry of Defense Archive. (from left) Bibi, Iddo and Yoni Netanyahu. Photo courtesy of Netanyahu Family. Yoni's last photo, shortly before the Entebbe raid, 1976. Photo courtesy of Netanyahu Family. Yoni pauses during the battle on Mt. Hermon, Yom Kippur War, October 1973. Photo courtesy of Netanyahu Family. Tutti and Yoni 's wedding, August 1967. Photo courtesy of Tirza Goodman. Yoni with girlfriend Bruria, 1975. Photo courtesy Bruria Shaked-Okon. Tutti, Yoni and their dog, Lara. Photo courtesy of Tirza Goodman. Company Commander, Yoni Netanyahu, at a march in Jerusalem. Photo courtesy of Netanyahu Family.
Film Review by Claus Mueller
Nathan Gruber and Ari Daniel Pinchot directed Follow Me, an appealing emotional but enlightening biographical documentary which provides superb insights into the coming of age of Yonatan (Yoni) Netanyahu. Yoni was the older brother of Benjamin Netanyahu, the Prime Minister of Israel, and is probably the most popular Israeli war hero. Yoni's military fame is based not only on a distinguished service record in the military forces but specifically on his leadership as a young lieutenant colonel of the July 4, 1976 commando raid of Israeli special forces in Uganda. The surprise attack freed 103 hostages at the Entebbe airport from an Air France jet which had been hijacked by Arab and German gunmen. The raid killed the terrorists yet there was one Israeli fatality, Yoni Netanyahu, aged 30.
Yoni Netanyahu who was born in New York City was an established Harvard-educated scholar and poet. This thorough documentary includes perceptive interviews with family members, friends, his former wife Tuti, his girlfriend, high ranking Israeli officials, including three prime ministers, Shimon Peres, Ehud Barak, his brother Benjamin, and military leaders.
There are testimonies from fellow soldiers who fought with Yoni on the West Bank, during the Yom Kippur War and on the Golan Heights. The film offers an excellent and intimate portrait of the Netanyahu family and of the prevailing political mind set, complemented by the presentation of the famed Entebbe raid which Yoni commanded.
The daring Entebbe raid made military history since it succeeded against all odds in liberating a large number of hostages. Returning them to safe haven in Israel certainly reconfirmed the 'Never Again' conviction and the superior standing of the Israeli armed forces. Yoni was in charge of planning and executing the raid, killing the German and Arab gunmen and fighting the Ugandan soldiers protecting the terrorists.
Since much of the film's narration is based on Yoni's letters, poetry and documents he left behind, there is a strong authentic and highly personal context specific framework defining the film. Through careful interviews, sensitive staging, and new rare archival and audio footage from the Entebbe raid the documentary provides a solid understanding of Yoni as an individual citizen and as a soldier.
Follow Me certainly reinforces patriotic sentiments and will play well in themed film festivals and to audiences interested in Israeli and military affairs. The film premiered this year at New York at the Jewish Film Festival and opened theatric ally in the United States in May 2012.
* * *
Claus Mueller: filmexchange@gmail.com