JNF is on the Ground Every Day for Israel
By: Russell F. Robinson, CEO, Jewish National Fund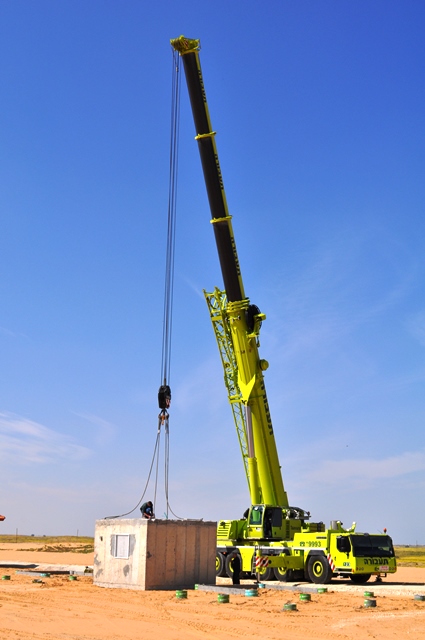 Bomb Shelter in Halutza being delivered
Since late June, Hamas' aggressive campaign against our Jewish homeland has sent more than 1,700 rockets into Israel from Gaza, placing the lives and security of more than four million of Israel's residents at risk. But I couldn't be more proud of our donors who have shown deep compassion and empathy for our extended Israeli family during this crisis. Contributions have resulted in some 30 mobile bomb shelters for residents in Halutza and throughout the Negev and the purchase of four new fire trucks for Israeli firefighters. Thanks to the support of Jewish National Fund (JNF), volunteers are making their way to bomb shelters across the south engaging children in programs and activities to relieve their stress, and our JNF Indoor Recreation Center in Sderot is utilized by up to 1,800 children and families a day as a safe place to play and get together.
Back in 2009 I had no idea how to build a recreation center that could serve dually as a bomb shelter to protect nearly 2,000 people. But we figured it out and today the center has become the main source of safety in Sderot, a small southern city near the Gaza border. In the early days of the recent attacks by Hamas, rocket fire ignited a plastics factory in Sderot and the IDF and first responders used the Rec Center as a command center. Now the center is open 24x7 to meet the needs of all those who need emergency shelter.
Each day our president, Jeffrey E. Levine, and I are on the phone with our team on the ground in Israel to learn what the needs are and how we can help. Staff at the Alexander Muss High School in Israel is working hard altering itineraries and staying in touch with the parents of its current group of 150 high school students, Nefesh B' Nefesh olim have been volunteering across the country, and the Society for the Preservation of Heritage Sites has granted free admission to over 60 heritage sites.
I am also pleased to see that other Jewish organizations are taking part to safeguard our people at this time. But the difference is simple. We are not a 911-agency. We have and always will be the boots on the ground, the organization that builds a better future for the land and people of Israel. Our vision is one that we excel at each and every day. We were able to respond to the crisis so quickly because we were on the ground already and when this is over we will still be there. We are JNF, your voice in Israel.
It is crucial that we show our support and unity with the Israeli people. Now more than ever, we must stand with Israel and her people. Sign up now at www.jnf.org/solidaritymission.
During the last months Israel has done much to protect her citizens, and JNF's mobilization has helped tremendously. Contribute to the ongoing emergency campaign here.