Jews Slaughtered in Pittsburgh Synagogue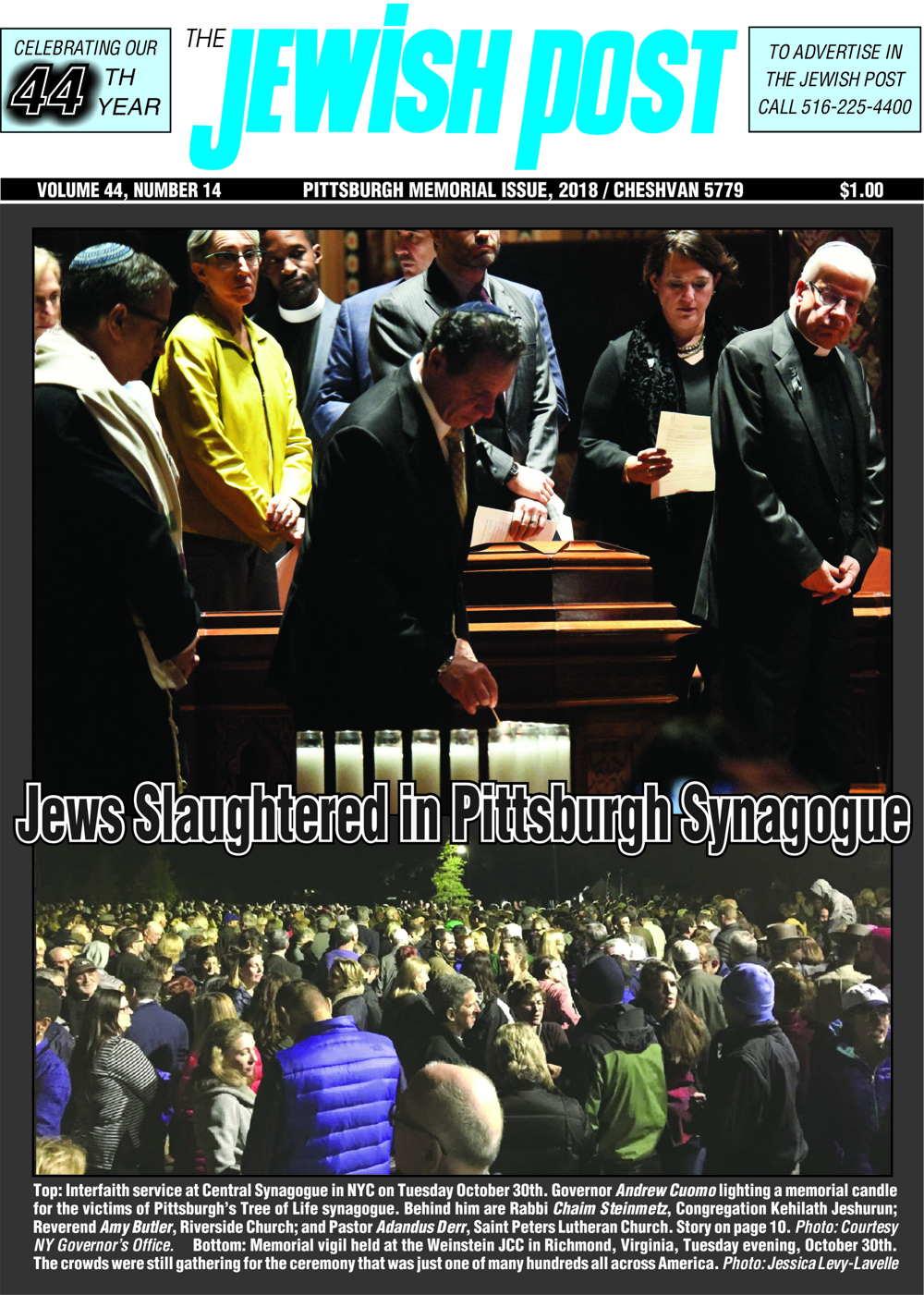 Jews Slaughtered in Pittsburgh Synagogue
Cuomo, at Interfaith Vigil in Manhattan Synagogue, Urges New Yorkers to Fight Against Bigotry & Hatred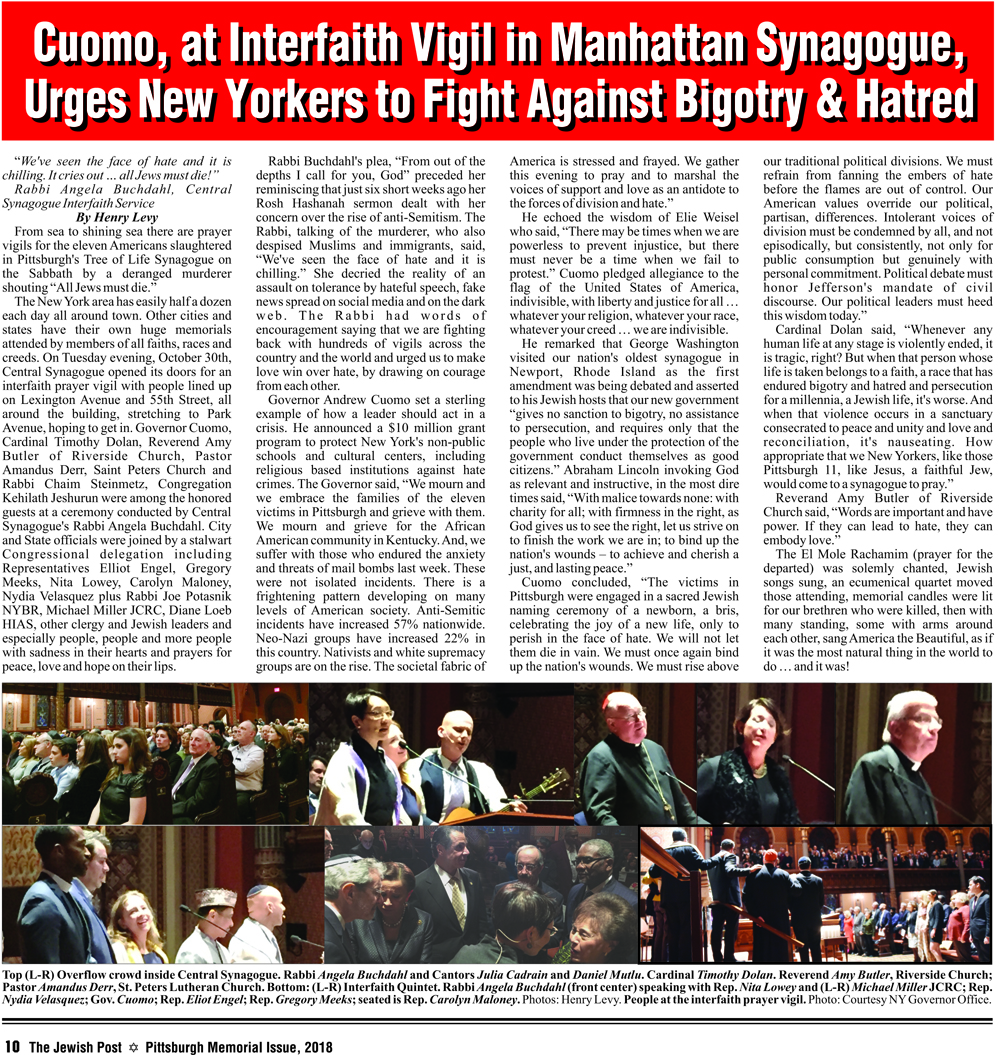 Cuomo, at Interfaith Vigil in Manhattan Synagogue, Urges New Yorkers to Fight Against Bigotry & Hatred
UJA: The Tree of Life Still Stands From Our CEO, Eric S. Goldstein
UJA CEO, Eric S. Goldstein.
PR News Photo/UJA-Federation, NY
Now we know their names and some of their stories: Two inseparable brothers, Cecil and David Rosenthal, both with special needs, who always sat in the back of the synagogue to greet worshipers as they entered. Rose Mallinger, at 97 the oldest victim, remembered for her youthful spirit. A doctor. A married couple. Grandparents, parents, siblings, and neighbors. They may be strangers to most of us, but we know them. They are all of us.
Yesterday I attended a deeply powerful and emotional interfaith memorial in Pittsburgh honoring the victims of the horrific massacre at the Tree of Life synagogue. I was joined by a UJA delegation, including our president, Jeff Schoenfeld, and King David Society co-chairs, Jeff and Linda Solomon, who were born in Pittsburgh and knew a number of the victims.
We heard from the three rabbis who held services at Tree of Life, grieving over the loss of congregants and dear friends, and the desecration of their synagogue. We heard from the president of Israel (via video), Israel's minister of diaspora affairs, Naftali Bennett, as well as Islamic, Christian, and Catholic clergy -- all sharing their commitment to eradicating hatred. The Muslim cleric announced that his community had already raised $70,000 to support the needs of the affected families. Listening to the speakers, we also got a clear sense of the Pittsburgh Jewish community, 50,000 strong, where everyone knows everyone, and many people are related. And so despite the palpable anguish, what I experienced most of all was an overwhelming sense of unity and love.
I was also reminded that, beyond being the name of the synagogue, the Tree of Life is a song we sing on Shabbat when we return the Torah to the ark ("It is a tree of life for all who grasp it"). And one of the Torah's most enduring lessons -- critical for this moment -- is that we must always welcome the stranger and reach out to the "other." These values, our Torah, our traditions, and our ethics, are the Tree of Life, and no act of violence will ever cut it down.
In that spirit, next weekend federations across the country and synagogues across the denominations are organizing a Shabbat of Solidarity with Pittsburgh. Friends from other faiths are invited to join. Let's stand shoulder to shoulder in our synagogues and sing for the 11 men and women who cannot, and for a community shattered by their loss.
To support Pittsburgh's Jewish community, we've also opened the Pittsburgh Solidarity Fund. One hundred percent of the funds will be used to support the victims and the Jewish community. Donations will fund psychological services, support for families, medical bills for all those involved, reconstruction, and security.
I also want to affirm our unwavering support for HIAS, a UJA partner dedicated to immigrant and refugee resettlement that was targeted by the alleged murderer in hate-filled social media posts. The security of all our institutions remains a top priority, and in the days, weeks, and months ahead we will be focusing on what is needed.
As many of you know, a number of vigils were held around the city, Long Island, and Westchester yesterday. Our chair, Rob Kapito, represented UJA at Ansche Chesed on the Upper West Side, where 2,000 stood inside and an impromptu memorial took place outside to accommodate the more than a thousand who could not get in. And Rabbi Menachem Creditor, our scholar-in-residence, spoke at an interfaith convening at Temple Emanu-El. I'll end with his beautiful and poetic words:
Holy One,
May we sing louder than the weapons;
and merit to see You in each other's eyes;
sanctifying Your Name;
by standing together;
by rising up again;
this time rebuilding Your World;
by saving each other.
Amen.
Eric


President Donald Trump's Statement on the Pittsburgh Synagogue Massacre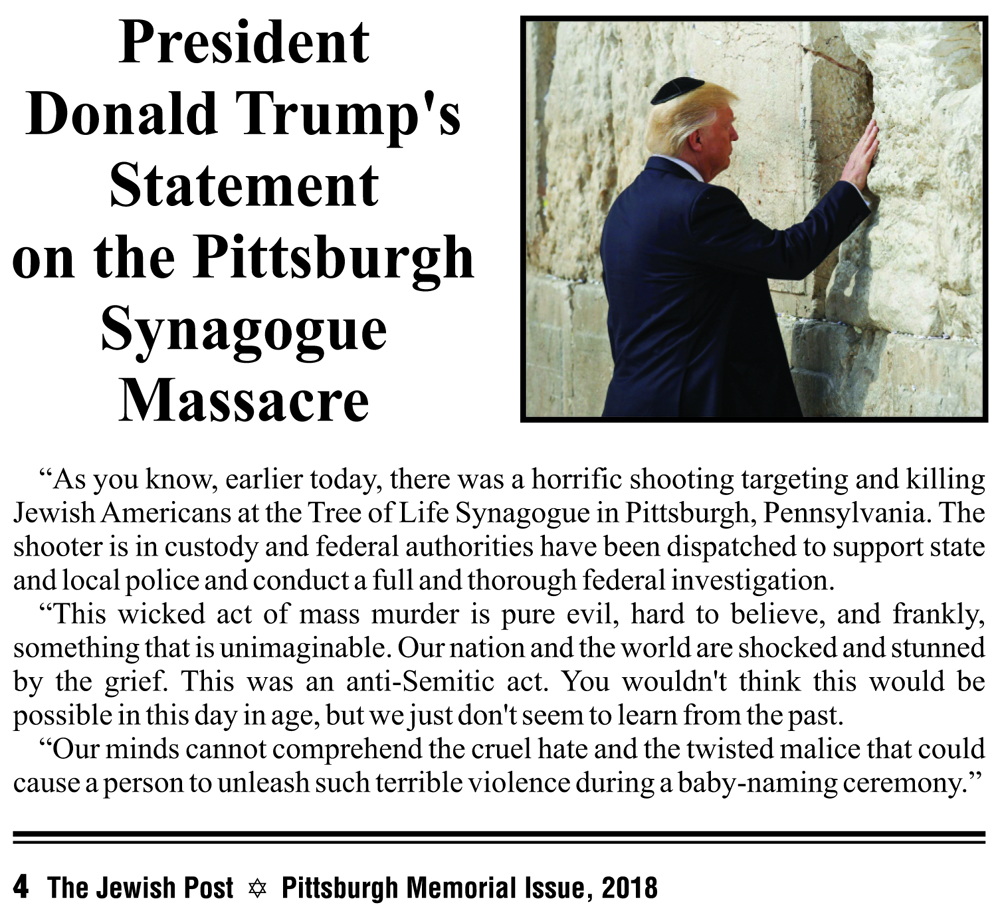 President Donald Trump's Statement on the Pittsburgh Synagogue Massacre