Six-Time NBA All-Star Amar'e Stoudemire Receives MLK Jr. Award in Jerusalem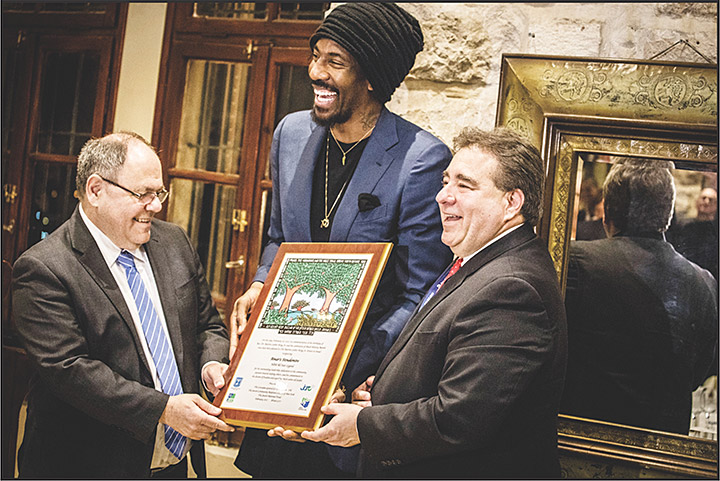 Consul General of Israel in New York, Ambassador Dani Dayan (left), and JNF-USA CEO, Russell Robinson (right), presented former NBA and current Hapoel Jerusalem star, Amar'e Stoudemire, with the award during a reception at the Mount Zion Hotel in Jerusalem. Photo: Ilia Yefimovich
Passover Issue, 2017
By: Staff Writer
Community activist, former NBA All-Star and current star forward for 'Hapoel Jerusalem' was honored by the Consulate General of Israel in New York, JNF and JCRC-NY in celebration of Martin Luther King Jr.'s legacy and Black History Month.
* * *
JERUSALEM – Former NBA all-star, activist and star forward for 'Hapoel Jerusalem', Amar'e Stoudemire, was recently awarded the Martin Luther King Jr. Award by the State of Israel, Jewish National Fund and the Jewish Community Relations Council of New York. The honor is bestowed annually in celebration of Black History Month to individuals who embody the spirit and ideals of Dr. King through their efforts to promote diversity and tolerance.
"I am truly honored to be receiving this amazing award," said Stoudemire. "It is very gratifying to know that all the work that the Alexis and Amar'e foundation has done over the years is not overlooked. I am blessed to be able to give back to the community, that's what it's all about."
For more than two decades, the Consulate General of Israel in New York, JNF-USA and JCRC-NY, have annually paid tribute to the late Rev. Dr. Martin Luther King, Jr., honoring those who act upon his dreams of peaceful co-existence among people of diverse religious, cultural, and ethnic backgrounds. JNF-USA, JCRC-NY and the State of Israel have embraced the legacy of Dr. King, as it reflects the values of peace and hope that are shared by Jewish communities worldwide. Dr. King was known as a great friend to Israel and the Jewish people, and was active in the battle against anti-Semitism.
Stoudemire was honored for his philanthropic endeavors and leadership in building bridges among different communities. In Israel, he recently held a basketball peace camp, which brought together children from Israel's Jewish, Arab and Ethiopian communities, and hosted his annual "In the Paint" series, which inspires young people to explore their creative talents through art and basketball. Stoudemire's foundation, which he runs with his wife, Alexis, actively supports at-risk youth around the world, aiming to eliminate poverty through education.
"Aside from his outstanding basketball career, which he now proudly continues with Hapoel Jerusalem after 14 seasons and six all-star appearances in the NBA, Amar'e Stoudemire has spearheaded many initiatives that empower the less fortunate and advance important principles like tolerance, peace, creativity and healthy living. His life commitments are in step with the values of the State of Israel and those preached by Dr. King himself. The fact that Amar'e starred for years with the Knicks makes this extra special for us in New York, and we are very glad to join our friends from JNF-USA and JCRC-NY to again present this annual award to such a deserving and admirable recipient," said Consul General of Israel in New York Ambassador Dani Dayan. "Israel is proud to be the only nation outside of the United States to officially commemorate Martin Luther King Day. We treasure Dr. King's belief in the significance of the relationship between the African-American and Jewish communities, as we continue to fight together against hatred and xenophobia."
"On behalf of JNF-USA, I am honored to present the Martin Luther King Jr. Award to Amar'e Stoudemire. Amar'e's work in providing education to at-risk youth through his 'Each One, Teach One' foundation, to his passion for providing safe drinking water in impoverished countries, are emblematic of the values and virtues promoted by Dr. King," said Jewish National Fund-USA CEO Russell F. Robinson. "By deciding to move to Israel to join the Israeli Hapoel Jerusalem team, Stoudemire has again set an example that sportsmanship supersedes nationality, ethnicity, or religious affiliation, and that all are welcome in Israel, a beacon of democracy in an otherwise turbulent part of the world."
* * *
Past recipients of the Martin Luther King Jr. Award have included: US Rep. Charles Rangel; US Rep. Hakeem Jeffries; Former NYC Mayor David Dinkins; jazz artist Lionel Hampton; acclaimed author Toni Morrison; opera singer Jessye Norman; entrepreneur and philanthropist Russell Simmons; musician and civil rights activist Harry Belafonte; co-author of Martin Luther King Jr.'s 'I Have a Dream' speech Dr. Clarence B. Jones; Brooklyn Borough President Eric L. Adams and human rights advocate Martin Luther King III.