Voices for Truth and Humanity
First Annual Remembrance Awards Dinner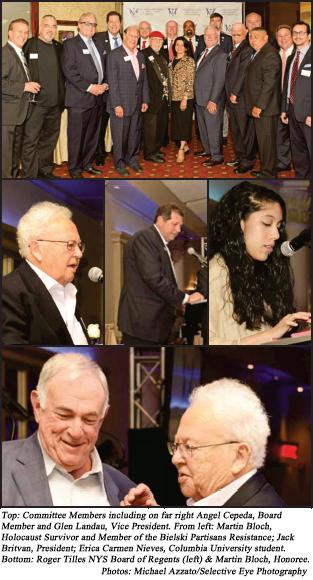 September 27, 2019
There are few experiences as exciting as witnessing the birth of an organization, following the process of its growth and the formulation of its core values and reasons for existence.
Glen Landow graciously took us on that journey as Voices for Truth and Humanity celebrated its First Annual Remembrance Awards Dinner.
* * *
But first he cited some alarming statistics. According to the NYPD, there was an 82% increase in anti-Semitic incidents in New York City over the past year. According to the FBI, there was a 37% increase in hate crimes nationwide targeting Jews. Worldwide, there was a 13% increase in violent anti-Semitic acts. Swastikas are showing up in playgrounds and on school buildings in our own backyard. Jews in Europe are being warned not to wear yarmulkes in public. Children go to school protected by heavily armed police. Students on college campuses are threatened and ostracized for being Jewish or having the audacity to support Israel.
Landow added, "This is not just a Jewish concern. Across the Middle East and Africa, Christians are being subjected to violent attacks at an alarming rate. Yazidis are murdered, their women and girls raped. We have all seen the footage of countless shootings in churches, synagogues, and mosques. Remember, over 11 million people were murdered during the Holocaust including 5 million mentally and physically disabled, Gays, Gypsies, Priests, and 6 million Jews."
Fast forwarding to the present one may ask if any of us could possibly share the blame for this series of evil events that keep happening? After all, we are good people. We know right from wrong. It's simple, we became complacent. We assumed that our schools were doing the job our parents and grandparents entrusted to us. "Never Again, they said!" But we didn't realize the lessons were no longer being taught.
This is how Voices for Truth and Humanity (VTH) started. Jack Britvan called his friend Landow. Jack was upset. Surveys had just come out showing that 45% of those polled did not know how many people were murdered in the Holocaust. 22% of millennials said they hadn't heard of the Holocaust or weren't sure whether they'd heard of it. 66% of millennials, couldn't say what Auschwitz was or name any concentration camps. Jack said we had to do something.
It was agreed that the "something" must include fighting the BDS movement, especially on college campuses today. BDS stands for the Boycott, Divestment, and Sanctions movement that targets Jewish owned businesses and institutions in Israel and anyone that supports them just like in the 1930's Germany.
It is obvious that the strategy of BDS is straight out of the Nazi Playbook. First you delegitimize your victim, then you dehumanize your victim, then you destroy your victim, and by then no one will care.
VTH was formed to take back today's generation and future generations. It researched how and why young people today show such a frightening ignorance of the worst atrocities known to man, as well as an easy susceptibility to manipulation. The answer was quick and clear. Only a small remnant of Holocaust Education remains in State curricula. It has been relegated to a footnote when discussing World War 2. Kids are not learning anything about how to recognize when propaganda is being used to vilify anyone. They immediately fall for it without questioning the neatly packaged message. Instead, it has been left up to the districts and teachers to decide how and if they cover the lessons of the Holocaust at all. Unfortunately, what we have seen in both public schools and on college campuses is that many educators unfortunately have their own biases which they allow to invade their classrooms. They too never learned.
At VTH's urging, and under the leadership of Regent Roger Tilles, a Task Force was formed to study what remains of Holocaust and World War 2 curricula in New York State public schools, and make recommendations for age appropriate lesson plans and testing criteria. The Task Force has already started meeting and exciting changes are in the works.
A few months ago, VTH hosted a Coordination Conference in Manhattan with representatives of a number of organizations who are on the front lines in combating Hate, anti-Semitism, and BDS. These include: Christians United for Israel, Students Supporting Israel – Columbia University, Stand With Us, AIPAC, Simon Wiesenthal Center, Alums for Campus Fairness and Hasbara Fellowship.
VTH focused on providing a platform to coordinate the initiatives of each organization, and thereby multiply everyone's effectiveness.
VTH has brought in elected public officials to help with the needed legislation and grassroots community members who are deeply concerned about what they see happening today.
The following are a few words from Erica Nieves, a student activist at Columbia University in New York. Erica is the Internal Relations Chair for Students Supporting Israel (SSI), where she works on building connections.
Erica said that today at Columbia, the Malaysian Prime Minister, Mahathir Bin Mohamad, in defending hateful comments he made against Jews, responded that he was exercising his right to be an antisemite because he was exercising free speech. And that is the state of antisemitism on campus. She said her friend has been spat on when she asked to have a conversation with a fellow student who disagreed with her position on Israel. Other friends have feared for their safety when seventeen people from SJP (Students for Justice for Palestine) surrounded them after an event and while public safety guards were there, they did nothing. Her friends have been called terrorists, white supremacists and oppressors. But the worst case of antisemitism on Columbia, was when SSI was holding an event for Holocaust Remembrance Day. During that event, survivors were giving testimonials to students. Across from them, SJP was protesting the fact that 30 or so Palestinians have died, a cross proportion of them being Hamas members. She added that ideas promoted by SJP do not allow for a challenge, conversation, and dialogue due to their anti-normalization policy. And the truth is that BDS is to push their anti-Israel agenda, not to help the Palestinians. Her final thought was that we need to work together to eliminate antisemitism and that should start with eliminating BDS on college campuses.
Roger Tilles, member of the NYS Board of Regents (responsible for the supervision of all educational activities in NYS), spoke of the great impact that visiting Yad Vashem had on his life when he went to Israel at the age of twenty five and how his children are susceptible to BDS rhetoric inasmuch as it isn't taught or discussed on campus. He has great concerns about the general lack of educating our children in schools about American history and especially World War II and the Holocaust. He said that even though there is a NYS law requiring it to be taught, often the schools that need it the most are taught the least. Thankfully he is making certain these issues are being discussed seriously by the NYS Board of Regents and other educators.
Martin Bloch, the recipient of the 1st Annual Remembrance Award, is Chief Scientist and Chairman of the Board of Frequency Electronics, a Holocaust survivor and member of the Bielski Partisans Resistance. He said, "I consider myself a witness, not an honoree." The company he founded has contributed precision quartz and atomic timing systems for virtually all of the US satellites and deep space probes including Pioneers, Voyagers, Space Shuttle and the Hubble Telescope. The Nazis shot and killed his father in Belarus and with his mother, Sonia and older brother, Sam, they escaped from the local ghetto, were hidden by righteous Gentiles before joining the Belsky Group, a Jewish partisan force near Minsk. This group was responsible for raids that saved the lives of many Jews in Belarus and Lithuania, as well as acts of sabotage against the Nazis. Martin Bloch was one of only a few children in the group of 1200 resistance fighters. His philanthropic generosity to many causes reflects his personal code of ethics: a charitable deed brings the greatest reward when no credit is taken by the donor.
* * *
To learn more about Voices for Truth and Humanity or to volunteer to help, visit their website: www.voices4th.org