The Jerusalem Post Annual Conference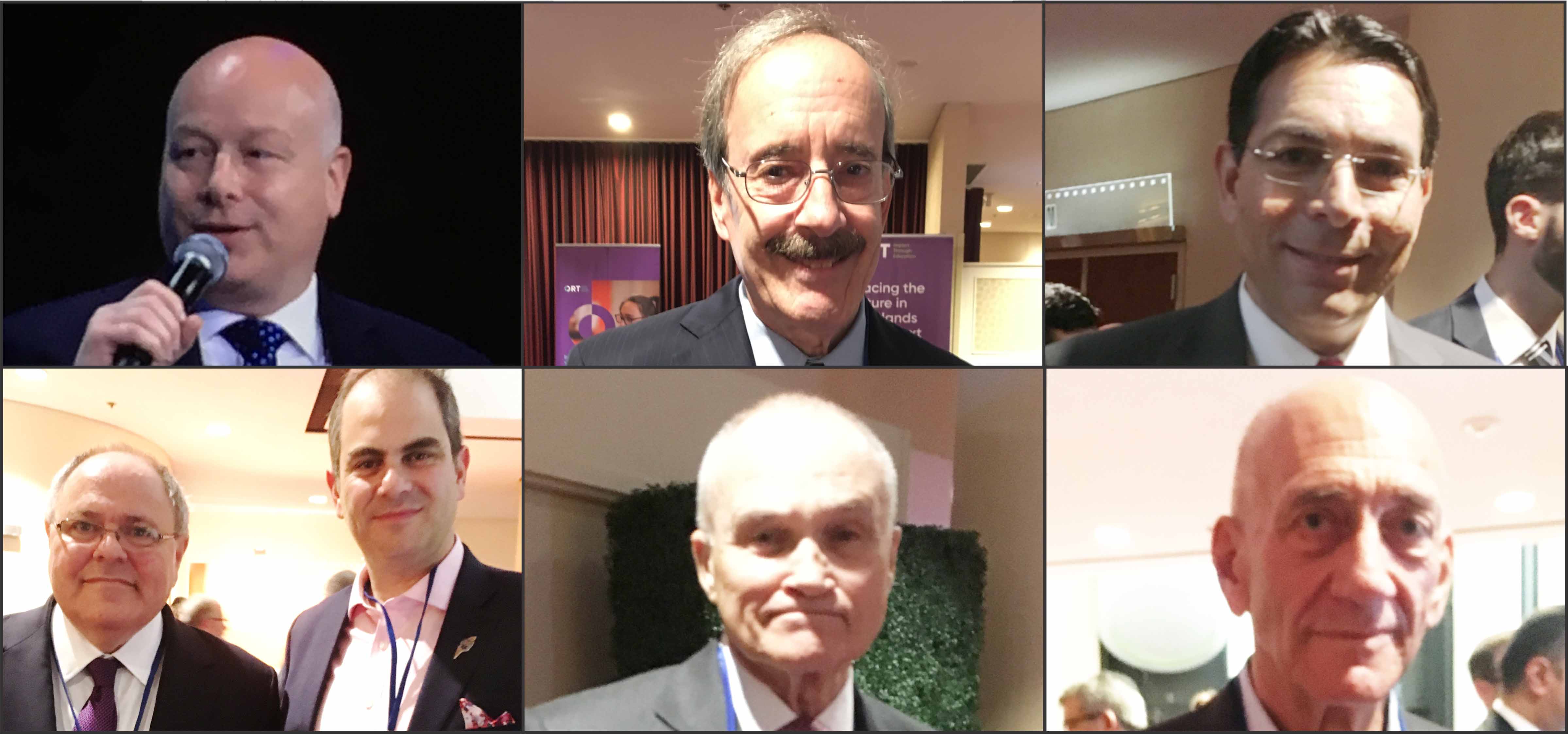 Top: (from left) Jason D. Greenblatt, Assistant to the President of the United States and Special 45th Representative for International Negotiations. Elliott Engel, US Congressman and Chairman of the House Foreign Affairs Committee. Danny Danon, Israel's Permanent Representative to the United Nations. Bottom: (from left) Dani Dayan, Consul General of Israel in New York; Eli Beer, Founder and President of United Hatzalah of Israel. Raymond Kelly, Former Commissioner of the NYPD. Ehud Olmert, Prime Minister of Israel from 2006 to 2009. Photos: Lori Yoffe
By Henry Levy & Lori Yoffe
The Jerusalem Post's 8th Annual Conference was held in New York City with 1,500 senior political leaders, newsmakers and opinion shapers attending the conference. Anti-Semitism was one of the main topics addressed as well as the new Israeli government, the Trump peace plan and nuclear weapons. There was also a video tribute honoring the life of Yechiel Ekstein, the founder of the Fellowship of Christians and Jews, and a true humanitarian. The following are some comments by a few of the keynote speakers.
Israel's UN Ambassador, Danny Danon, said, "Anti-Semitism was in California, Europe, everywhere and we can not ignore it. The statements of public officials Ilhan Omar in the US and Corbin in the UK show they support and endorse anti-Semitism. We have an obligation to condemn them, isolate them and remove them from public office." He added that Israel is only .1% of the world's population but received 78% of United Nation's condemnations. Not Iran, not Syria, not North Korea, but Israel and the hypocrisy was mind blowing. So, when Israel is held to a higher standard, anti-Semitism is enflamed and that was why he called for a special meeting of the General Assembly on June 26 to deal with how to fight anti-Semitism. To win at the UN he brought Judaism front and center resulting in Yom Kippur being named an official holiday, kosher food being offered in the UN dining room and even celebrating a Passover Seder where all delegates were invited. Danon was instrumental in bringing over 80 UN Ambassador's to Israel where one of the stops was Yad Vashem along with a prior visit to Auschwitz in Poland for a first hand look and understanding of the Holocaust.
Ehud Olmert, who was Israel's Prime Minister when Iran's nuclear reactor was destroyed by Israel in 2007 said, "Iran will not have a bomb. Trust me." He said that the current confrontation between Iran and America was in no one's best interest and we must be more restrained in our expectations, we should stop talking about it and provoking the other side because they know what we are doing and are capable of. A military option is not a solution to the threat and there are more effective ways to deter Iran's nuclear hopes. When asked if peace was possible with the Palestinians, he remarked that security people told him within two weeks a peace plan can be negotiated with Abu Mazen but on the terms he proposed years ago which is not acceptable to the current Israeli government. Also, the "deal of the century" must be between the Palestinians and Israel and not Israel and America.
Congressman Eliot Engle, Chairman of the House Foreign Affairs Committee said that support of Israel should not be politicized. Discussing democratic Rep. Ilhan Omar and Rep. Rashida Tlaib's anti Israel and anti Jewish statements he said, "We have to make sure that there is a strong majority to help the State of Israel … when someone is wrong, we need to call them out, no matter which party they are from. Engle said he doesn't trust the Iranian regime and that was why he voted against the Iran nuclear deal (JCPOA). It didn't prevent their nuclear program. He also doesn't trust Putin and he believes he interfered with the 2016 elections and will try again in 2020. Even though Israel's Prime Minister has to deal with Russia because it is a power in the region, he said that most Israelis understand that Putin is not a nice guy and can't be trusted.
The conference also dealt with the security of Jewish people in America. Judah Samet, a congregant of Tree of Life Synagogue in Pittsburg who arrived 40 minutes late and was a survivor from Bergen-Belsen said he saw the gunman who fortunately was focused on a nearby detective. His words for Trump and the Jewish community are the same that Moses said to Joshua, "Be strong and courageous."
There was an amazing panel on anti-Semitism that included former NYC Police Commissioner Ray Kelley, Doron Horowitz, Senior Security Advisor to Secure Communications Network. Brooke Goldstein, Founder and Executive Director of the Lawfare Project and Caroline Glick, Senior Editor of the Jerusalem Post. Kelley said that anti-Semitism is ingrained in Europe and fed by the internet, mid-east satellite TV, right wing neo Nazis who use the populist movement to promote hate and BDS sentiments, and a growing Muslim community.
Doron said that the Jewish community is perceived as a soft target so the mission must be to change that perception with providing all the safety and security tools at our disposal. Goldstein put together an impressive team of 350 lawyers from 34 major law firms instituting 77 legal actions in 16 jurisdictions to aggressively pursue the civil rights of Jewish communities in all Western democracies. She said that all Jewish students are entitled to equal protection under the law based on Title 6 of the Civil Rights Act. Her stand on BDS is that it is illegal to have a business based on no Israelis allowed. Glick demanded that anti-Semitism be called for what it is and that its proponents are that way because they are bigots.
Among the other major speakers were Jason Greenblatt, Trump's Representative for Int'l Negotiations, Mosab Hassan Yousef, Author 'Son of Hamas", Israel Katz, Minister of Foreign Affairs, Gilad Erdan, Minister of Public Security, MK Gabi Ashkenazi, MK Gideon Sa'ar, Ofir Akunis, Minister of Science and Technology, Ayelet Shaked, Justice Minister, Nir Barkat, former Mayor of Jerusalem, Tzipi Hotovely, Deputy Minister of Foreign Affairs, Tzachi Hanegbi, Minister for Regional Cooperation, Professor Ofer Merin, Dir. Gen. of Shaare Zedek Medical Center, Avi Ganon, CEO World ORT, Rafi Beyar, Pres. Friends of Rambam Health Care Campus, Uri Levin, CEO Israel Discount Bank of NY, Yoram Elgrabli, VP EL AL North & Central America, Dani Dayan, Israel's Consul General in NY, Inon Elroy, Israel's Economic Minister North America, Ron Lauder, Pres. World Jewish Congress and Yaakov Katz, Editor-in-Chief Jerusalem Post.