At ZOA Gala: 1000 Cheer Awardees NSC Advisor O'Brien, Gov. DeSantis, Ambas-sador Danny Danon, Judge Jeanine Pirro, Emcee Rita Cosby and Dr. Bob Shillman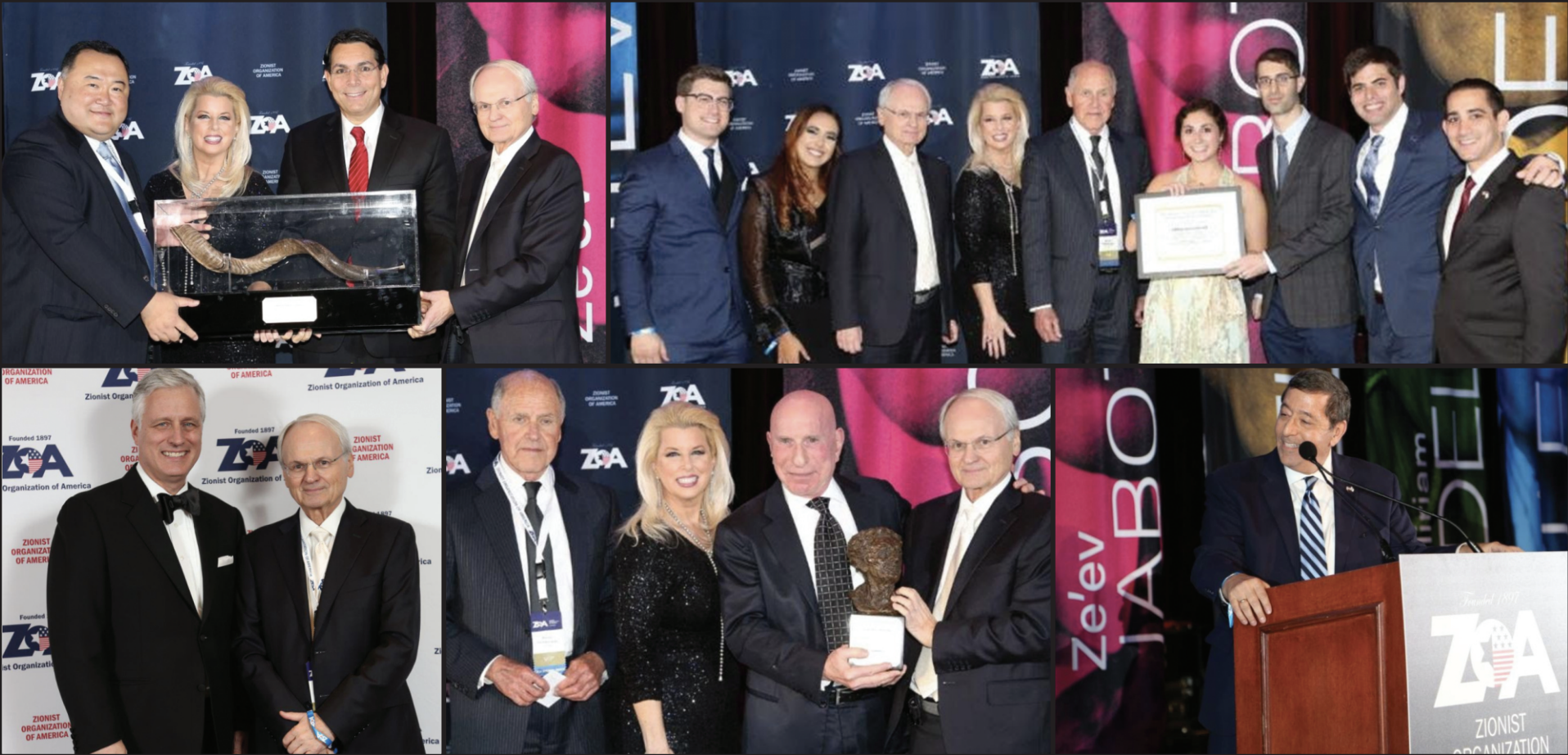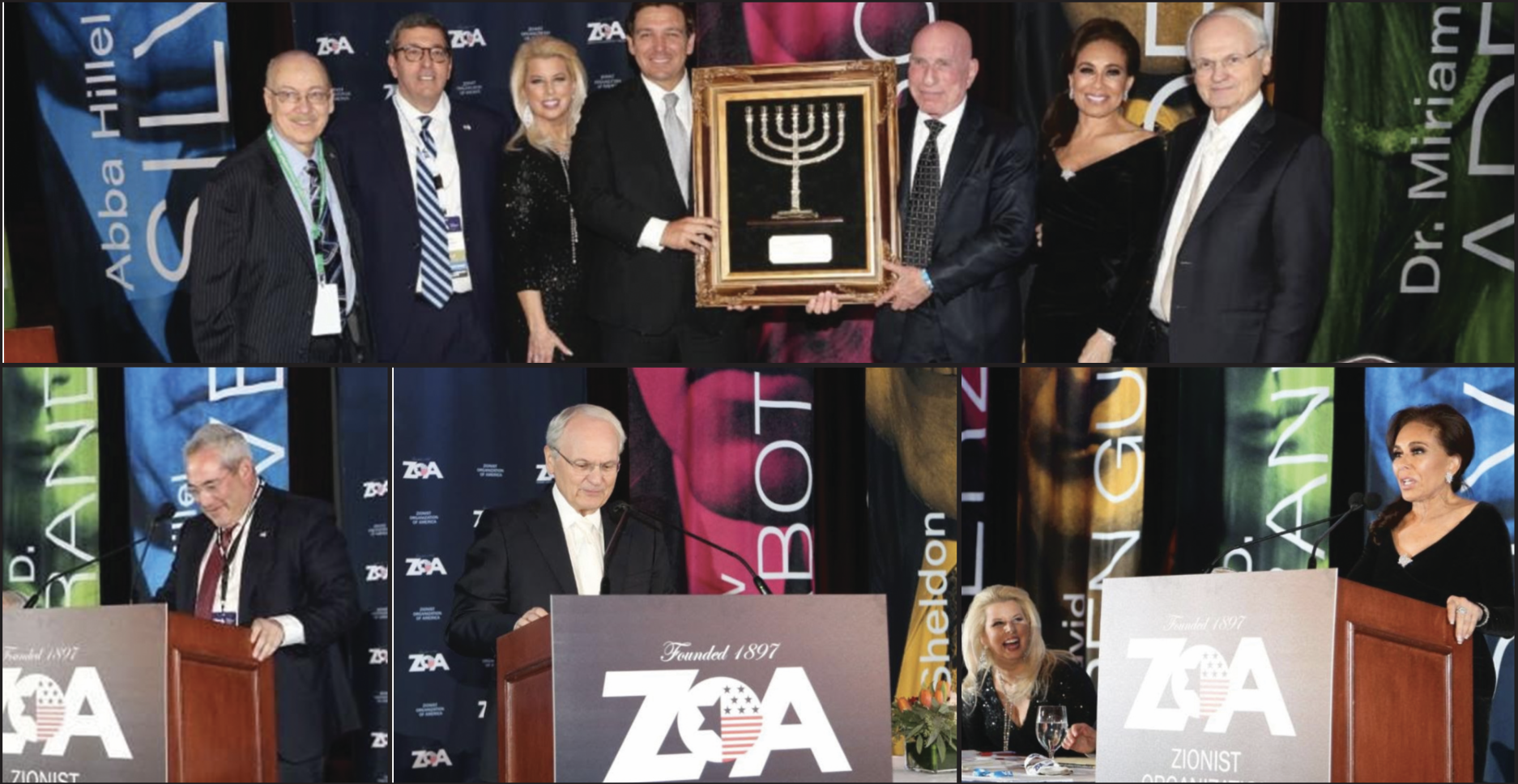 Top: (left) Dr. Bruno Wu; Emcee Rita Cosby; Israel's UN Ambassador, Danny Danon; and ZOA National President, Morton A. Klein. (right) ZOA Campus Associate Director, Or Taylor; Campus Coordinator, Marlene Artov; Morton A. Klein; Rita Cosby; Myron Zimmerman, Student, Award Winner, Chloe Greenfield; ZOACampus Managing Director, Jonathan Ginsburg; Campus Coordinators, Ben Schine and Nadav Alkoby. Bottom: (;eft) National Security Advisor, Ambassador Robert O'Brien, and ZOA National President, Morton A. Klein. (center) Myron Zimmerman; Rita Cosby; Dr. Bob Shillman, recipient of the Justice Louis D. Brandeis Award; and ZOANational President, Morton Klein. (right) ZOAChairman, Mark Levenson, Esq.
December 20, 2019
On Sunday November 17, the Zionist Organization of America (ZOA) held its successful, inspiring annual Justice Louis D. Brandeis Award Dinner, featuring an all-star line-up of speakers and entertainment. Here are a few highlights:
The Master of Ceremonies, television news anchor and best-selling author Rita Cosby praised ZOA president Morton Klein, saying: "Mort Klein has done so much. I love this man. I love the ZOA."
ZOA Vice President Dr. Arthur Kook gave a D'var Torah about Parshat Vayera. He described ZOA's commitment to the truth, saying: "The ZOA will allow no obstacle to cloud our vision, as G-d looks upon us."
Dr. Bruno Wu, renowned philanthropist, whose grandfather Dr. Woo Kai-Sheng saved thousands of Jews in Shanghai, spoke movingly and presented the Dr. Woo Kai-Sheng Lifetime Achievement Award to Israel's Ambassador to the United Nations Danny Danon.
Dr. Wu stated: "I'm actually a Chinese Jew. It's an honor to be here with such dignitaries, to fight the scourge of antisemitism and delegitimization of Israel, the sole democracy in the Middle East and the rightful home of all Jews. When I first met Mort [Klein] in 2017, I was shocked to hear of the attacks that Jewish students are incurring on college campuses, not only from other students but also from faculty. The ZOA supports students across the country. I salute the ZOA, and all those who chose here with them. May G-d bless them."
Past recipients of the Dr. Woo-Kaisheng Lifetime Achievement Award were Senator Joseph Lieberman, Constitutional scholar and former Attorney General Ed Meese, and television host Mark Levin.
Ambassador Danny Danon thanked philanthropist Ira Rennert, who was in the audience: "We can see your generosity all over Israel."
Ambassador Danon also complimented: "My dear friend Mort, President of ZOA for 25 years. I'm surprised to see that every year you become more energetic!
Emcee Rita Cosby then gave a shout-out to Arthur Schwartz. Ms. Cosby also recalled, "President Trump has done so much for Israel!" Ms. Cosby then introduced ZOA National President Morton Klein, saying: "One person in this room is always there. Mort Klein never wavers. He is an incredible man and a kind human being."
Morton Klein presented the Dr. Miriam and Sheldon Award for Defense of American and Israel to distinguished Ambassador Robert O'Brien, the US National Security Advisor to the US President. Mr. Klein praised Amb. O'Brien and noted that the ambassador is "deeply committed to the U.S.-Israel alliance."
Ambassador and National Security Adviser Robert O'Brien began: "I bring you greetings from your very good friend, President Donald Trump. I spoke with President Trump and Jared Kushner on the plane on the way here, and they send their best to Mort and to the ZOA."
Amb. O'Brien congratulated his fellow awardees, and told Amb. Danon: "I know how tough your job is. I had the privilege of serving at the UN with two prior recipients of ZOA awards."
Amb. O'Brien stated that, "with Donald Trump, our relationship is stronger than ever." The audience cheered.
Amb. O'Brien spoke of his admiration of Israel. "I first traveled to Israel as a college student. . . . Israel is an amazing country with incredible people."
Ambassador O'Brien described how, although his role of U.S. Envoy for Hostage Affairs only encompassed seeking the return of U.S. hostages, President Trump and Secretary of State Mike Pompeo immediately granted Ambassador O'Brien authority to also assist with efforts to obtain the return of Ethiopian-Jewish Israeli Avraham Mengistu, Bedouin Israeli Hisham al-Sayed, and the bodies of murdered Israelis Lt. Hadar Goldin and Oron Shaul, all held hostage by Hamas in Gaza. Amb. O'Brien stated: "Constant attacks on innocent Israelis from Gaza must end."
Amb. O'Brien noted that "President Trump's solidarity and support for our ally Israel is simply unparalleled…" For over two decades, after Congress passed the Jerusalem Embassy Act of 1995, "American presidents of both parties signed waivers to prevent the U.S. recognition of Israel's true capital. That is why two years ago this December, President Trump recognized the eternal capital of Israel. And just months later, we opened the American Embassy in Jerusalem." (The audience cheered.)
Prior to this, some predicted that recognition of Jerusalem would cause untold destruction. "Instead, just as President Trump predicted, the opposite occurred. We've seen increased cooperation and even partnership between Israel and her Arab neighbors." PM Netanyahu visited Oman, and Israel participated in the Special Olympics in Abu Dhabi. The prospect of non-aggression pacts between Israel and Arab nations is being discussed. "This only happened because the United States, under President Donald Trump, took the rightful, moral stand: Israel is a sovereign, independent nation. It's the home of the Jewish people, and always will be." (The audience loudly cheered at this, and other points during the Ambassador's speech.)
Ambassador O'Brien also mentioned many of President Trump's other important pro-Israel achievements, including recognizing Israeli sovereignty over the Golan Heights; defunding UNRWA which spent billions of dollars and has not helped peace; withdrawing the United States from the corrupt UN Human Rights Council (UNHRC); withdrawing from the Iran deal; maintaining a maximum pressure campaign on Iran; and designating the IRGC (Iran's Islamic Revolutionary Guard Corp) "as what it is, a Foreign Terrorist Organization."
Amb. O'Brien noted that the sanctions on Iran are working. There has been an 85% decrease in Iran's oil exports, and the Iranian economy went from double digit growth during the heyday of the JCPOA (the Iran deal) to a 9% decline in just one year (as reported by the International Monetary Fund), thanks to President Trump.
"We seek the end of Iran's nuclear program, the end of Iran's ballistic missile program, and the end of Iran's support for terrorism, and relentless aggression."
Amb. O'Brien noted that "As Iran's economic situation becomes dire, it has resorted to all its old tactic of nuclear blackmail," and listed Iran's various recent nuclear violations.
Amb. O'Brien affirmed: "President Trump will never allow Iran to obtain a nuclear weapon." And "The U.S. supports Israel's absolute right to self-defense."
Ambassador O'Brien closed by thanking ZOA and the audience: "Thank you for everything you are doing to support America and Israel."
Myron Zimmerman and ZOA's Jonathan Ginsburg presented the Myron Zimmerman Student Award to ZOA student leader Chloe Greenfield for her work combatting antisemitism on campus. Ms. Greenfield noted that her participation in the ZOA student mission gave her the tools to combat antisemitism and defend Israel. She added "I'm incredibly thankful to ZOA Campus for their support."
Myron Zimmerman presented the Justice Louis D. Brandeis Award to Dr. Bob Shillman. Mr. Zimmerman praised Dr. Shillman, noting that he is "a strong Zionist; Israel never had a better friend. He funds dozens of organizations in Israel and around the world."
Dr. Bob Shillman stated, "It's a privilege and pleasure to be part of the ZOA family." Dr. Shillman gave a stirring speech about fighting evil, and praised ZOA, its president Mort Klein, and ZOA's members for doing so. "The real honor belongs to individuals such as Mort Klein who are on the front lines fighting antisemitism."
Dr. Shillman noted that there are several types of people: "There are those who fight evil, those who help those who fight evil, and those who do nothing. Unfortunately, the largest class of people are those who do nothing. They are not represented in this room, or among ZOA's members. ZOA and its members are the fighters against evil."
Dr. Shillman also explained that there are many ways to fight evil, including direct action confronting haters, going to Court, writing articles and letters to Congress and newspapers, educating, going into the halls of Congress, and contributions. "We need both the sword and the pen. Our enemies are working actively and continuously to harm Israel." Dr. Shillman explained that, "With my check, I provide ammunition to organizations like ZOA who are on the front lines of this battle, in confronting the enemies of Israel and the Jewish people. And defending against the radical Islamists who want to destroy Israel, and the radical leftists and Jew-haters who seek to eliminate the Jewish people. I urge you to continue to use your pens to support ZOA, so you can continue to support its mission on the front lines of supporting Israel and the Jewish people."
ZOA Chairman Mark Levenson, Esq. gave an important talk urging attendees to vote for the ZOA Coalition slate in the upcoming World Zionist Congress elections. People can vote online from January 21, 2020 through Mark 11, 2020. (Further election information is at VoteZOA.org.) Mr. Levenson noted: "We need to fight the lie of occupation. If you believe that Jews have the right to Israel and a united Jerusalem and Judea/Samaria, please go out and vote for the ZOA."
The audience was then treated to the first screening of a ZOA Coalition election film, which recounts ZOA's presence at the first World Zionist Congress in 1897 to help lay the foundation for the reestablishment of the Jewish state; and the need to elect the ZOA Coalition today – to help combat growing antisemitism, defend Israel, promote united Jerusalem and Israeli sovereignty and the rights of Jews in Judea/Samaria; promote Aliyah; and promote Jewish and Zionist education. The film includes endorsements of the ZOA slate from virtually every major Israeli Minister, members of Knesset, heads of Councils throughout Judea/Samaria, prominent activist and TV personality Siggy Flicker (who is also a delegate-candidate on the ZOA Coalition slate), prominent rabbis, and others.
Paul Packer, Chairman of the U.S. Commission for the Preservation of America's Heritage Abroad, introduced ZOA President Morton Klein, our incomparable leader. Mr. Packer explained that so much good emanated from the Biblical Abraham because Abraham cared about G-d and seeking the truth, rather than popularity, and did not waver in his faith. Morton Klein likewise does not waver in his faith, does not strive for popularity, and finds and stands for the truth. After years of fighting, the truth is finally prevailing. Thank you, Mort Klein.
ZOA President Morton Klein: Mr. Klein mentioned that ZOA was the only Jewish group that supported the Jerusalem Embassy Act of 1995 when it was first introduced. "Thank you, President Trump, for being the greatest friend we've ever had in the White House."
Mr. Klein continued: "The evil Islamic Jew-hating Gaza Muslim terrorist group has launched 400 missiles at Israel this week. . . . . If Canada or Mexico were launching 400 missiles to murder American citizens, we would never and should never show the dangerous restraint that Israel has shown. Israel should respond in a manner that puts the fear of God and Allah into these terrorists. . . . NO mercy for terrorists!" The audience applauded wildly. "We've come here today because of our love of Israel, and our fear of the rising scourge of bashing Israel and antisemitism. And seeing Jews attacked in New York City and elsewhere, I have proclaimed that "not only do Black lives matter, but Jewish lives matter." The audience again cheered.
"In all the presidential debates, there wasn't a single question about antisemitism, or the Arab-Islamist war against Israel. Don't these journalist care about the rising antisemitism on campuses, in New York, and even in Congress, the likes of which we haven't seen in generations? Well, all of in this room care. And I believe that the majority of good people in America sincerely care. It's time our leaders show that they care."
Mr. Klein demanded action from leaders, and demanded that NYC Mayor de Blasio (whose name elicited boos from the audience), LGBTQ, Jewish, African-American, and Hispanic leaders must make statements condemning attacks on Jews. Mr. Klein noted that we Jews rightfully spoke out and fought for voting and civil rights for African-Americans. "It pains me to say that almost every attack on innocent Jews in Brooklyn has been committed by African-Americans, and some Hispanics. Now is the time for African-American leaders and preachers to speak out against these attacks on innocent Jews. We at ZOA are demanding holding a series of press conferences with Black, Hispanic, Jewish, Christian, Muslim and Asian leaders to publicly condemn these attacks on clearly identifiable Jews, by these cowardly thugs. And force the silent media to be silent no longer."
"I want to thank Pope Francis, who this very week proclaimed that persecuting Jews is neither human nor Christian, and it must stop. Thank you, Pope Francis." Mr. Klein also thanked President Trump for his efforts against the scourge of antisemitism at the United Nations.
Mr. Klein noted that first it's the clearly identifiable Jews that are being attacked, and then it's the secular Jews and others. The attacks on synagogues also remind us that white supremacist bigotry is rearing its ugly head.
"As we all know, antisemitism is not only a problem in Brooklyn. It's also a problem in Europe, and especially in the Arab Muslim Middle East. It pains me to say that a major ADL study, which they largely ignore their own study, shows that 34% of Muslims in America are antisemitic. And 75% to 95% of Muslims in the Middle East are antisemitic."
"It pains me to say that Muslim Imams around the country, in North Carolina, New Jersey, California, Texas, Pennsylvania, and elsewhere, have been videotaped preaching genocidal Koranic Hadiths, repeated in the Hamas Charter, saying "Come and kill the Jew hiding behind the rock or tree." These Imams are accusing Jews of being Nazis and Facists. They are urging cleansing the Temple Mount of the "filth of the Jews." These are statements in mosques here in America. They urge "turning Jerusalem and Palestine into a graveyard for Jews." "We will annihilate the Jews one by one." It is shocking and frightening. Jewish leaders and Muslim leaders must demand that these Imams must be fired, terminated. Away with this hate against Jews."
"On campus, more and more students who support Jewish state, are being excluded from various events and activities. They are demonized and denounced. There is a dramatic increase in support for BDS, and calls for violence against Israel and destroying the Jewish state. Professors are more and more holding events maligning the Jewish state. Only last week, a Columbia University professor called for armed resistance against Israelis. They're calling for violence, and killing Jews? Where is the outrage of the [other] Jewish leaders?"
This week, there was a ceremony commemorating wounded IDF soldiers, and antisemitic students were disseminating antisemitic leaflets at NYU, with horrible lies, including claiming Gaza is a closed prison. If they are a closed prisons, they how did tens of thousands of missiles and rockets get inside Gaza?
At colleges around the country, Students for Justice in Palestine (SJP) proudly parades holding Hamas signs. They hold rallies, screaming: "Jews are baby killers. Destroy Israel. Jews are white supremacists. Jews, get out of America. Jews, get out of our campuses. Jews support genocide and are committing genocide." We must urge presidents and expel SJP from the universities."
"This week the ZOA had a landmark victory under the direction of the head of ZOA's Center for Law and Justice, Susan Tuchman. Susan Tuchman filed a legal brief about antisemitic events at the University of North Carolina, where they were singing antisemitic songs. And because of ZOA's legal brief, UNC this week agreed to be monitored by the federal government for antisemitism for 3 years, and to have programs to educate students and faculty about antisemitism, and to teach them the truth of what's going on."
"Actions against Jews are being ignored. We can't allow that. The great historian Paul Johnson wrote in The History of the Jews that one of the principal lessons of Jewish history is that repeated slanders are followed by violence against Jews. These attacks against Jews in Brooklyn by African-Americans are to some extent due to the vicious verbal slanders against Jews by Louis Farrakhan and Al Sharpton and Jesse Jackson. And even by Congressman Hank Johnson, who publicly called the Jews of Judea and Samaria 'termites,' and the antisemitic Ilan Omar. Almost all the antisemitic attacks on Jews in Europe were committed by radical Muslims. Can this in part be due to Imams in Europe and the Middle East urging violence against Jews? G-d forbid it should happen in the US. In fact, it has. But dozens and more antisemitic attacks have been prevented by American security agencies."
Mr. Klein discussed how this type of hatred is institutionalized by the leading mainstream Islamic universities in the Middle East, including Al Azhar. The situation has gotten so bad that Egyptian President Al Sisi said that "the thinking among these Muslims is antagonizing the whole world. We are in need of a religious revolution. You Imams are responsible before Allah. The entire world is waiting for this revolution." And that's what we need, when it comes to radical Islam.
"One way we can fight BDS and the rising surge of antisemitism is to promote telling the truth about the Arab-Islamic war against Israel and the West. We must scream until our throats are sore that the Arab Palestinian regime are paying Arabs to murder Jews. Don't sympathize with them. They are naming schools, streets and sports teams after Jew-killers. They are promoting violence and hatred in schools, the media and speeches. Don't sympathize with them!
"They've turned down a state three times in the last twenty years. The issue is not Palestinian statehood. The issue is their interest in destroying Israel and killing Jews."
"And there is no occupation. Occupation means stealing someone else's sovereign land. But there never was a country of Palestine. There were never Palestinian kings or queens. Israel has given away all of Gaza, and 40% of Judea/Samaria is where 98% of the Palestinians live under their own rule. There is no occupation. This is one of the great Orwellian lies perpetrated in the world."
Mr. Klein showed the emblem of the Palestinian Authority, which shows a keffiyah covering Israel, and Arafat clutching a kalishnikov rifle. Mr. Klein asked, rhetorically: "Is this the type of emblem of a regime that wants peace with the Jewish state? Hardly. [Palestinian Authority dictator Mahmoud] Abbas is simply a radical Jew-hating Arab who wants Israel destroyed, and nothing less."
Mr. Klein expressed his great appreciation for the great and good country of the United States, which has promoted a Jewish state from the beginning. John Adams, Teddy Roosevelt and Abraham Lincoln said we need a Jewish state with Jerusalem as its capital. Americans put Hebrew in the logos of Yale University, Dartmouth and Columbia. The U.S. great seal almost became a depiction of Moses leading the children of Israel out of bondage to the promised land of Israel, designed by Thomas Jefferson and Benjamin Franklin.
"In every generation, as we say at the Passover Seder, enemies will rise up against us. But we will always overcome our enemies, and prevail, and emerge to rebuild, and become stronger than before. We will have regeneration, new opportunities, and new hope for the Jewish community."
"The Torah promises that Israel is the eternal Jewish homeland, and that the Jewish people will be an eternal people. Unlike politicians, G-d keeps his promises."
"With the help of the almighty G-d, the irrational absurd insanity of antisemitism and Israelophobia, and the hatred of the beautiful democratic, human-rights-loving Jewish state, will disappear. And Israel will be recognized for what it really is, one of the remarkable lights from among the nations of the world."
Morton Klein also presented the Dr. Bob Shillman Award to a great friend, former Congressman and present Florida Governor Ron DeSantis.
Governor Ron DeSantis declared: "Together with ZOA, we made a great difference."
Governor DeSantis explained that there was a lot of opposition to moving the embassy from government bureaucrats, Governor DeSantis (who was then a Congressman and the Chair of the Subcommittee on National Security, of the House Committee on Oversight and Government Reform) keyed up Congressional hearings on moving the embassy, at which ZOA President Morton Klein testified, These Jerusalem embassy hearings were one of the biggest things that helped promote the move.
Governor DeSantis mentioned the famous meeting of the Florida cabinet which he held at the U.S. Embassy in Jerusalem. He also stated that the recognition of Jerusalem as Israel's capital "meant all of Jerusalem, it's the indivisible capital of Israel."
Governor DeSantis also praised and gave President Trump a lot of credit for recognizing Israeli sovereignty over the Golan, contrary to what many bureaucrats wanted. Again, DeSantis' committee hearings about recognition of the Golan Heights, at which ZOA President Morton Klein testified, played an important role in helping promote the President's action.
Governor DeSantis noted; "The problem isn't because Israelis are building apartments in Jerusalem." Rather, he explained that the problem is the Palestinian Authority's promotion of violence: "They name schools and sports stadiums after suicide bombers." "There is no moral equivalence."
Governor DeSantis also spoke about the Obama administration pushing through anti-Israel UN Security Council Resolution 2334, while ignoring the fact that "Judea and Samaria is not occupied territory."
Governor DeSantis explained that the area was controlled by the Ottoman Empire for many years prior to World War One, and that the Balfour Declaration "earmarked all of this land for the Jewish state. . . . The Arabs rejected the partition plan and went to war against the State of Israel. So Israel has the best claim of right of anybody on the land of Judea/Samaria."
Governor DeSantis mentioned that when he was running for governor, it was said that he would be the most pro-Israel governor in the United States. Governor DeSantis then joked: "I can tell you that the guy I was running against would not have been the most pro-Israel governor in the United States." ZOA's educated, politically-savvy audience laughed at this understatement.
Governor DeSantis spoke about how he has worked to live up to his billing. While he was Governor-elect, Airbnb announced it was delisting Jewish-owned properties in Judea/Samaria. As Governor-elect, DeSantis announced that this was not going to stand. The Governor then started his new administration off on the right foot by adding Airbnb to Florida's scrutinized companies list. Governor DeSantis predicted "If we did not do this, it [more companies boycotting Judea/Samaria] would have become a cottage industry."
Governor DeSantis also led the largest-ever university delegation to Israel; promotes Florida's business and space exploration partnerships with Israel, and was the first governor to do public events in Judea/Samaria.
Governor DeSantis concluded: "I was glad to be on the Foreign Affairs Committee and fight all those fights together with Mort. But you can also do a lot of good as a governor."
President Donald Trump, speaking via video, introduced Judge Jeanine Pirro, the recipient of ZOA's Mortimer Zuckerman Award for Outstanding Journalism.
President Trump stated: "This was important to break up my day and introduce someone who is a very special person. Judge Jeanine Pirro has the number one show all weekend. Jeanine has been a winner always, and is a very, very special person. She's getting the Mortimer Zukerman award. He was a real advocate for a free press, and many other things. It is my honor to introduce Judge Jeanine, a very, very special person."
Judge Jeanine Pirro stated that President Trump "has turned out to be one of the strongest, fiercest advocates for the State of Israel." She continued:
"Isn't it great to have a president who means what he says, and says what he means? Like when he said he would destroy ISIS. Like he would walk away from the Iran deal, unlike the other president. Like when he said he would move the embassy from Tel Aviv to Jerusalem, and signified that the U.S. was a long true ally of the state of Israel. He did it when they didn't. I say shalom to my good friends at the ZOA."
Judge Jeanine noted that "Mort Zuckerman was a man of principle who I knew. Even though he owned the Daily News, a leftwing newspaper, he was a staunch supporter of Israel."
Judge Jeanine recounted her lifelong battles against antisemitic hatred: "I stand here as a huge supporter of Israel. I am Lebanese Christian. My mother Esther and my father taught me that my grandparents assisted those who wanted to get to the state of Israel to have safe passage. It is etched in my DNA. My mother Esther taught me we must fight for the underdog, the person who nobody cared about. When I became a district attorney, one of the first thing I confronted was antisemitism. I didn't have to think long to realize that for 2,000 years, the Jews have been targeted. There were swastikas put on cemeteries, golf courses, homes of people who survived the Holocaust. Hate is not to be tolerated. Two thousand of us marched against this hate. Just like we marched, you and I are going to keep marching. No one understands more than someone who survived the Holocaust. I fought for a hate crimes law."
Judge Jeanine also described her attachment to Israel and the need to speak out, saying: "I believe in Israel. The Jewish people are entitled to a state of their own. They didn't need the Balfour declaration. They are entitled to that land. And yet today we are still confronted by the BDS. Those who are making antisemitism part of the education of our children. They want to kill people, destroy a people, and we have to be polite, and careful what we say. Nonsense."
"I was upset one Saturday night because there was a certain Congresswoman who was trashing Jewish men and women, saying they had duly loyalty. They [Congress] didn't respond. I did. I paid a price. But it's okay. Because I believe in Israel. They want to take away Israel's ability to defend herself. Eli Wiesel said that history has taught us that we should believe the threats of our enemies, more than the promises of her friends. Silence encourages the tormentor, never the tormented."
"I've led a delegation to Israel, been there three or four times. I felt protected because of the Iron Dome, because the United States is always there under this president."
Judge Jeanine movingly added: "There is one picture that every IDF officer has in their office. Israeli fighter plans, painted with star of Israel, buzzing Auschwitz, and the earth shaking with the sounds of fury of those planes. Six million souls are shouting, triumphantly "Am Israel Chai." If a death factory if it existed today, the IDF and the United States would destroy it - unlike what the allies did during World War II. We must speak up and never remain silent.
"Never tiptoe around it. It's not time to be politically correct. It's not time to be nice to people who hate us."
Prior to the dinner, the guests enjoyed a delicious smorgasbord-reception with live music. And, after the dinner, the guests enjoyed a wonderful desert reception.
A volunteer musician at the reception summed up the feeling of everyone at the gala, in an email he sent to ZOA afterwards, saying: "I wanted to, again, thank you for the honor to contribute the little that I can to the ZOA. You guys are on the front lines fighting misinformation and blatant lies against the Jewish people everywhere and every day."