Ambassador Nikki Haley Receives the Eleanor Roosevelt Award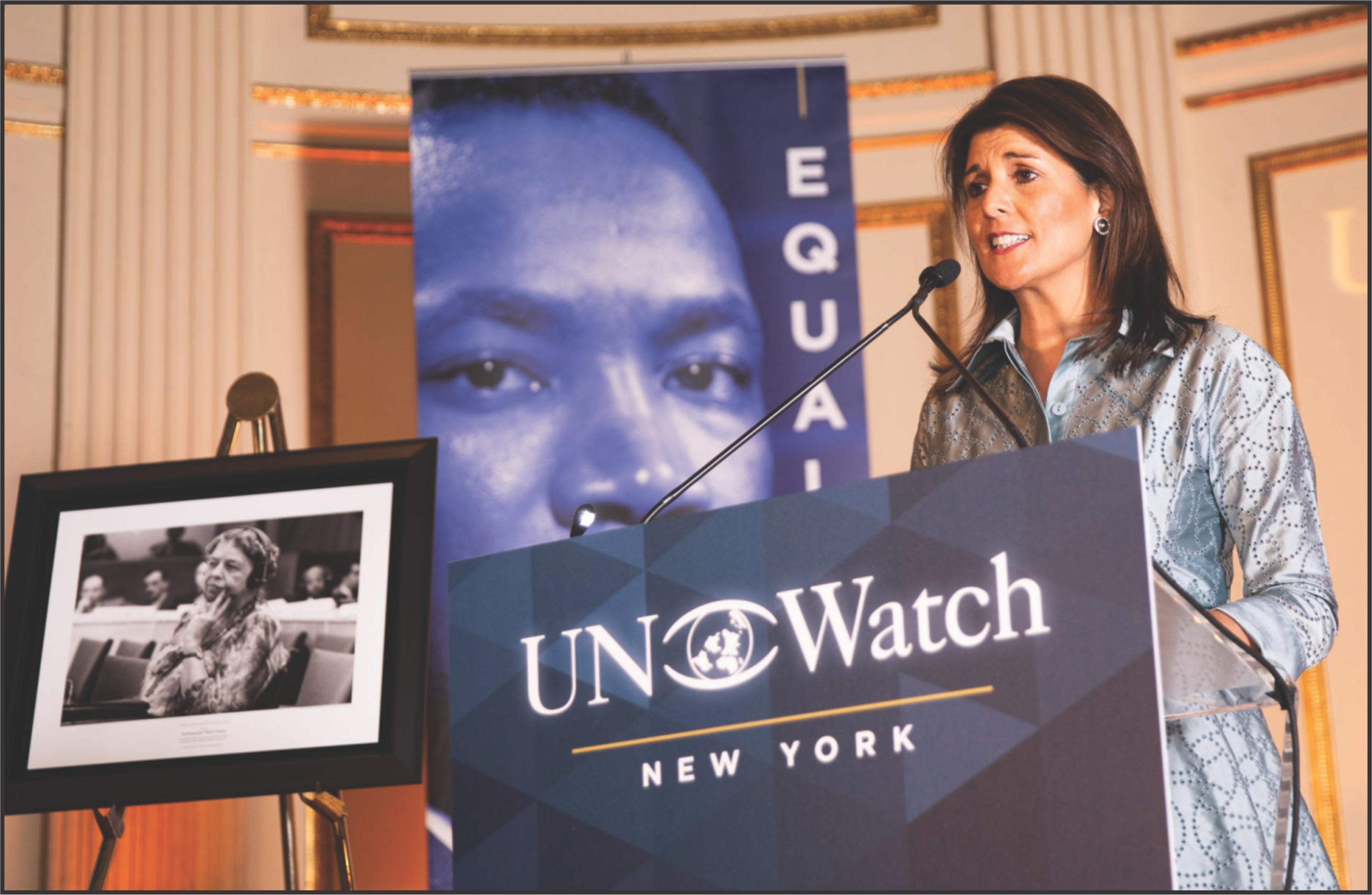 Ambassador Nikki Haley addressing the UN Watch Gala in New York.
December 20, 2019
By the authority vested in me as President by the Constitution and the laws of the United States of America, it is hereby ordered as follows:
Section 1. Policy. My Adminis-tration is committed to combating the rise of anti-Semitism and anti-Semitic incidents in the United States and around the world. Anti-Semitic incidents have increased since 2013, and students, in particular, continue to face anti Semitic harassment in schools and on university and college campuses.
Title VI of the Civil Rights Act of 1964 (Title VI), 42 USC 2000d et seq., prohibits discrimination on the basis of race, color, and national origin in programs and activities receiving Federal financial assistance. While Title VI does not cover discrimination based on religion, individuals who face discrimination on the basis of race, color, or national origin do not lose protection under Title VI for also being a member of a group that shares common religious practices. Discrimination against Jews may give rise to a Title VI violation when the discrimination is based on an individual's race, color, or national origin.
It shall be the policy of the executive branch to enforce Title VI against prohibited forms of discrimination rooted in anti-Semitism as vigorously as against all other forms of discrimination prohibited by Title VI.
Sec. 2. Ensuring Robust Enforcement of Title VI. (a) In enforcing Title VI, and identifying evidence of discrimination based on race, color, or national origin, all executive departments and agencies (agencies) charged with enforcing Title VI shall consider the following:
(i) the non-legally binding working definition of anti Semitism adopted on May 26, 2016, by the International Holocaust Remembrance Alliance (IHRA), which states, "Antisemitism is a certain perception of Jews, which may be expressed as hatred toward Jews. Rhetorical and physical manifestations of antisemitism are directed toward Jewish or non-Jewish individuals and/or their property, toward Jewish community institutions and religious facilities"; and
(ii) the "Contemporary Examples of Anti-Semitism" identified by the IHRA, to the extent that any examples might be useful as evidence of discriminatory intent.
(b) In considering the materials described in subsections (a)(I) and (a)(ii) of this section, agencies shall not diminish or infringe upon any right protected under Federal law or under the First Amendment. As with all other Title VI complaints, the inquiry into whether a particular act constitutes discrimination prohibited by Title VI will require a detailed analysis of the allegations.
Sec. 3. Additional Authorities Prohibiting Anti-Semitic Discrimination. Within 120 days of the date of this order, the head of each agency charged with enforcing Title VI shall submit a report to the President, through the Assistant to the President for Domestic Policy, identifying additional nondiscrimination authorities within its enforcement authority with respect to which the IHRA definition of anti-Semitism could be considered.
Sec. 4. Rule of Construction. Nothing in this order shall be construed to alter the evidentiary requirements pursuant to which an agency makes a determination that conduct, including harassment, amounts to actionable discrimination, or to diminish or infringe upon the rights protected under any other provision of law.
Sec. 5. General Provisions.
(a) Nothing in this order shall be construed to impair or otherwise affect:
(i) the authority granted by law to an executive department or agency, or the head thereof; or
(ii) the functions of the Director of the Office of Management and Budget relating to budgetary, administrative, or legislative proposals.
(b) This order shall be implemented consistent with applicable law and subject to the availability of appropriations.
(c) This order is not intended to, and does not, create any right or benefit, substantive or procedural, enforceable at law or in equity by any party against the United States, its departments, agencies, or entities, its officers, employees, or agents, or any other person.
DONALD J. TRUMP
THE WHITE HOUSE,
December 11, 2019.
* * *
The Executive Order adopts the International Holocaust Remembrance Alliance (IHRA)'s definition of anti-Semitism, which includes examples such as the targeting of the state of Israel; calling for violence against Jews; accusing Jews of harboring loyalty to Israel rather than their own country; denying the state of Israel's right to exist; and claiming that the existence of a State of Israel is a racist endeavor. The definition also states that "criticism of Israel similar to that leveled against any other country cannot be regarded as antisemitic." The Executive Order is similar in substance to the bipartisan Anti-Semitism Awareness Act of 2016 which passed the Senate in December 2016 but failed to pass the House before the end of that session.
"Anti-Semitism is incredibly dangerous and rising around the country—and we need to be doing everything possible to ensure it has no place in our communities or college campuses," Congressman Max Rose said. "I support the President's Executive Order to prohibit anti-Semitic discrimination and was honored to join him today at the signing ceremony. The fact of the matter is that we need to look past politics and work to make public spaces safer for Jews and all targeted groups."
* * *
ZOA Praises/Loves President Trump for Executive Order Protecting Jewish Students Facing Growing Campus Anti-Semitism.
Zionist Organization of America (ZOA) President Morton A. Klein, ZOA Chairman Mark Levenson, Esq., and Susan Tuchman, Esq., ZOA's Director of Law and Justice wholeheartedly thank President Donald Trump and Jared Kushner for their wonderful planned Hanukkah gift to beleaguered Jewish students.
"Let us be clear about two points. First, this executive order is not and should not be a partisan matter. President Trump has taken a step that undeniably will help protect Jewish students and help fight anti-Semitism. Anyone who claims to care about the rise in this ugly hatred and bigotry, and about assuring Jewish students the safe and welcoming campus environment that every student deserves, should be standing with President Trump on this issue and applauding the incredible step he has taken. Now Jewish students will finally have the same legal protections from harassment and discrimination that other ethnic and racial groups have enjoyed for more than 50 years, since Title VI was enacted in 1964.
"Second, despite what Israel-bashers and others may claim, there is nothing about this executive order that will chill free speech or prevent criticism of Israel. The executive order will not change one iota the way in which Title VI is enforced. We expect that OCR will continue to enforce Title VI consistent with what the First Amendment requires.
* * *
RESPONSES TO THE
EXECUTIVE ORDER
Israel's Prime Minister, Benjamin Netanyahu: "Thank you, President Trump, for your executive order against discrimination of the Jewish People. Free speech is not carte blanche for anti-Semitic attacks on the Jewish People and the State of Israel," Netanyahu said in a statement after Trump signed the order the day before.
The Conference of Presidents of Major American Jewish Organizations came out solidly in favor of the initiative: "We welcome the historic executive order… With a dramatic rise in anti-Semitism at home and abroad in recent years, particularly on college campuses, the Jewish community has persistently advocated for the protections this measure provides against Jew-hatred. Jewish students are now included in the groups protected under Title VI of the Civil Rights Act of 1964, meaning US institutions of higher education risk federal funding if they fail to act against antisemitic discrimination on their campuses. We hope this will abate the increasingly virulent Jew-hatred on display at some colleges and universities across the country.
The Anti-Defamation League also praised the order, writing that "today's announcement that the US will adopt the International Holocaust Remembrance Alliance working definition of anti-Semitism is an important step acknowledging the growing concern about anti-Semitism on American college campuses.
In a climate of rising anti-Semitism, this Executive Order provides valuable guidance on anti-Semitism, giving law enforcement and campus officials an important additional tool to help identify and fight this pernicious hate. It also reaffirms protection of Jews under Title VI without infringing on First Amendment rights. These are all important steps forward."
The Republican Jewish Council called the signing "a truly historic and important moment for Jewish Americans. President Trump has extended to Jewish students very strong, meaningful legal protection from anti-Semitic discrimination. Sadly, every day, Jewish students on college campuses face outrageous attacks on their Jewish identity and beliefs. The rapid increase in such incidents in recent years is of great concern."
The American Jewish Committee also welcomed the executive order, writing in a statement, "To date, responses to anti-Semitism on many campuses have often fallen short, leaving Jewish students vulnerable. Existing federal policy has not been fully enforced and today's order merely gives Jews what other groups have long enjoyed—the right not to be subject to a hostile environment on campus. There is nothing inconsistent with protecting freedom of expression and providing Jews the same protections accorded other minorities."
The group added a cautionary tone, however: "AJC does not consider the EO, or longstanding Department of Education guidance, to be designed to suppress rational criticism of Israel or its policies, and we will speak out against any attempt to do so. AJC also recognizes that there will be hard cases where it will be necessary to decide whether the speech in question is constitutionally protected or not."
Voices for Truth & Humanity:
For far too long, Jewish and pro-Israel students and faculty have been bullied with impunity on college campuses by proponents of the BDS movement. Their nuanced form of anti-Semitism is expressed through lies and revisionist history as anti-Zionism in an effort to appear socially acceptable. The goal of the movement though, the delegitimizing, dehumanizing, and ultimate destruction of the Jewish people in Israel, is the same as it has historically been. The harassment, discrimi-nation, and many times violent attacks against Jewish and pro-Israel members of the campus community have unfortunately been met with either inconsequential condemnation or even silence from university administrators. As a result, individuals and organized groups who promote and participate in these acts of anti-Semitism, such as SJP and JVP, have been emboldened to continue their efforts. With the President's Executive Order, finally there will be consequences for these acts of hate.
J Street President, Jeremy Ben-Ami, led the opposition: "This executive order, like the stalled congressional legislation it is based on, appears designed less to combat anti-Semitism than to have a chilling effect on free speech and to crack down on campus critics of Israel. We feel it is misguided and harmful for the White House to unilaterally declare a broad range of nonviolent campus criticism of Israel to be anti-Semitic, especially at a time when the prime driver of anti-Semitism in this country is the xenophobic, white nationalist far-right.
"Kenneth S. Stern, the expert who drafted the definition of anti-Semitism adopted by this executive order, has publicly opposed its application to college campuses. In opposing the legislation that forms the basis for this executive order, Stern wrote in the New York Times that 'If this bill becomes law…students and faculty members will be scared into silence, and administrators will err on the side of suppressing or censuring speech.'"
Brooke Goldstein, Executive Director of The Lawfare Project, an NGO funding legal action aimed at "protecting the civil and human rights of the Jewish people worldwide," called the move "groundbreaking" by "acknowledging Judaism as a nationality."
Goldstein said the Order would "for the first time" grant Jews the same protections "enjoyed by every other ethnic minority."
Israel's Permanent Representative to the United Nations, Danny Danon, praised the Executive Order as "the right move in the fight to tackle anti-Semitism head-on," adding that Trump's decision would "target the BDS movement that has grown in recent years."
Isaac Herzog, Chairman of The Jewish Agency for Israel, praised the move as a "helpful step" in times of increasing anti-Semitism.
Israel's Foreign Minister Yisrael Katz "congratulated" Trump on Twitter, calling his move and the adoption of the IHRA definition "significant steps against antisemitism."
Rabbi Abraham Cooper of the Simon Wiesenthal Center, said Trump's Executive Order "will have an immediate impact on US campuses plagued with anti-Semitic and extreme anti-Israel acts," and praised the fact that university officials and Jewish students wouldbe "better equipped to deal with hate attacks often associated with the anti-Israel BDS campaigns."
"More broadly, President Trump's Executive Order sends a strong message domestically and around the world against history's oldest hate at a time of surging anti-Semitism on both sides of the Atlantic," Cooper added.
"If President Trump truly wanted to combat anti-Semitism, he would accept responsibility for his role in perpetuating anti-Semitic stereotypes and conspiracy theories, and emboldening white nationalism. … we'd prefer Trump stop inciting the flames of hatred against Jews as opposed to feigning his concern with a political stunt timed to correspond with the White House Hanukkah party."