Acclaimed Journalist Rita Cosby Honored in Poland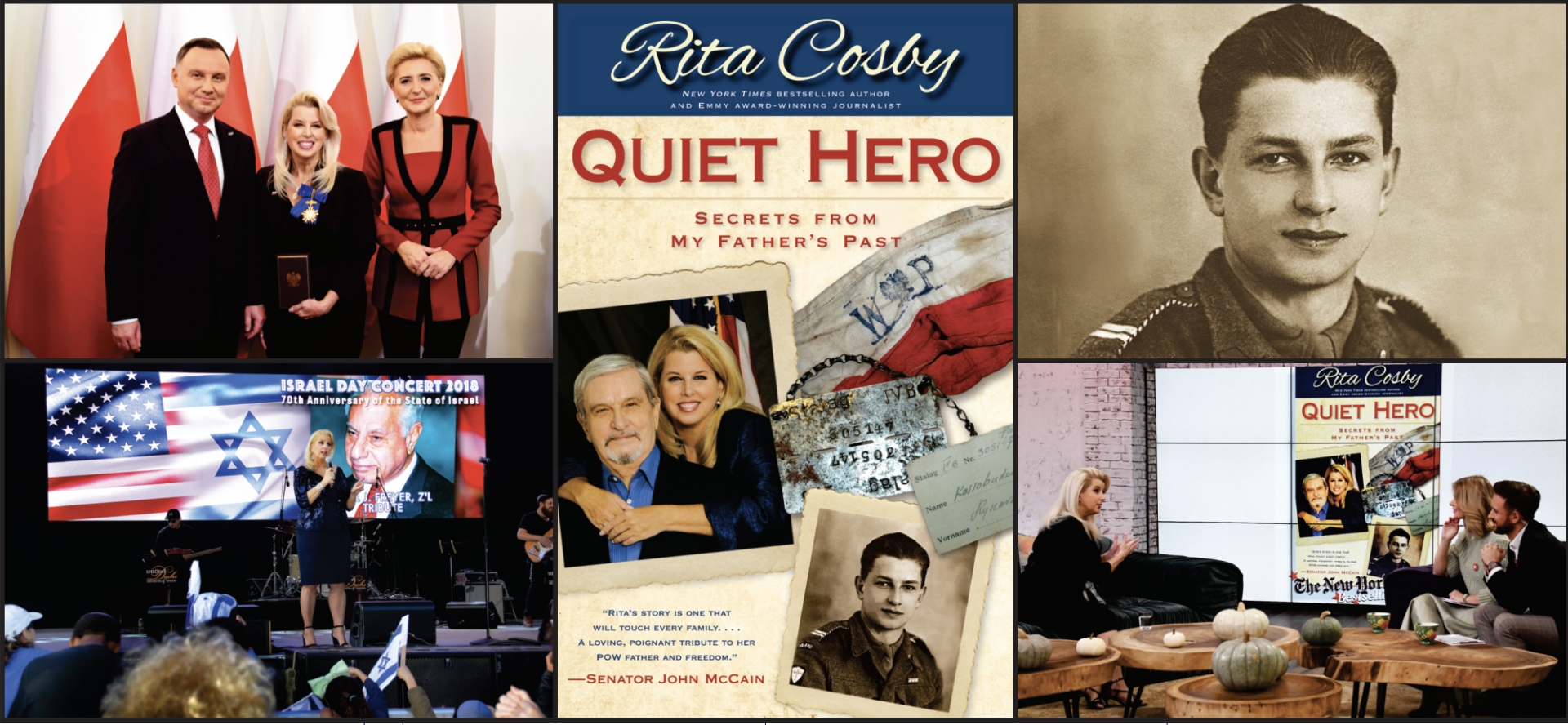 Left: (top) President Andrzej Duda and First Lady Agata Kornhauser-Duda presenting Rita Cosby (center) with the Commander's Cross of the Order of Merit at the Presidential Palace in Warsaw. (bottom) Rita Cosby at the Israel Day Concert in Central Park. Center: Rita Cosby's book, "Quiet Hero" honoring her father. Right: (top) Richard Cosby (Ryszard Kossobudzki), Polish Resistance fighterduring WWII. (bottom) Rita Cosby being interviewed on Polish Television November 2019.
November 22, 2019
Renowned American TV and Radio Host Rita Cosby has a lot of awards on her mantle, but can now add one that hits very close to home. The Emmy-winning journalist and best selling author, known for her big hard-hitting exclusive interviews with world leaders, was emotional as she described receiving one of Poland's highest civilian honors.
Cosby received the Commander's Cross of the Order of Merit of the Republic of Poland and it was presented to her by President Andrzej Duda at quite a majestic locale… at the Presidential Palace in Warsaw on November 11th, not only Veterans Day in the US, but also Poland's Independence Day. It commemorates the anniversary of the restoration of the nation's sovereignty as the Second Polish Republic in 1918.
There was a sea of white and red Polish flags – white representing the Polish people's aspirations for peace and hope, red representing their sacrifices in search of freedom. They filled the famous Pilsudski Square, the largest square in the country's capital, along with thousands of Polish patriots on that important day. Only hours earlier, at an elegant ceremony televised across Poland, Cosby's thoughts were full of memories of her beloved father and the place she now calls her second homeland.
Cosby told The Jewish Post that she was humbled by the moment and became profoundly moved when she was presented the prominent medal, telling President Duda that she accepts it on behalf of her father, his selfless comrades and the children of the brave Warsaw Uprisers, that they also carry on their family's legacy… So the world will never forget. She pledged to tell their story until her last breath. For the esteemed journalist, it was yet another monumental step on an incredible personal journey which she powerfully shares in her widely celebrated best selling book, Quiet Hero: Secrets From My Father's Past. Heralded by former US Secretary of State Henry Kissinger, he called the riveting memoir, "a beautiful tribute to the strength of the human spirit."
Cosby has spent her career telling the compelling stories of others on the media airwaves, including on Fox News and NBC, but shared what she describes as "the most important story of her life," after she uncovered an old tattered suitcase in a storage locker containing items from her father's past as a Polish Resistance fighter in World War II. Growing up just outside of the Warsaw Ghetto, young Ryszard Kossobudzki, who later changed his name to Richard Cosby, was sympathetic to all faiths, and as a teenager, tried to help those inside and outside the Ghetto walls. If the Germans had learned about his covert efforts to help his Jewish countrymen, they likely would have killed him on the spot as well as his parents.
While trying to retrieve an airdropped shipment of Allied supplies, young Kossobudzki was seriously injured by a mortar shell, and soon after, was taken captive to Stalag 4B, one of the largest Nazi Prisoner-Of-War camps in Germany, located about 30 miles from Dresden. He escaped the notorious German camp, and when he was saved by US troops, he weighed just 90 pounds. Kossobudzki also tried to escape the painful memories of his tortured past, moving eventually to America, changing his name and trying to shield his own daughter from the horrors of war.
After she discovered his bloody white and red fighting armband and rusty POW tag, Rita asked her father to share his story for history. It represents the best of who we are as Americans as well as Poland, whose citizens rose up with few weapons, but unbelievable determination against sheer evil.
What began as a daughter wanting to know all she could about her father's life, ended with a deeply moving and intimate record of the Warsaw Uprising, a important piece of history little known outside of Poland… until Rita Cosby put an international face to it and proudly showcased it around the world, doing hundreds of media interviews. She has addressed Jewish audiences of thousands in Central Park and recently hosted once again the ZOA (Zionist Organization of America) gala. Having spoken in large arenas across the US and elsewhere, she has also poignantly shared the story of the Warsaw Uprising and Warsaw Ghetto Uprising before transfixed audiences at diverse locations and venues around the globe, audiences which even include a Muslim boys school in Turkey… where she received a standing ovation.
She told The Jewish Post, "I love sharing the story of my father and now my beloved Poland. It's an unforgettable chronicle of courage and a message of standing on strong morals… no matter the cost. I try to encourage everyone to learn more about this breathtaking, resilient country, which was recently referred to by Vice President Mike Pence as a Homeland of Heroes." For her stalwart efforts to shine a brilliant light upon Poland and its veterans, Cosby is often referred to by many in Polonia as the country's "greatest ambassador." But Cosby sees her role as one to educate. "After reading my book, a travel group told me they were cancelling their upcoming trip to the Caribbean to instead retrace Ryszard Kossobudzki's steps in Warsaw. That moment made me realize the story of Poland was inspiring people in a universal way, and that made me very proud." Cosby's father, who passed away in 2012, no doubt would've been very proud earlier this month of the Polish honors bestowed on his spirited and dedicated daughter, whom he named after his cousin Rita, a fellow Home Army fighter, who was a talented sharpshooter, and fittingly, like her modern day namesake, was never afraid to take on a big mission.