When the World Closed Its Doors Book Review
By: Tova Stulman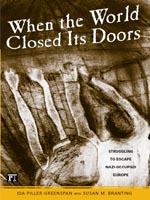 Ida Piller- Greenspan is an award winning artist whose work has been shown in exhibits throughout the United States, as well as in many places abroad. She is also a Holocaust survivor, and has used art as a medium to express the memories of her experiences in a series of monotypes. Often, survivors of the Holocaust who are understandably too traumatized to speak of their experiences instead find non-verbal way to express the harrowing times they lived through. Piller-Greenspan, who could not speak of the horrors of that time for forty years after World War II, employed her artistic ability to say what she could not. After all, a picture is worth a thousand words, and the images created by Piller-Greenspan more than sufficiently tell the tale of horror she lived through during the war. Her pictorial diary exhibit was originally entitled "When the World Closed its Doors," and it is that title that is also the name of the recently released book from Paradigm Publishers written by Piller-Greenspan, in conjunction with Susan M. Branting.
The book is short and to the point, describing Piller-Greenspan's life from the eve of her wedding to Maurice Piller on May 9, 1940, the night before they faced the German invasion of Belgium, up to their arrival in America thirteen months later. What should have been a time of newly wedded bliss with her husband was instead a time of uncertainty and fear, as the couple embarked on a journey they had no directions for.
Ida grew up in Antwerp, Belgium and was studying at the Academy of Fine Arts when her studies were interrupted by the invading Nazis in 1940. Coming on the heels of her wedding to her fiancé, Maurice Piller, the German invasion sent them on a yearlong ordeal to evade the Nazis and obtain visas to any country that would welcome them. The book describes the young couple waiting in vain to apply for visas to several countries. Great Britain would take Maurice as a soldier, but refused entry to Ida. Cuba only granted entry to those who had three thousand dollars each, which neither Maurice nor Ida possessed. Desperate for any way out, the couple even signed up for passage to the Dominican Republic, where they would have to devote the first five years if their married life to draining swamps. Amidst hunger, doubt, and insecurity, the Pillers remained devoted to each other, constantly giving each other words of encouragement. Finally, while awaiting their departure to Santa Domingo, their American visas come through, and she and Maurice arrive in New York.
The book ends with the pair standing amid the bustle of a typical city, in stark contrast to the devastated ruins that war-ravaged Europe transformed their home into. Maurice takes a new name, Morris, which he calls "a new name for a new life." It is appropriate that the book concludes with the couple determined to start a new life for themselves in a new country, for it began with their idealistic hopes for their newly joined lives.
The pair was incredibly lucky, for most of their family members had perished in the Holocaust. The afterword contains short biographies of the family members that were stranded in Europe and met the fate that millions of other Jews did. Piller-Greenspan's descriptions of the incredibly trying and arduous process of trying to obtain visas to various countries makes it clear that had more nations been willing to open their doors, a significantly larger number of Jews would have survived the war.
Much of the book is written in dialogue form, and though the language and details are especially harrowing at times, it is still largely appropriate for younger readers. Despite conveying the sense of ambiguity and panic that ensued from the moment of the German invasion, the book is still restrained enough so it doesn't make the details particularly explicit. Simply, it is an account of Piller-Greenspan and her new husband's frantic journey to escape the clutches of German hands. Piller-Greenspan's haunting black-and-white artwork, which is interspersed throughout the book, lends a feeling of poignancy to the accompanying text.
Piller-Greenspan no longer finds it to hard to speak of her experiences; in 1997, she was interviewed and featured in Steven Spielberg's Holocaust remembrance preservation project, Visual History Foundation: Survivors of the Shoah. And with this new book, there is a textual and permanent account as well. Still, she continues to speak of her experiences through her distinctive monoprints, which the book explains cannot be replicated, and thus, "is as unique and fragile as Ida's memories."