Silent Holocaust Gets a Voice
Julie A. Sergel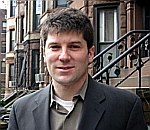 Not since the 2000—2001 National Jewish Population Survey, has anything too officially been logged to highlight the "Second Silent Holocaust"—a term used by Orthodox Jews to describe the situation of Jews marrying non-Jews. As displayed in the study, nearly one out of every two American Jews does just that--marries a non-Jew.
Although today it is not a deliberate rejection of one's faith or heritage, as it may have been in the past, it does remain a deep point of concern. Recently, Noah Feldman took some serious hits for exposing his feelings in the New York Times Magazine article, entitled "Orthodox Paradox"—where Feldman, a Modern Orthodox Jew, is shunned for marrying a non-Jew—especially in light of his staunch upbringing. Undoubtedly, the article musters a fresh glance into an old wound, which may particularly enough, offer a bit of salve.
According to the survey, Feldman is not a typical statistic—with the determining factor being that of his thorough Jewish background and education. Reverting to the study, where 4,523 people were polled, the gist of what was revealed regarding Intermarriage looked something like this:
Intermarriage rate for Jews who've married since 1996 is 47 percent, with rates increasing since 1985, but at a slower pace than during the 1970s and early 80s.
Intermarriage is more common among young adults, Jews in the West, Jews with no or less intensive forms of Jewish education, those with lower levels of secular education, and adult children of intermarried parents—those raised Jewish being less likely to be intermarried.
In-married Jews maintain more Jewish connection and greater engagement with Jewish life than intermarried Jews.
Almost all children of in-married spouses are being raised Jewish, compared to 33percent of all children from intermarried parents.
Jewish schooling proved to be a strong indicator in determining rates—the more intensive the schooling, the lower the tendency of intermarriage. According to the study, of those who received no Jewish education, 43 percent intermarried. Those with some kind of schooling, had an intermarriage rate of 25 percent, and those who attended a Jewish day school or yeshiva were very unlikely to marry a non-Jew. They, in fact, had a strong propensity toward continuing on with intensive Jewish schooling for their children.
InterfaithFamily.com, a Jewish online resource that reaches directly to interfaith families, published a study in October 2005, regarding religious schools and the interfaith community. In it, the report showed that religious education was important to such segments of the population, and growing numbers were sending their children to Jewish day schools—84 percent of the national respondents were raising their children as Jews, verses the 33 percent cited in the National Jewish Population Study. Micah Sachs, Online Managing Editor for InterfaithFamily.com discussed the situation and offered an additional study, out of Boston, also done in 2005, which suggests 60 percent of the interfaith community (in Boston) are raising their children Jewish. Although this is a positive trend, Sachs cautioned, it's still a very small percentage of the overall population.
Responding to the statistics of the various studies, Rabbi David Adelson of East End Temple in Manhattan, maintained, "these are only averages, and large generalizations." He went to on to say, "I think it's most important to continue to be an inclusive community, open to the full diversity of all Jewish people. A synagogue should be hospitable to intermarried couples, just as it is to couples where both are Jews." Rabbi Adelson noted the seriousness of the situation but suggested, "These lower participation rates of intermarried couples can be countered by being open to help all Jews lead meaningful lives by making it easy to find access points (into the community)." When asked if partners were converting, Adelson cited Steven Cohen's "Tale of Two Jewries," released in November 2006, which states amongst plenty of other significant findings, that, nationwide, rates of conversion have been declining steadily. However, Adelson has aided an average of eight to ten per year. Cohen's report states that if the Jewish partner is strong in faith, the other is more likely to convert. (East End Temple is a Reform Temple, located at 245 East 17th Street in Manhattan, and can be contacted by web (www.eastendtemple.org) or phone (212.477.6444).
Sticking with the Jewish Population Study's results and the resounding prescribed dose of education (for all!) "Shabbat Across America and Canada" is hoping to both preserve and enliven Jewish tradition across the land, spanning nearly 700 locations. Although this particular event takes place annually in the spring, it is only one of many programs promoted by the National Jewish Outreach Program (NJOP). Rabbi Ephraim Buchwald founded the non-profit organization in 1987, to prevent the loss of Jews to Jewish life due to assimilation and lack of basic Jewish knowledge. He has successfully done this by reaching approximately 983,000 North American Jews, according to the web post. Classes offered include "Crash Courses" in Basic Judaism, Jewish History, Hebrew Reading, Turn Friday Night into Shabbat, and more. To contact the group, call 1-800-44-HEBREW, or visit www.njop.org
The potential salve offered in light of the wound Noah Feldman caused us to consider again, may be to look inside. The best defense against a silent holocaust is to not be so silent—but to learn, and share that learning with others--in essence, passing it down and keeping the connection vibrant and strong. If you're needing a gage to figure such things, please, click the following link and watch the short video supplied by NJOP as VH1's Sammy Kay summons Jews on the streets of NYC to answer some basic Jewish trivia, as posted on YouTube:
Check it out: http://www.njop.org/html/jewwalking.html
Return to News Archives
Back to Top