Behind the Scenes at the UN: Israel Included in Interfaith Dialogue Initiated by Saudi King
By Naomi Farrell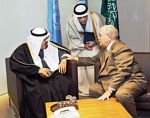 UNITED NATIONS (WUP)--- An historic event took place here recently. The King of Saudi Arabia sponsored an interfaith meeting which included many heads of State of the Arab world, including Kings, Princes and Emirs and invited Shimon Peres, the President of Israel.

Senior officials of more than 75 countries attended the "Interfaith Dialogue promoting a Culture of Peace Conference," which was held in the magnificent General Assembly hall. It was highly praised because of the unprecedented bringing together of people who might not otherwise have a chance to interact.

The day before the conference there was a grand banquet to which Peres was invited. Even though they didn't sit together, King Abdullah Bin Abdulaziz Al Saud and President Shimon Perez were dining in the same room, an event which was previously unheard of. There were whisperings among the press that they had actually spoken and shook hands. When asked, Peres refused to discuss it, possibly being discreet. Apparently, His Majesty's Arab brothers are not ready to make such an about-turn in their political stance so soon, if ever.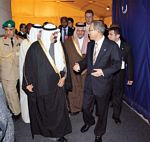 The goal of the meeting was to attempt to bridge the widening gap between faiths and cultures as extremists increasingly exploited religion for their own purposes.

In his opening remarks, Secretary-General Ban Ki-Moon said new divisions could emerge in today's world as economies merged, cultural boundaries disappeared and new media brought societies closer together. "And, indeed, we are seeing some troubling phenomena that communal strife was intensifying; extremist ideologies were on the rise; and societies were more polarized."

Yet, he said that while anti-Semitism, Islamophobia and other kinds of faith-based discrimination and racism were showing a "dismaying persistence," interfaith initiatives were a way to ensure that the world's rich cultural diversity made the world more secure and peaceful - not less.
SAUDI ARABIA NOW LEADER FOR PEACE
In his address to the Assembly, King Abdullah bin Abdulaziz Al Saud of Saudi Arabia said that throughout history, differences between followers of religions and cultures had engendered intolerance, causing devastating wars and bloodshed without any sound logical or ideological justification. "Terrorism and criminality are the enemies of every religion and every civilization," he said, adding that they would not have appeared except for the absence of tolerance. "It was time to learn from the harsh lessons of the past and agree on ethics and ideals in which everyone believed."

"Our dialogue, conducted in a constructive manner, should revive and reinstate these lofty ideals among people and nations," declared the King.

He invited the Madrid Conference participants to elect a committee that would conduct a future dialogue. He said that Saudi Arabia's concern for an ongoing discourse stemmed from Islamic faith and values and compassion for human conditions. He announced that his country would continue to extend its hand to everyone advocating peace, justice and tolerance.

First of all, it is interesting to note that visitors of faiths other than Muslim are not even allowed to set foot in Saudi Arabia. Only business investors and foreign workers are permitted entrance and only for designated periods of time. If one of these has "Israel" stamped on their passport showing a previous visit there, they are not allowed into Saudi Arabia, which is the case for most of the Arab countries.

Also, the Saudi version of Islam includes in their Shariah law, stoning to death, decapitation, cutting off hands of thieves and restriction of women's movements which are practiced in everyday life as normal.

If one wonders why this amazing initiative has suddenly emerged from Saudi Arabia of all places, it is thought by some that they are wary of the possible threat of nuclear Iran and may have considered it a good idea to have Israel as an ally in the hope that if needed, they could be protected by the greatest military might in the region.
ASSEMBLY PRESIDENT- WE CAN LEARN FROM TORAH, ETC.
General Assembly President Miguel d'Escoto Brockmann of Nicaragua asked Member States to choose between allowing behavior such as selfishness and unbridled greed to dominate societies and acting to ensure that solidarity and social responsibility become the guiding principles. One of today's most pressing problems was the shameful reality that half of humanity lived at levels of hunger, malnutrition and poverty that were incompatible with their inherent dignity and rights.

"The United Nations now had the opportunity to include the values of past prophets, saints and sages in its work embodied in texts such as the Torah, the Bible, the Koran and the Vedas and teachings of Buddha Lao Tzu and Confucius," he added. The president of the General Assembly is also a Catholic priest. "We know that nothing short of heroic decisions and actions can awaken us from our moral coma," he declared, urging delegates to let solidarity be the "star" at the conference as they strove for peace.
UNITED STATES PROMOTES DEMOCRACY
United States President George W. Bush said religious freedom was the foundation of a "healthy and hopeful society," and the best way to safeguard it was by aiding the expansion of democracy. In a democracy, people were able to defend their religious beliefs and speak out against those who would try to twist those beliefs towards evil ends. The United States Constitution guaranteed freedom of religion and his country continued its long tradition of protecting that freedom throughout the world. It had liberated the concentration camps of Europe and protected Muslims in places like Kosovo, Afghanistan and Iraq. Religious liberty was an essential element of United States policy.

THE ETERNAL OPTIMIST - PERES
Israeli President Shimon Peres said that, "Israel is ready for peace," noting that world leaders from regions of religious conflict now reiterated the call for a culture of peace. He stressed the Israeli Government's commitment to continue peace negotiations with the Palestinians and the recent explorations of peace with Syria. "As it renews faith and strengthened dialogue among nations, the High-Level meeting sparked a profound worldwide move toward reconciliation," Peres pointed out.

In his speech, he recalled that 13 years ago, his friend and partner, then Israeli Prime Minister Yitzhak Rabin had been assassinated, "while singing a song of peace." However, he went on to say, "Assassins may take a life, but they cannot kill a dream." He reminded the Assembly that during that time, many Arab and Muslim leaders had joined Israel in its grief, allowing tragedy to unite across boundaries and borders, and illuminate the shared goals of peace and fraternity. King Hussein of Jordan, and Yasar Arafat came to the Shiva house to express their condolences to Rabin's family.

"A basic tenet of religious faith was that man was created in God's image", said Peres eloquently "and to harm a man was to harm God." Thus the agenda of nuclear weapons, long-range missiles and terrorists, among others, needed to be changed."

He then recalled the 1919 meeting between Emir Feisal and Jewish-Zionist leader, Chaim Weizmann, later Israel's first President, who met to create an agreement of coexistence between Arabs and the Jewish people. "Instead, we were confronted by others abandoning faith for greed and forging swords instead of peace," he said, stressing that their declaration for a collaborative goal of both national aspirations had not been fulfilled, leading to the loss of hundreds of thousands of lives and homes, and the waste of resources spent on weapons that could have been spent on advancing life. Quoting an Arab proverb, he described the three events that could not be reversed, "An arrow released from its bow; a word which has escaped one's mouth and a bullet that splits the heart."

Although the past could not be changed, he urged all in attendance to shape the future, a feasible goal in light of the Saudi proposal promising an Arab peace initiative that emerged from it, one that stated that a military solution would not achieve peace and security. Speaking directly to King Abdullah, he said, "Your Majesty, the King of Saudi Arabia, I was listening to your message. I wish that your voice will become the prevailing voice of the whole region and of all people. It's right. It's needed."

Peres continued: "Our efforts in continuing peace negotiations could produce results that offered global opportunities, while not erasing national identities. While renewing faith and strengthening dialogue among nations, he heralded this high-level meeting as one that could produce such a profound movement of reconciliation throughout the world. As the international community faced many shared and serious global crises, the results of such efforts - a duty and a responsibility of all States and religious leaders - would offer new solutions to such old challenges.
LEBANON SAYS TRUST NEEDED
Lebanese President Michel Suleiman said turning to dialogue to settle existing conflicts, or defuse simmering ones, would not yield results unless trust had been woven into the process. Ongoing oppression questioned the credibility of any dialogue, which was primarily true in the Arab Levant and Holy Land, and he questioned how dialogue could flourish when Israeli occupation of Palestinian and Arab territories persisted.
PALESTINE ASPIRES TO PEACE AND JUSTICE
Salam Fayyad, Prime Minister of the Palestinian National Authority, said tolerance and coexistence among religions could only be promoted if dialogue aimed at achieving peace was deepened. He called on all Member States to uphold these core principles and create a culture of tolerance that maintained the right to religious belief and human dignity. "The people of Palestine, Muslims and Christians, aspire to peace and justice and are committed to the principles of peaceful coexistence," and he pledged to continue to work for a lasting peace based on justice and respect for all rights so that, rather than being a victim of history, the Palestinian people could become a participant of history.
IRAN SPEWS HATE
Mohammad Khazaee, of Iran went on about their constitution which had given religious minorities equal rights and had been among the pioneers of intra-religious dialogue. He ended with a crescendo of poisonous rhetoric aimed at Israel, which none of the other countries who usually spew hate at Israel had done. The others were probably exercising restraint in respect and solidarity with the project of King of Saudi Arabia in the spirit of tolerance and understanding. But not Iran.

Khazaee said, "The representative of a regime marked with crimes such as aggression, occupation and torture against the Palestinian people had, under the pretext of a false interpretation of a certain divine religion, tried to abuse this meeting for its own narrow political purpose. The participation of such a regime would give them a chance to try and disrupt the current process and divert attention from the mandate."
CONSENSUS RESOLUTION PASSED
Lauding the right to freedom of thought, conscience and religion as integral to the building of tolerant societies and durable peace, the General Assembly meeting on the Culture of Peace concluded with the adoption of a consensus resolution reaffirming the world body's solemn commitment to promote universal respect for all human rights and fundamental freedoms.

Introducing a draft resolution on "promotion of inter-religious and intercultural dialogue, understanding and cooperation for peace", the Philippines President Gloria Macapagal-Arroyo said one of the resolutions' most relevant points was the affirmation that mutual understanding and inter-religious dialogue were important components of the culture of peace.
The resolution was especially relevant to the United Nations as the Secretary-General had issued a report on inter-religious and intercultural activities for the first time in the Organization's history. Noting that her country chaired the first United Nations Summit on Interfaith Dialogue three years ago, she said the Philippines' participation in the present initiative improved its relationship with Middle Eastern and Islamic nations. "What we are doing together here is every bit more powerful than bullets," she said.