Jewish Community Relations Council (JCRC)'s 31st Annual NYC Congressional Breakfast
By Henry J. Levy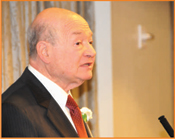 Congressman Gary Ackerman.
New York's Congressional Delegation came to the Jewish Community Relations Council's Annual Congressional Breakfast and, as usual, they provided hundreds of prominent Jewish and community leaders with food for thought.

Janice Shorenstein, JCRC's President, set the tone when she focused on the looming threat of Iran.

John Shapiro, President of the UJA said this was the time to focus on government and philanthropy, to help poor troubled children and the elderly who are reeling from a difficult economy. In a plea to our Representatives he said, "If you congressmen can deliver the governmental support, we can support the services."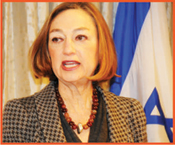 JCRC President, Janice Shorenstein.
Asaf Shariv, Israel's Consul General to New York, blasted the Goldstone Report which blamed Israel for 35 acts of war crimes and he blasted the UN's Council for Human Rights which spent 96% of its time condemning Israel and only 4% of its time dealing with violations perpetrated daily by other nations throughout the world. Then he praised Israel for saving hundreds of lives in Haiti and said they intend to remain and help with schools and other initiatives.

Congressman Ed Towns told of his first trip to Israel sponsored by the JCRC. Since he returned his attitude, feelings and views changed, especially regarding the issue of Israel's security. He said, "I am committed and my door is wide open to discuss anything helpful to the State of Israel."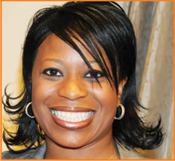 Pamela Fisher, Director of Govern-ment Relations, News Corp.
Congressman Gary Ackerman, Chairman of the House Subcommittee on the Middle East, claimed that the potential damage of the Goldstone Report is huge. Even though the Palestinians were also accused of committing war crimes the reaction to that has basically been "So what?" He then reminded us of President Reagan's comments about "the soft tyranny of low expectations" which clearly refers to the world's view towards the Palestinians, while Israel has to deal with "the hard prejudice of higher expectations" that clearly shows the world holding Israel to much higher standards, as if it should know better. Another real danger from this report according to Ackerman is equating unintentional collateral deaths of civilians as a war crime. If that is the new definition of war crime, our soldiers in Iraq, Afghanistan and other hot spots can have the same accusations held against them and against our country. Ackerman also questioned where the Arab world is pushing for peace with Israel and when President Obama pushes for unrealistic demands regarding Israeli settlements it makes Palestinians unwilling to negotiate. He urged Israel to cut its best deal now, when it is technologically and militarily ahead because those edges diminish over time.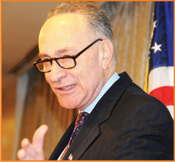 US Senator, Charles Schumer.
Senator Charles Schumer said Iran is economically weak, its people are secular and "if we squeeze them it may bring the regime down." Iranian leaders will not understand talk. He said that "the majority of Palestinians and Arabs do not believe that there should be a Jewish State. It was given by Europe as payment for the Holocaust and they want it back." We cannot let the United States pressure and weaken Israel until the Palestinians understand that Israel is here to stay and there is nothing they can do about it."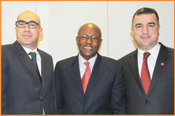 From left: Israel's NYC Consul General, Assaf Shariv, Congressman Edolphus (Ed) Towns, and Turkey's Deputy Consul General, Zeynep Kiziltan.
Congresswoman Carolyn Maloney praised the JCRC for helping make our voices stronger when we act as a group. She also said that in Haiti "Israel proved itself again as a light unto the world."

Among the other speakers were members of Congress Nita Lowey, Charles Rangel, Eliot Engel, Anthony Weiner and Jerold Nadler. The attendees included many well known personalities such as NYS Assembly Speaker Sheldon Silver, NYC Comptroller John Liu and representatives of many ethnic communities in New York.
| | |
| --- | --- |
| From left: Congresswoman Carolyn Maloney, and Nita Lowey. | From left: NYC Comptroller, John Liu, and President of Korean Public Affairs Committee, David Chulwoo Lee. |
Photos: Courtesy AIFL