Dr. Oded Amichai: "SkyGuard will Defend Israel."
By Gad Nahshon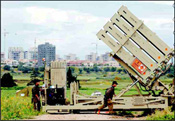 This Israeli anti-missile system, Iron Dome, is deployed near Ashqelon in southern Israel. Since its deployment, the system has intercepted Hamas missiles in real time. Photo: Eddie Israel/Israel Sun
Dr. Oded Amichai, an Israeli expert on homefront defense, laser and military technology, missiles and rockets, has been fighting for years for the development of "SkyGuard", a defense system based on lasers. It is intended to stop any missile or rocket from penetrating Israel's sky. The idea is that any missile or rocket from Gaza will be immediately eliminated in Gaza's territory.
The timing of Dr. Amichai's idea has to do with Hamas' attacks on southern Israel, in March and April, with 130 missiles and rockets. Hamas attacking of a school bus were against Israeli citizens and resulted in the killing of a 16 year old boy. The U.N. never challenged Hamas' crimes against Israeli citizens. The attacks on Beer-Sheva, Sderot and Ashkelon caused fear and trauma among regular Israeli citizens. Hamas' missiles have become longer range and more sophisticated than in the past.
Hamas and Iran both dream of attacking Tel-Aviv destroying Israel. Israel, recently, developed a new response: 'The Iron Dome'. There were some successes. The Air Force and the government were happy, as was R.A.F.A.E.L. (The authority for the development of weapons.) Rafael, is actually a conglomerate of government, private business, and the air industry. The idea of the 'Iron Dome' was debated in the media. Some argued that this system was not perfect and Israel should not have too many high expectations. Is it the best defense umbrella?
Dr. Oded Amichai, who worked for Rafael, says: "Iron Dome destroyed eight grad missiles. This was an achievement of Rafael and the Air Force. But there are some limitations. For example, an Iron Dome, which targets Beer-Sheva, cannot be used to target Ofakim, another area. There is also the issue of the cost of the Iron Dome. One missile costs $46,000 dollars! The elimination of eight grads cost Israel $640,000! The cost of a set of Iron Domes is $100,000. According to my information in the coming 18 months, Israel plans to produce four more sets of the Iron Dome. Therefore the cost will be $220 million dollars!"
Dr. Oded Amichai argues that he has an alternative idea: The 'SkyGuard', his system based on lasers. It does not have any limitations. Any kind of missile will not be able to travel outside the Gaza Strip. It will be destroyed, by melting, in Gaza's sky. The homefront will be saved from the attacks. Israel's sky will be totally clean!
Dr. Amichai also argues that the costs of SkyGuard are low. One SkyGuard is only $2,000. The SkyGuard system, which Israel needs to defend its homefront, will cost only $500,000. "My idea is to build a defense wall based on lasers which will prevent any missile from leaving Gaza. The laser is fast, low cost and it will destroy the enemy's missile by melting it!" Dr. Amihi and the Homefront Shield, a group that he is a member of, are waiting for a response from the Israeli security defense's establishment. Dr. Amichai has quite an important mission!