Building a Muslim-Jewish Alliance
By Alan Manheim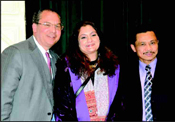 Building a global Muslim-Jewish alliance. At the Resource center for Jewish Diversity with (from left) Rabbi Marc Schneier, Dr. Mehnaz Afridi, and Imam Muhammad Shamsi Ali.
Photo: Gloria Starr Kins
On November 17, at the 92nd St. Y in Manhattan, an event was held to promote Jewish-Muslim communication, reconciliation and cooperation. A panel consisting of Rabbi Marc Schneier and Imam Shamsi Ali and moderated by Professor Mehnaz Afridi sat and discussed the hopes and strategies needed to accomplish those lofty goals.
The distinguished panel was brought together by the 92Y Resource Center for Jewish Diversity and presented with the help of the Foundation For Ethnic Understanding (FFEU), and the Manhattan College Holocaust Genocide and Interfaith Education Center. Dave Matkowsky, Director for Jewish Community Develop-ment at the Y commented that, "Our three panelists through their works and scholarship represent the best hope we have for promoting positive relationships between Jews and Muslims worldwide."
Rabbi Marc Schneier is the head of the East Hampton, Synagogue and is also the President of the Foundation For Ethnic Understanding. This event kicked off The Foundation for Ethnic Understanding's fourth Weekend of Twinning (Nov 18-20), an annual event in which mosques and synagogues, as well as student and leadership groups, hold face-to-face encounters in cities around the world to celebrate commonalities, undertake joint social action projects and confront Islamophobia and anti-Semitism together. Russell Simmons, philanthropist and co-founder of Def Jam Records, is the Chairman of FFEU.
Imam Shamsi Ali is a well-known community leader and activist in New York and beyond. He currently leads the Jamaica Muslim Center and is the Chairman of Masjid Al-Hikmah in Astoria, Queens. He was appointed "Ambassador for Peace" by the International Religious Federation in 2002, and chosen as one of the seven most influential religious leaders in New York City by New York Magazine in 2006.
Dr. Mehnaz Afridi is an Assistant Professor of Religious Studies at Manhattan College and she is the head of the Manhattan College Holocaust Genocide And Interfaith Education Center.
Dr. Afridi, who acted as the moderator and presented questions to Rabbi Schneier and Imam Ali, led the discussion. A key concept that emerged very often during the evening was the need for moderation in both communities. In response to a question from the audience which asked why donít moderate, centrist Muslims speak out against, terrorism and extremism, Imam Ali, responded that he has heard this question many times and still wonders why it is still being asked. He responded that Muslim leaders around the world have repeatedly condemned terrorism and extremism, but the general public has not effectively seen the strength of moderation from the Muslim community.
Rabbi Schneier has often praised Imam Shamsi Ali for his courage in confronting Islamic extremism and said that the key for any success in improving Jewish Muslim relations has to be for an overwhelming voice of moderation, from both sides, overcoming extremism. Rabbi Schneier added, that Jews and Muslims have "A common faith and a common fate. They experience the evils of anti-Semitism and Islamophobia and the bigots and haters draw little or no distinction between Muslims and Jews".
The twining event, sponsored by the FFEU, started five years ago and involved thousands of Jews and Muslims around the world. Rabbi Schneier said that the event showed a positive movement toward reconciliation, a movement that was growing but still in its infancy.
Professor Afridi, who acted as moderator commented that she, was a Muslim woman who taught religion at a Catholic University and was the founder of the Manhattan College Holocaust Genocide and Interfaith Education Center. The diverse aspects of her activities relate positively to the possibility that in the United States and around the world there can be progress in improving relations between people of different backgrounds.
Rabbi Schneier was clear in saying that the need for the fourteen million Jews around the world to have cordial, conciliatory and cooperative relations with over one billion Muslims seems to be an eminently important concept.