Record $53.8M Raised at FIDF Western Region Gala for IDF Soldiers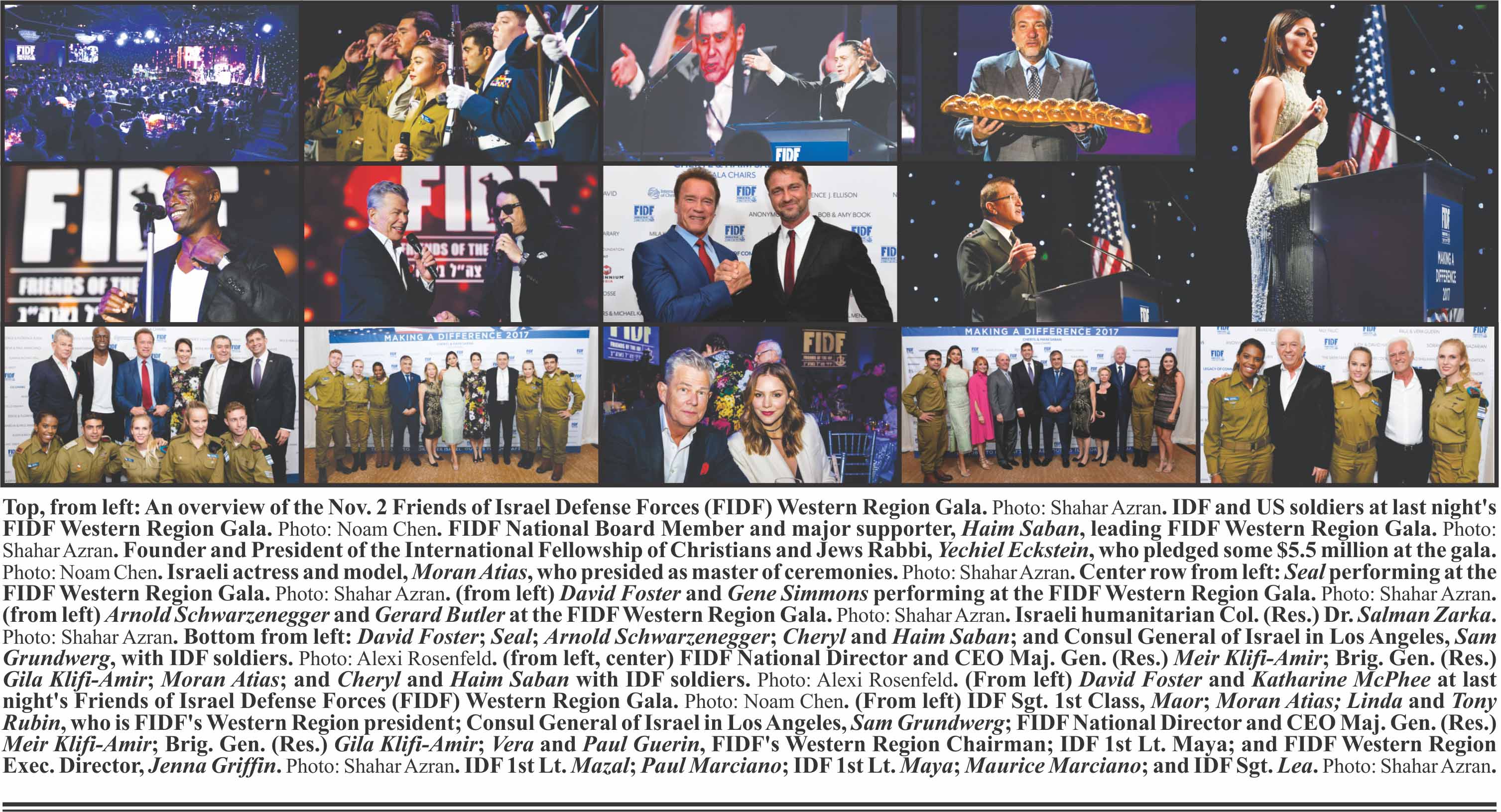 By Staff Writer
November 24, 2017
BEVERLY HILLS, CA – Friends of the Israel Defense Forces (FIDF) raised a record $53.8 million at its annual Western Region Gala on Thursday, Nov. 2, at the landmark Beverly Hilton Hotel. The figure represents the most money raised at any single FIDF event in the organization's history. The sold-out gala, which has become one of Los Angeles' premier charitable events, united some 1,200 supporters from across the country to support the brave men and women of the Israel Defense Forces (IDF).
For the 11th year, FIDF National Board Member and major supporter Haim Saban and his wife, Cheryl, chaired the star-studded gala. Guests included prominent business, philanthropic, and political leaders and celebrated names in entertainment, fashion, sports, and technology, including Consul General of Israel in Los Angeles Sam Grundwerg; Dutch LLC CEO Serge Azria and his wife, Florence; Managing Member of R.H. Book LLC and Chairman of Jet Support Services Inc. Robert Book and his wife, Amy; Oracle Co-CEO Safra Catz; GUESS Founders Maurice and Paul Marciano; and Founder and President of the International Fellowship of Christians and Jews Rabbi Yechiel Eckstein and his wife, Joelle. Celebrity guests included Miss Israel 2013 Yityish Titi Aynaw, Gerard Butler, David Foster, Joanna Krupa, Katharine McPhee, Paul Reubens, Melissa Rivers, and Arnold Schwarzenegger.
"Year after year, the support from the Los Angeles community for this remarkable event continues to amaze me, and this year's gala is no exception," said Mr. Saban. "Cheryl and I are grateful for the outpouring of support for this great cause and are deeply honored by this year's record-breaking donations. Chairing this event for the past 11 years has been a great privilege, and we look forward to furthering FIDF's noble mission of providing well-being and educational programs for the IDF's brave heroes – and seeing our community welcome Israel's men and women in uniform with open arms."
The top donation announced at the event – and the largest single gift in FIDF's history – was $16.6 million from Oracle Co-Founder, Executive Chairman and Chief Technology Officer Larry Ellison. His donation will support the construction of well-being facilities on a new training campus for the IDF's coed infantry units.
"For 2,000 years, we were a stateless people, but now, we have a country we can call our own. Through all of the perilous times since Israel's founding, we have called on the brave men and women of the IDF to defend our home. In my mind, there is no greater honor than supporting some of the bravest people in the world, and I thank FIDF for allowing us to celebrate and support these soldiers year after year. We should do all we can to show these heroic soldiers that they are not alone," said Ellison.
Rabbi Eckstein, who has contributed more than $40 million to FIDF in support of the soldiers, donated some $5.5 million at the gala.
"What these soldiers do is truly heroic. They serve as the first line of defense not only for the Jewish State, but for all Jews and freedom-loving people around the world," said Rabbi Eckstein.. "I am proud to stand by them and help support their well-being through the partnership of The Fellowship and FIDF."
Presiding as the evening's master of ceremonies was Israeli actress and model Moran Atias. The event featured special performances by singer Seal, The Tenors, David Foster & Friends, and Gene Simmons.
The gala featured a moving program, "Heroes of the IDF," which told the stories of women combat soldiers, who play integral roles in safeguarding the State of Israel and its people. Today, 95 percent of all jobs in the IDF are open to women, who serve as pilots, infantry soldiers, artillery combat soldiers, electronic warfare specialists, and anti-aircraft and naval officers – and as many as 11 percent of combat soldiers drafted each year are women. Among the 17 active-duty soldiers in attendance on Thursday were women who serve in IDF combat positions, including Sgt. Lea, a former L'Oreal model from Austria who serves as a Lone Soldier, with no immediate family in Israel, in a special combat operations Artillery Corps unit; Cpl. Ravit, whose life was saved by the late Border Policewoman Hadar Cohen (z''l); Staff Sgt. (Res.) Sharon, who served as a sharpshooter in one of the world's only coed combat infantry units; and 1st Lt. Maya, a commander at the IDF's officers' training school who helped bring down a terrorist after he drove his truck into a group of soldiers in Jerusalem in January.
Col. (Res.) Dr. Salman Zarka, director general of the Ziv Medical Center in Israel, described Israel's extraordinary humanitarian initiative "Operation Good Neighbor," which provides aid to refugees and victims of the Syrian civil war. Zarka, with 25 years of experience in the IDF Medical Corps, has led a staff that has treated hundreds of wounded Syrian civilians.
Also present was Noam Gershony, the former IDF pilot whose helicopter crashed as he was heading to rescue troops in the 2006 Lebanon War. Gershony broke nearly every bone in his body, and was paralyzed from the waist down. He emerged from a deep depression not only to be rehabilitated, but to win a gold medal and share a bronze medal in wheelchair tennis at the 2012 Paralympics Games.
Other distinguished guests included FIDF National Board Member and Western Region Chairman Paul Guerin and his wife, Vera; FIDF National Board Member and Western Region President Tony Rubin and his wife, Linda; FIDF National Director and CEO Maj. Gen. (Res.) Meir Klifi-Amir; and FIDF Western Region Executive Director Jenna Griffin.
Funds raised at the gala will provide much-needed and well-deserved services such as academic scholarships to combat veterans, financial assistance for soldiers in-need, support for Lone Soldiers throughout their service and upon release, crucial aid for wounded veterans and the families of fallen soldiers, weeks of rest and recuperation for entire IDF units, as well as educational, cultural, and recreational facilities. The evening presented a rare and exclusive opportunity to pay tribute to the State of Israel and its brave men and women in uniform.
* * *
ABOUT FRIENDS OF THE ISRAEL DEFENSE FORCES (FIDF):
FIDF was established in 1981 by a group of Holocaust survivors as a 501(C)(3) not-for-profit organization with the mission of offering educational, cultural, recreational, and social programs and facilities that provide hope, purpose, and life-changing support for the soldiers who protect Israel and Jews worldwide.
Today, FIDF has more than 150,000 loyal supporters, and 15 regional offices throughout the U.S. and Panama. FIDF proudly supports IDF soldiers, families of fallen soldiers, and wounded veterans through a variety of innovative programs that reinforce the vital bond between the communities in the United States, the soldiers of the IDF, and the State of Israel. For more information, please visit: www.fidf.org.