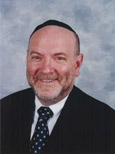 Dear Cyber Rav,
In my business, it's a busy time of year and I hate to say it, rabbi, but I have been working 24/7. Well, maybe not the "24," but definitely the "7." My partner is far more religious than I, and he tries to make it to services on a regular basis, though even during this time of year, he finds the idea of taking two days off in a row just impossible. He and I got into a discussion about which day is more important in a festival, the first or the second. We were talking largely about Shavuot which, as you know, is only a two day festival. Anyway, he claims that the first day is more important, but I reasoned that it must be the second day since that is the day when Yizkor is recited. So we ended with a stalemate on this one until I thought about the possibility of writing to you. Can you settle this dispute? We'd both appreciate it.
Two "Day-zed" Guys
Dear Two "Day-zed" Guys,
First of all, you guys work too hard. What kind of business is worth that kind of time! I don't know, but I hope you're finding a cure for world hunger, the eradication of global warming, or enough money to fund a campaign to resolve both problems.

As for your argument, I'm inclined to side with your partner. The first day is more important as the first day is D'oraita, or ordained by the Torah, whereas the second day is D'rabbanan, or ordained by the rabbis. In Israel, Shavuot is only one day, and the Israelis are not observing the second day, but the first. If you must choose, you're generally better off choosing the day ordained by the Torah, even if you get credit (fro Heaven, of course) for observing either one.

Having clarified that, this year, I'm going to side with you in this argument. Not because I think the second day is more important, but because this year the second day falls on Shabbat, and Shabbat holds a sanctity greater than that of a hag or festival. This year, if your partner has to choose between one or the other, I would recommend choosing the second day so that he can observe Shabbat, or at least a part of it.

And my advice to both of you is as follows. During this very hectic period, take off Shabbat anyway. I bet you will find that in keeping away from the business during Shabbat, you can come back to it on Sunday far more refreshed and therefore far more efficient than trying to work there every day. I am a staunch supporter of 24/6. It's a system that is kind to people, deferential to God, and produces a market that operates far more efficiently since it has laborers who can work far more efficiently.

Hag Same'ah—Have a great Shavuot!
Rabbi Rafi Rank
The Cyber Rav