ENSLAVED TO AN INTERPRETATION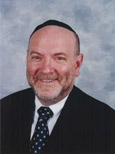 Dear Cyber Rav,
I HAVE BEEN GLUED TO THE PBS SERIES ABOUT THE 350 YEARS OF THE AMERICAN JEWISH EXPERIENCE. EVEN THOUGH I KNEW A LOT ABOUT IT ALREADY, A LITTLE TIDBIT HERE AND THERE ADDS TO ONE'S KNOWLEDGE.
IT WAS INTERESTING THAT 7,000 NORTHERN JEWS FOUGHT ON THE UNION SIDE AND 3,000 SOUTHERN JEWS FOUGHT ON THE CONFEDERATE SIDE. HOW DID THE SOUTHERN JEWS RATIONALIZE BEING SLAVE OWNERS, ESPECIALLY AFTER THEIR OWN HISTORY? SOME SOUTHERN JEWS PROBABLY OWNED HUNDREDS OF SLAVES. HOW COULD THEY READ THE STORY OF THE EXODUS FROM EGYPT AND NOT FEEL GUILTY OR ASK WHAT ARE WE DOING?
A Yankee, Jewish & Proud!
Dear A Yankee, Jewish & Proud!
The PBS series has been wonderful. What great footage of Jews from the past. And, it certainly has raised some questions, your very fine question included.
Underlying your question is a presupposition that the Biblical exodus story is an attack on slavery and the trumpeting of liberty for all humankind. This is not an uncommon read and I would go even further to state that if you asked most contemporary Americans what the Biblical exodus was about, they would most likely tell you that it is about freedom and liberty.
After the exodus, when Moses meets his father-in-law, Yitro, in the wilderness, and recounts everything that "the Lord had done to Pharaoh and to the Egyptians for Israel's sake" (Exodus 18:8), Yitro, a non-Jewish priest of Midian, concludes Moshe's account by blessing God and saying, "Now I know that the Lord is greater than all gods..." (Exodus 18:11).
As a true blue, born and bred in the Midwest, 21st century American, I would have expected Yitro to say, "Now I know that slavery is evil and liberty for all people, no matter what their race or religion, is that which God desires..." But that isn't the message, nor is it the message to be found anywhere in the Torah. In fact, as Torah law evolves over the centuries, it addresses the whole issue of slavery and imposes certain restrictions on it to, in a sense, humanize it, but no where does it prohibit it. Slavery is never treated as an economic ideal, yet it is nevertheless accepted as an economic reality.
For centuries, and probably right up until the mid 19th century, the biblical exodus was understood as a tale about the primacy of the Jewish God and the chosenness of the Jewish people. God beats Pharaoh, because God is great and Pharaoh isn't. And God redeems the Jewish people, because the Jewish people are loved by God.
I suspect that the above messages are not going to play well among my non-Jewish neighbors, all of whom live in a very secular society. And so after so many years of reading the Bible in one way, Jewish Americans--and many other of our contemporaries-- have come to an understanding of the biblical text that we can all agree on: the negation of slavery in favor of liberty and freedom for all! That's what the biblical tale is all about. Doesn't that fit ever so neatly into our secular, western, 21st century world--if only the text itself would support it!
Jewish slave owners in the south as well as those of the north, probably saw no contradiction between their ownership of slaves and the biblical text. God did not free the black people and the Torah did not prohibit slavery. Nonetheless, they must have known, had they gone to shul at all, that the Bible demanded humane treatment of slaves. And I am sure that some treated their slaves with great humanity--as I am sure that some did not.
Let me add one point of perspective. However forcefully some may drive home the idea of the Jewish slave owner in America, a minority of the 3,000 Jews fighting for the confederacy owned slaves, and the bulk of Jews arriving in this country in the mid-19th century were dirt poor and couldn't possibly have owned slaves. I am suspicious of any theories that point to massive American Jewish ownership of slaves.
Having said all this, I don't mean to imply that the way you or I interpret the Bible these days is wrong. Our interpretation may not be where the Torah began, but it is where the Torah has evolved to. The biblical Jew has been an inspiration to every enslaved people throughout history. Pharaoh has been symbolic of every ruthless, dictatorial tyrant that has ever lived. And God remains the champion of the oppressed who is moving humanity to ever increasing levels of freedom and liberty. But what we need to keep in mind is the way in which our interpretation fits seamlessly into the social reality of the world in which we live. We have every right to interpret the text in that manner, but we must bear in mind that our social reality did not always exist. Previous generations interpreted the biblical text in their own way, just as future generations will interpret the text in their's.
I hope this helps.
CyberRav,
Rabbi Rafi Rank
Return to Cyber Rav Archives
Back to Top